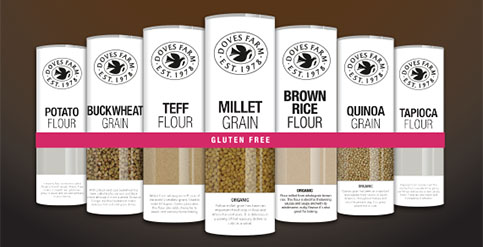 Doves Farm's recently launched Gourmet Collection comprises nine flour and four grains, all of which are naturally gluten-free, and has taken inspiration from the past.
The new gourmet flours are Teff, Buckwheat, Organic Millet, Organic Maize, Tapioca, Organic Brown Rice, Organic Chickpea, Potato and Quinoa; and the grains are Teff, Quinoa, Buckwheat and Organic Millet.
Hailed as the hot new supergrain by many, teff is an ancient grain believed to date back as far as 4,000-1,000BC, and Doves Farm's Teff Flour is one of the first branded teff products on the market. The grain can be used in salads as a slow-burning carb to retain a full feeling for longer.
Commenting on the launch of the range, Michael Marriage says: "Raising the profile of gluten-free baking and cooking is an important focus for us here at Doves. This new range aims to diversify the gluten-free sector, bringing little known, nutritious and great tasting grains and flours to the fore, allowing not only those with allergies and intolerances but also experiential cooks to experiment with some exciting new alternatives."
With recipes which aim to inspire the novice backer printed on the packs, the offer is presented in small convenient tubes ranging from 110g to 160g.