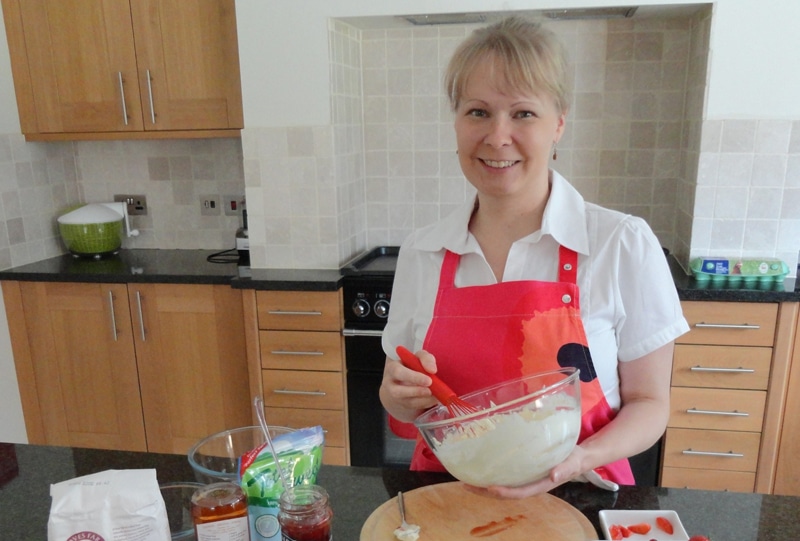 We catch up with free-from expert Tarja Moles to chat about her new book No Naughties: Sweet treats without sugar, wheat, gluten and yeast.
What inspired the book?
I have a sweet tooth, and when I had to cut out gluten, sugar and yeast from my already low-lactose diet in 2002, I thought I'd never be able to eat desserts again. I decided to start experimenting how to make sweet treats without the forbidden ingredients and after several years of experimentation No Naughties was born.
What do you think are the essential ingredients free-from cooks should have handy in their larder?
This depends on what ingredients you need to avoid. In my case, I always use xylitol instead of sugar when I bake, Sweet Freedom to add syrupy kind of sweetness, and if I need jams, I use no-added-sugar fruit spreads. Xylitol chocolate is also a must as is vanilla extract.
As for flour substitutes, I most often use Doves Farm gluten-free flour blends, polenta and ground almonds – Lactofree dairy products are great if you need to avoid lactose and Rice Dream is in my opinion the tastiest no-added-sugar milk substitute.
Although I don't personally have to avoid eggs, I find Orgran's No Egg natural egg replacer useful when I bake for guests who can't eat eggs.
How important are health food stores for free-from cooks?
It has become a lot easier to find free-from products and ingredients. Five years ago the supermarket free-from aisles were not very extensive, but nowadays you can get many (in my opinion) essential products, like xylitol, in supermarkets.
However, health food stores remain the true treasure houses for free-from cooks. Not only can you get all you need under the same roof – and if they don't have it in stock, they can order products for you – but you can also discover new and exciting foods and ingredients to try.
What is your favourite recipe from the book?
I have lots of favourites, but if I really had to choose, I would say profiteroles. When you combine the light choux pastry with rich gooey chocolate sauce and fluffy vanilla cream, it's impossible not to reach for a second helping… just ask my husband – and he doesn't even have any food intolerances, so it must be good!