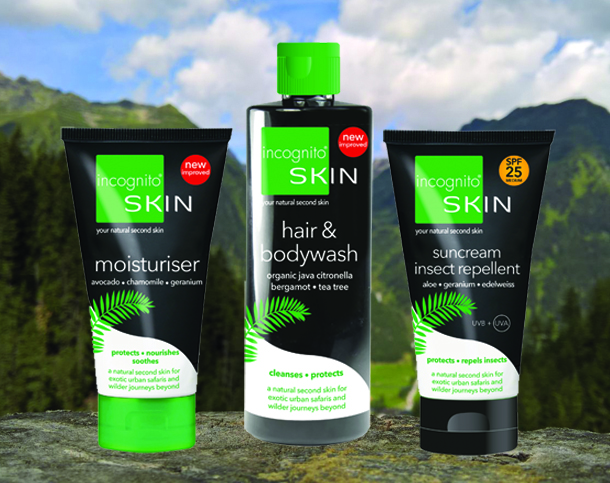 Natural insect repellent brand incognito has launched a new DEET-free anti-mosquito beauty trio designed to protect hair and skin during the summer months.
Second Skin Suncream Insect Repellent is a convenient triple-action, suncream, moisturizer and insect repellent. The active ingredient, PMD – which repels mosquitoes and other biting and stinging insects – is recommended by Public Health England and the NHS. It has been tested 100% effective against zika, malaria, dengue and chikungunya-carrying mosquitoes.
The Suncream Insect Repellent has a proven SPF, providing medium broad spectrum protection against both UVA and UVB rays. It is the only combined natural insect repellent and suncream and doesn't interfere with the SPF, says the brand.
The  water-resistant formulation is designed to moisturize and hydrate the skin, has a smooth, luxurious texture and a light, pleasant fragrance.
Second Skin Moisturizer is a creamy moisturizer and after-sun that protects from many biting insects by providing a foundation layer of protection. It has a pleasant citrusy aroma and contains no parabens, nano beads, SLS, toxins or GM ingredients.
Second Skin Hair & Body Wash is a two-in-one formula that acts as a nourishing shampoo and refreshing shower gel. It camouflages the kairomones that attract insects and contains organic Java citronella, organic bergamot and tea tree oil, giving it repellent, antiseptic and anti-fungal properties. Used regularly, it helps keep insects, dandruff, fungal infections and head lice at bay.
The whole range is registered with The Vegan Society, and the incognito Second Skin Moisturiser and Hair & Body wash are also certified COSMOS Natural.
Second Skin product packaging is made from environmentally-friendly sugar cane plastic.