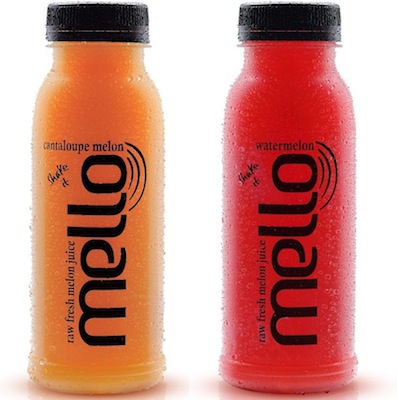 The recently launched Mello brand is the UK's first and only raw fresh melon juice range.
Available in two varieties – Watermelon and Cantaloupe – the range aims to fill the gap between sugar-laden soft drinks and 'health drink' offerings which the company says many consumers don't find palatable.
The juices are produced using  high pressure processing (HPP), a technique used to retain the optimum vitamin content of the fruit.
Mello is naturally alkaline, low calorie and fat-free. Described as "unapologetically natural", the drinks are rich in essential vitamins and antioxidants, rehydrating, repairing and replenishing with no added sugar, sweeteners, water or preservatives.
Mello Watermelon is a great natural aid for working out as it rehydrates, speeds metabolism, detoxifies and is rich in potassium and l-citrulline which aids muscle recovery. It is also said to be a great boost to those suffering form the excesses of the night before.
Mello Canteloupe is described as "beauty in a bottle" and is rich in vitamins A and C as well as antioxidants to promote healthy skin, boost the immune system and give an energy kick.