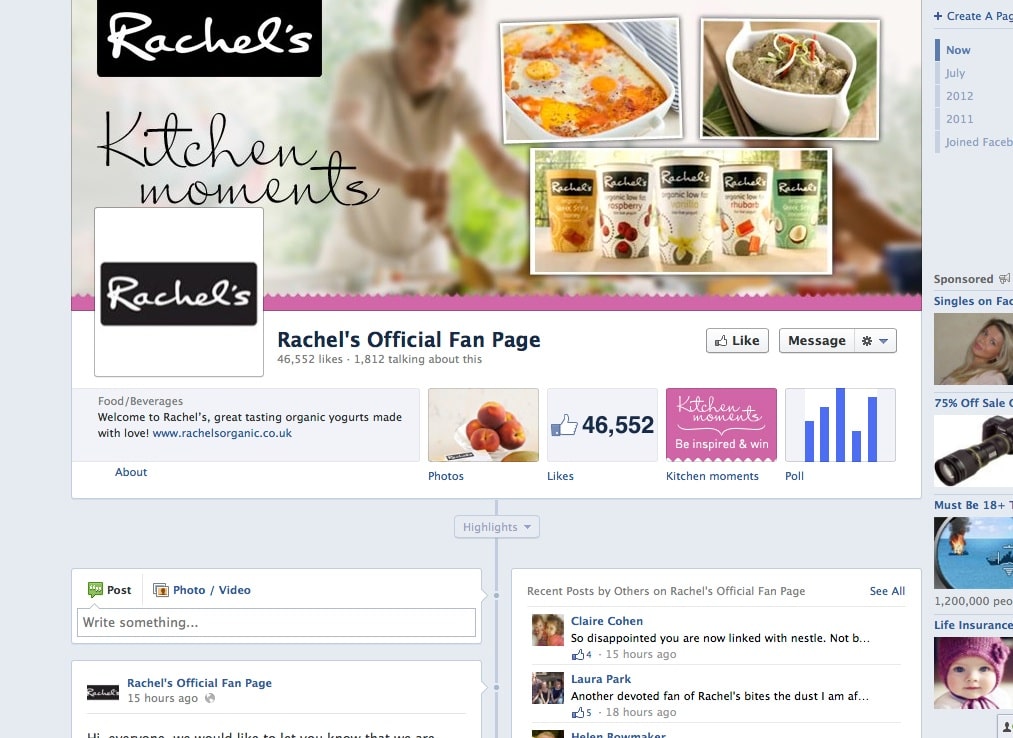 Rachel's Organic's facebook page has been hit by a barrage of criticism after the organic yoghurt brand was added to the Boycott Nestlé Campaign.
Rachel's was sold to the French based Lactalis group in 2010 by its then owner Dean Foods. In May 2012 the BBC reported that 140 jobs at Rachel's Aberystwyth dairy were at risk after Lactalis indicated it would be integrating the Rachel's business into the joint Lactalis-Nestlé owned LNCD operation. While Lactalis has insisted it is committed to the Aberystwyth site, reports suggested production could be switched to France.
Using the company's facebook page many Rachel's fans have been informing the company that they will no longer be buying the its products. One former customer said: "Another devoted fan of Rachel's bites the dust I'm afraid until your company is no longer linked with Nestlé". Another post reads: "Made with love, oh yes love of money and greed, with seemingly no consideration of the implication of joining the nestle brigade. Shame on you Rachel's."
In a statement, Rachel's told Natural Products: "Firstly, we would like to reiterate that we are owned by Group Lactalis and there is an agreement between Lactalis and Nestle in the UK which means Rachel's yogurts are distributed through this agreement. We understand that a certain number of people, for numerous reasons, may wish to stop purchasing or listing Rachel's products as a direct result of this relationship. Although we are saddened by this, we respect people's personal views and beliefs.
"As previously outlined, Nestlé has been independently recognised as having the most robust systems for implementing the WHO Code and, as Rachel's is owned by Lactalis, we cannot provide further information on this issue. With this in mind, it is best to contact Nestle's consumer services team in person – they can be reached on 0800 00 00 30 – or visit http://www.nestle.com/csv/Compliance/baby-milk/Pages/baby-milk.aspx for further information.
"Rachel's would like to reinforce its continued commitment to producing the highest quality organic yogurts and milk and will continue to fulfil this promise to our loyal customers."
One organic industry insider told NP: "My overriding main concern is that the brand sticks to its commitment to organic. If it does, ownership by a multinational could lead to more organic being sold and more farming switching to organic methods."