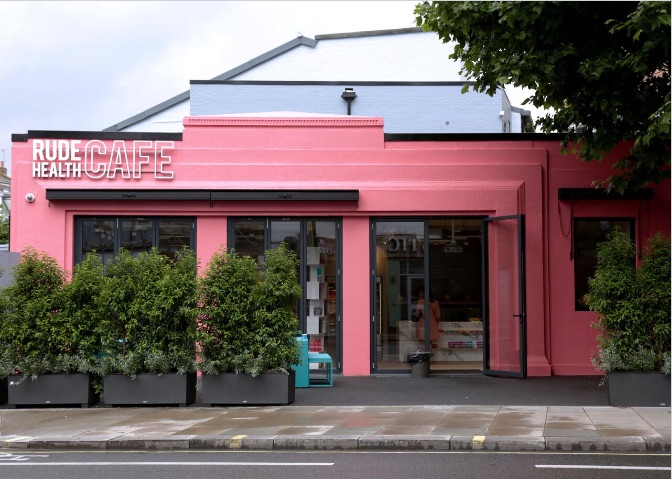 Nick and Camilla Barnard, owners of Natural food brand Rude Health have branched out in a new direction by opening a café on the New King's Road in Fulham.
The Rude Health Café is housed in the historic former premises of HJ Mulliner & Co, the Rolls Royce and Bentley coachbuilder and serves only natural, ethically-sourced and nutrient-dense foods.
Served from breakfast to late afternoon, the menu features everything from Nick's Fruity Date Porridge – which won a trophy at the 2013 World Porridge Championships – to hearty soups, freshly made sandwiches and pastries.
The company says that the menu contains wholesome recipes that encourage the use of good animal fats, grass-fed meats and dairy, as well as sprouted, cultured, fermented and activation foods and drinks, alongside local and seasonal produce.
"We are taking the same principles we work to with our cereals and applying them to everything we serve – food that is well sourced, nutrient-rich and leaves you feeling good, as well as being delicious," explain the Barnards. "We've chosen all the food and drink for the cafe in the same way that we choose our wine when we're at home – we like to know the grape, the country, the region and the producer – why not apply the same rigour to all produce?"
The food offer is complemented by homemade fresh juices, fermented drinks, sodas, speciality coffee and loose-leaf teas.
Food is also available to take away, targeting commuters and busy workers who want a grab-and-go option.
Within the café there is also a grocery space offering a variety of products from independent producers as well as the entire Rude Health range.
Throughout the year, the Rude Health Café will host events to celebrate real food and the people who make it, including fermenting and pickling workshops, raw cheese and chocolate tasting and natural wine evenings.