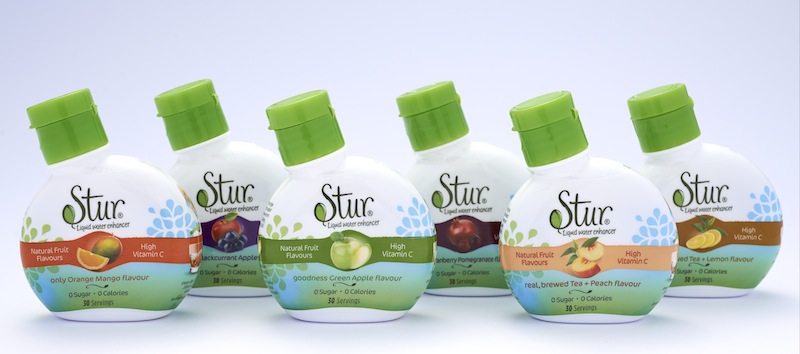 New to the UK comes the all-natural US water enhancer Stur Drinks, developed to encourage more water consumption and aimed at women aged 22-55 who lead an active lifestyle.
The 30-serving (50ml) pocket-sized product contains natural flavours extracted from real fruit and black tea. High in vitamin C, it contains 100% of the recommended daily allowance in every squirt.
The water enhancer is launching with six flavours specially developed for the UK market: Peach Tea, Lemon Tea, Cranberry Pomegranate, Orange Mango, Green Apple and Blackcurrant Apple. Each one is lightly sweetened with natural stevia extract.
The enhancers contain no sugar, calories or fat and are free from artificial flavours, sweeteners and colours.
"We are thrilled to be launching in the UK and addressing the need for a delicious, healthy and more natural way to drink more water," said Phil Annett, managing director for Stur Drinks Europe. "Stur provides convenient on-the-go hydration and is a practical and enjoyable way for women to drink the recommended eight 200ml glasses of fluids per day. The added benefit of being high in vitamin C may also contribute to a healthy immune system and help combat tiredness and fatigue.
"As the water enhancers market is experiencing strong growth in the UK, we are confident that the range will be well received by women who are looking for a soft drinks offering that fits into their busy lifestyle and also tastes great."
The launch is being supported by women's press campaign, targeted PR programme, social media drive and outreach to influencers including health practitioners and doctors. Consumer sampling activity will also support the launch.