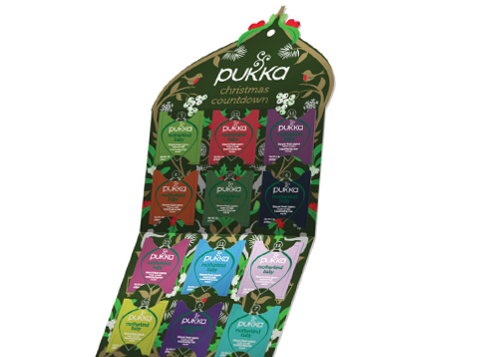 Pukka Herbs has created a new Advent Calendar containing 24 herbal teas from the brand's range.
The calendar has a festive design to get consumers in the holiday mood and includes some of Pukka's best selling teas including Turmeric Gold, Night Time and Lemon, Ginger & Manuka Honey, as well as festive favourites such as Revitalise, Vanilla Chai and Wild Apple & Cinnamon.
To help maintain health and vitality during the colder winter months, Pukka has included immunity-boosting teas like Blackcurrant Beauty, Clean Matcha Green, Three Mint and Elderberry & Echinacea.
"Traditionally, Christmas is about coming together to celebrate love and compassion, to show gratitude to those around us and to reflect and think about those less fortunate than ourselves," says Sebastian Pole, brand co-founder. "Tea, of many different varieties, is loved internationally by people from all over the world.  It is used to support health, to take a moment of reflection and to bring people together. 'Pukka' is a Hindi word meaning 'authentic' and this is at the heart of everything we do. Therefore, Christmas is the perfect time to spread some Pukka love, gratitude and compassion by connecting people, plants and planet through the wonder of herbs."