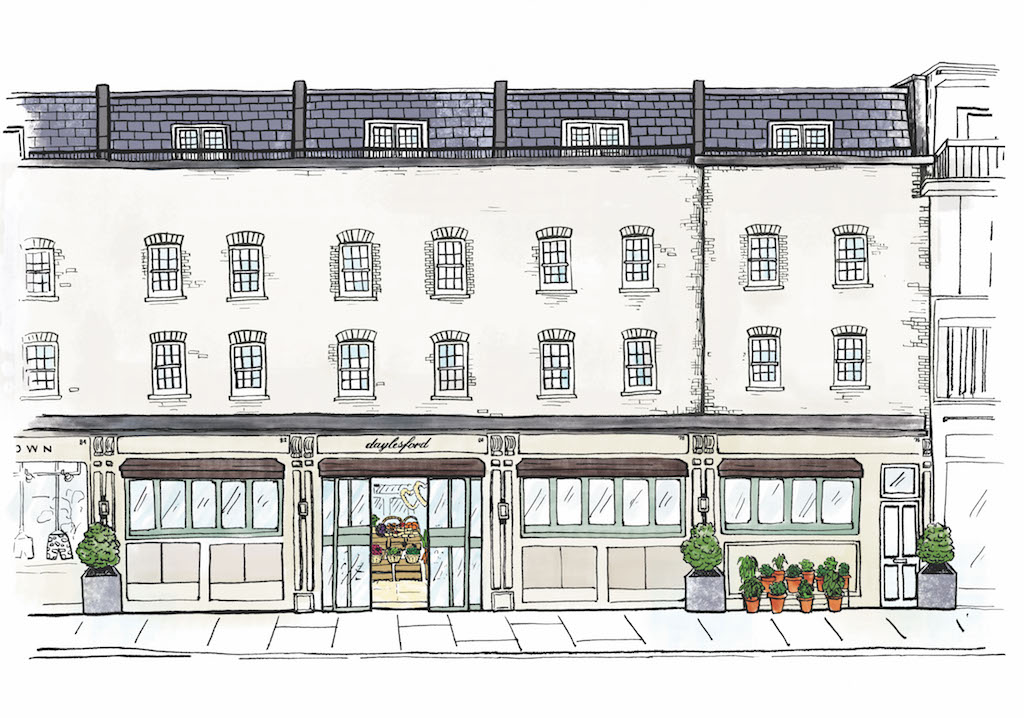 Daylesford has announced the opening of a new farmshop and café in Brompton Cross, London – its fourth outlet in the city.
Opening its doors in October, the 7,500sqft store will cover three floors, and aims to celebrate the food and artisan skills of Daylesford's organic farm in the Cotswolds. It will offer a wide range of  produce that will be delivered daily, including cheese, milk, yoghurt and butter from the creamery; freshly baked bread, cakes, pastries and biscuits; meals and soups from the farm kitchens; and meat from Daylesford's high-welfare, pasture-raised, organic animals.
In addition, there will be fresh organic vegetables, salad and fruit from Daylesford's market garden and further afield, as well as larder essentials, wine and drinks, sustainable pieces for the home and garden, and Daylesford's recently launched organic skincare range.
The organic café will seat up to 80 and serve breakfast, brunch, lunch and supper, showcasing seasonal flavours from a menu that will change six times a year. The café will feature eye-catching open ovens for Daylesford's sourdough pizzas and a rotisserie cooking spit-roasted lamb joints and whole organic chickens.
As more and more consumers recognize the value and importance of consuming organically, both as a means of taking care of their own wellbeing as well as protecting the health of our environment, we are proud to be joining a striking range of lifestyle, wellbeing and fashion retailers and offering more of the farm and its produce to Londoners across this more expansive destination
A new concept for Daylesford at Brompton Cross is a juice bar serving organic plant-based drinks and smoothies, and there will also be a food-to-go counter offering a range of seasonal salads and sandwiches.
The new store will also be host to a calendar of events, including Daylesford Discusses panels, shopping evenings, supper clubs, wellness workshops, masterclasses on butchery, floristry, arts and crafts and more, and the location will be available for private hire.
"For Daylesford's fourth opening in London we wanted to find both a space and a home that retained the character and identity of our other London outlets and continued to echo the natural warmth and spirit of the farm," explains Daylesford founder Carole Bamford. "I'm delighted that we have found it in the heart of Brompton Cross, a vibrant, innovative area with a relaxed neighbourhood feel and community."
She adds: "As more and more consumers recognize the value and importance of consuming organically, both as a means of taking care of their own wellbeing as well as protecting the health of our environment, we are proud to be joining a striking range of lifestyle, wellbeing and fashion retailers and offering more of the farm and its produce to Londoners across this more expansive destination."