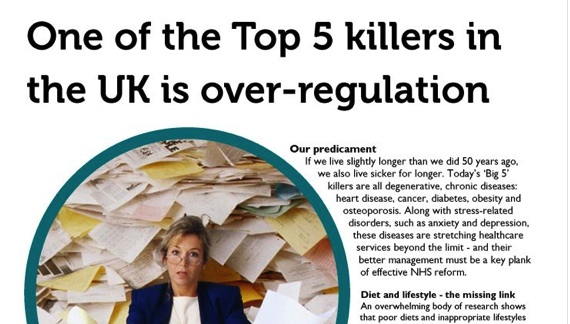 The Alliance for Natural Health (ANH) has partnered with Viridian Nutrition to flag up to MPs the crucial decisions the Government must soon make on maximum limits for vitamins and the legal status of botanicals.
This week the ANH placed a full page ad in The House Magazine, the official 'trade mag' for MPs and member of the House of Lords.
Headlined 'One of the Five Top Killers in the UK is Over-regulation' the high profile ad argues that diet and lifestyle are the "missing link" in the management of the Big Five killer diseases in Britain to day
The ad points to the huge body of evidence linking the 'Big Five' to poor diet and inappropriate lifestyle. But it warns that a continuing reliance on expensive drug treatments, encouraged by the pharmaceutical industry, is thwarting attempts to prioritise preventative approaches using diet and lifestyle improvement.
ANH warns that those people who are trying to take charge of their own health through self-care with health foods, suppleme
nts and natural remedies, risk being deprived of these vital health products because of restrictive and scientifically arbitrary EU laws. Meanwhile, the ad says, the UK health food trade is being "strangled by legislation that places excessive burdens on responsible operators"
The ad concludes by imploring ministers to act "objectively and responsibly" when deciding on their approach to maximum levels of vitamins and minerals and on the legal status botanicals.
Picture: The ad in this week's The House Magazine