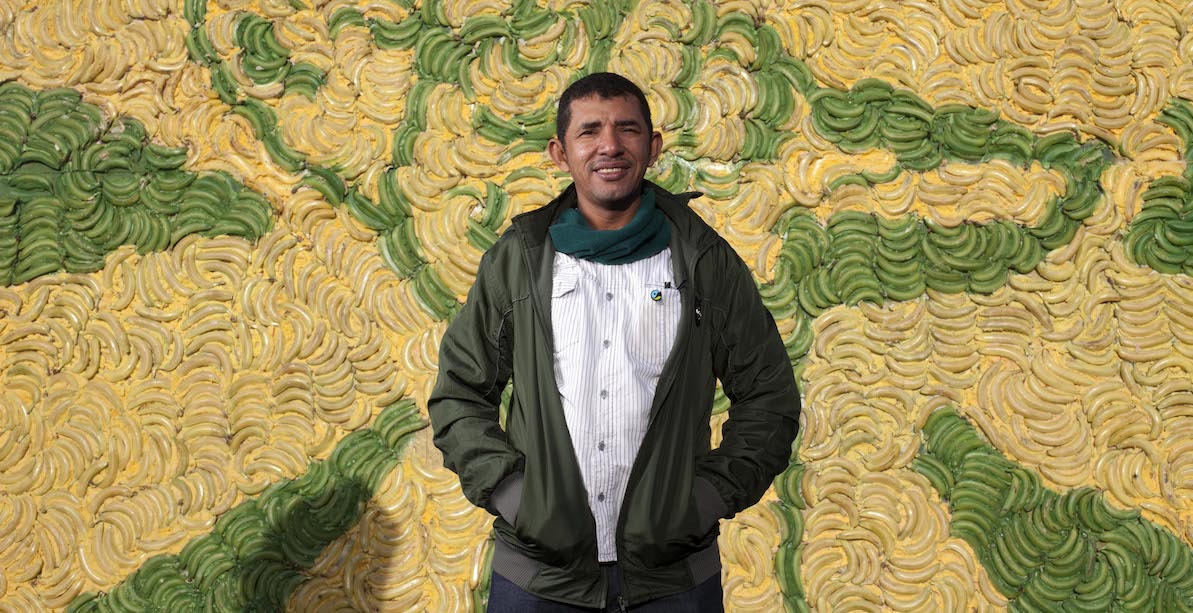 A giant billboard made from over 5,000 bananas was unveiled on Clapham Common, London, this week to mark the start of the Fairtrade Fortnight "Make Bananas Fair" campaign, calling on Government to end the bitter supermarket price wars which are trapping thousands of banana farmers and workers in poverty.
The UK consumes over five billion bananas every year, but over the last decade prices of bananas have nearly halved, while the costs of production and living have doubled*.
The Fairtrade Foundation has teamed up with Colombian banana farmer, Foncho Cantillo, to petition Government to investigate supermarket price wars, which are driving down the price of the UK's favourite fruit and threatening the futures of thousands of struggling farmers and workers.
Created by artists Henry Coate and Toby Crowther, the billboard measures 6 x 4 metres, took 3 days and 11 hours to make and features the iconic raised fist clutching a banana. The billboard is created entirely from green and yellow Fairtrade bananas and has been specially designed to launch the campaign, which aims to transform the banana industry and end the impact of the selling of unsustainably cheap bananas
The British public can get behind the campaign by signing the petition and creating their own personalised banana sticker at stickwithfoncho.org.uk.
Comedian Harry Hill and Made in Chelsea's Cheska Hull were at the launch to show their support for the campaign.
Harry Hill said: "While the banana business is booming, not everyone is enjoying the benefits. Price wars in supermarkets, coupled with the rise in the cost of producing bananas, mean many banana farmers and workers are unable to put enough food on the table or provide basics such as education and healthcare. This simply isn't fair."
Cheska Hull said, "I was privileged enough to visit Fairtrade banana plantations in Ghana earlier this year and learnt how Fairtrade can change communities. That's why I am sticking with Foncho to make bananas fair."
Other celebrities supporting the campaign include Amanda Holden, Caroline Flack, Eddie Izzard, Rankin, Helen Skelton, Sarah Parish, Sara Cox, Aggie MacKenzie, Simon Rimmer, Simon Reeve and Angela Griffin.
All bananas used to create the billboard will be donated to local food banks and Battersea Park Children's Zoo.
To sign the petition, find out more about the campaign and create your own personalised sticker, visitstickwithfoncho.org.uk