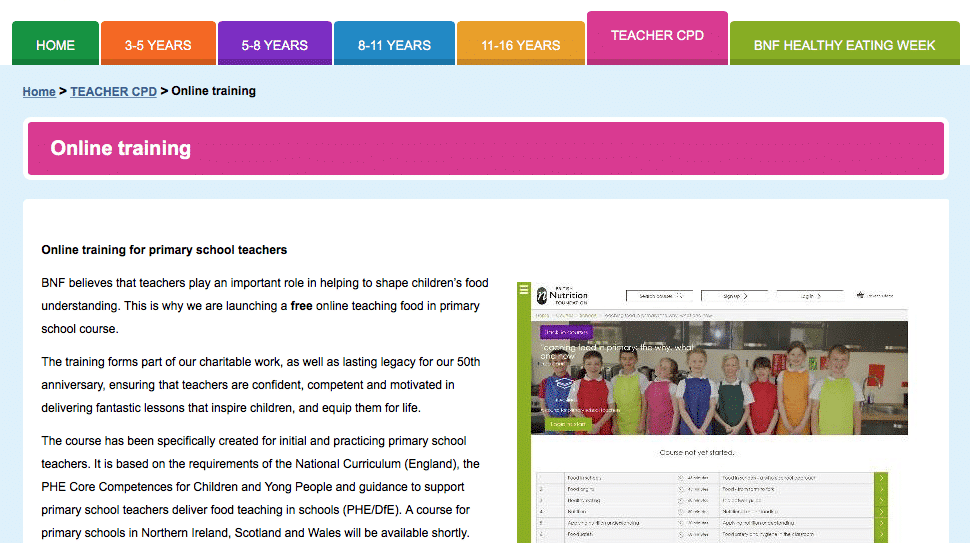 The British Nutrition Foundation (BNF) has launched a new professional development platform for primary school teachers.
The launch is in response to the results of research which shows that many teachers are getting little training in nutrition, yet poor nutrition and an unhealthy lifestyle are detrimental to health and academic performance.
The course – Teaching food in primary: the why, what and how – delivers eight different training modules, including: food origins, the Eatwell Guide and healthy eating, nutrition understanding, food safety, and cooking in the classroom. It provides downloadable guides for reflective practice, and culminates in an assessment and BNF certification for those teachers who successfully complete the full course.
"It is critical that teachers lay the foundations for children to make good dietary and lifestyle choices now and as adults. But most primary teachers have received virtually no formal training in food, nutrition and physical activity. It is because of this that the BNF believes that there is an urgent need to support these teachers during their training and when they are practicing," says Roy Ballam, managing director and head of education at the BNF.
"Evidence for the benefits of good nutrition and physical activity on the academic achievements of children is accumulating. Our platform enables busy teachers and trainees alike to supplement and enhance their subject knowledge, skills and experience. This will facilitate their work with students, helping them to make healthier choices that will benefit their physical and mental health now and in the long term," adds Ballam.
The training platform was launched at a London conference for health professionals and educators to mark BNF's 50th anniversary. The 'Talking about the next generation: Nutrition in school aged children' conference discussed the importance of good nutrition in the well being, growth and academic development of children.