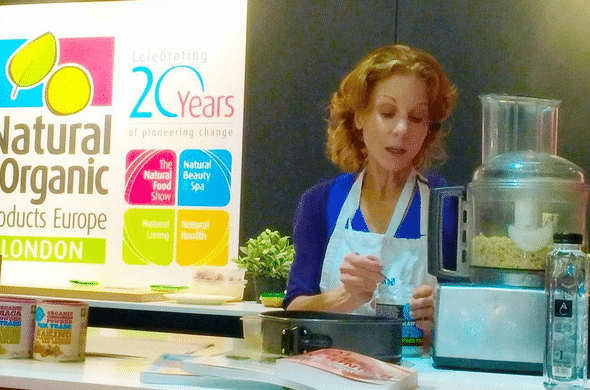 Nutritional therapist, chef and author Christine Bailey cooked up a raw storm at Natural & Organic Products Europe this year in her session Supercharged health: eat yourself beautiful in the Natural Food Kitchen.
With help from a range of newly launched products from Lucy Bee, Bailey produced recipes using anti-ageing ingredients to turn back the clock. Dishes included a health-promoting raw vegan cheesecake using turmeric, vitamin E-rich almonds and coconut oil, and a raw orange chocolate brownie incorporating lucuma, maca and cacao.
"The health and appearance of your skin just like the health of your other organs correlates to the lifestyle and dietary choices you make. Unless you take action to support your skin's internal structure and defence systems with the right nutrients the youthful qualities of your skin will deteriorate significantly," explains Bailey.
"There are many factors involved in skin ageing, but insufficient antioxidants in the diet which increases the risk of oxidative damage to the skin structure together with consuming excess sugar and carbohydrates which are pro-inflammatory are important. Super berry and supergreen powders, turmeric, baobab and lucuma are fabulous, easy ways to increase your intake. Consuming healthy fats and proteins – needed for the structural basis of healthy glowing skin – is also crucial. I am a great fan of collagen powders in addition to consuming sufficient quality protein rich foods. Collagen is a crucial protein in all connective tissues but particularly the skin – it's what keeps skin supple, firm and elastic. Vitamin C, and plant antioxidants are needed for the synthesis of collagen fibres and help to preserve collagen, elastin and hyaluronic acid key components of healthy skin, another reason to eat vitamin C and antioxidant-rich foods."