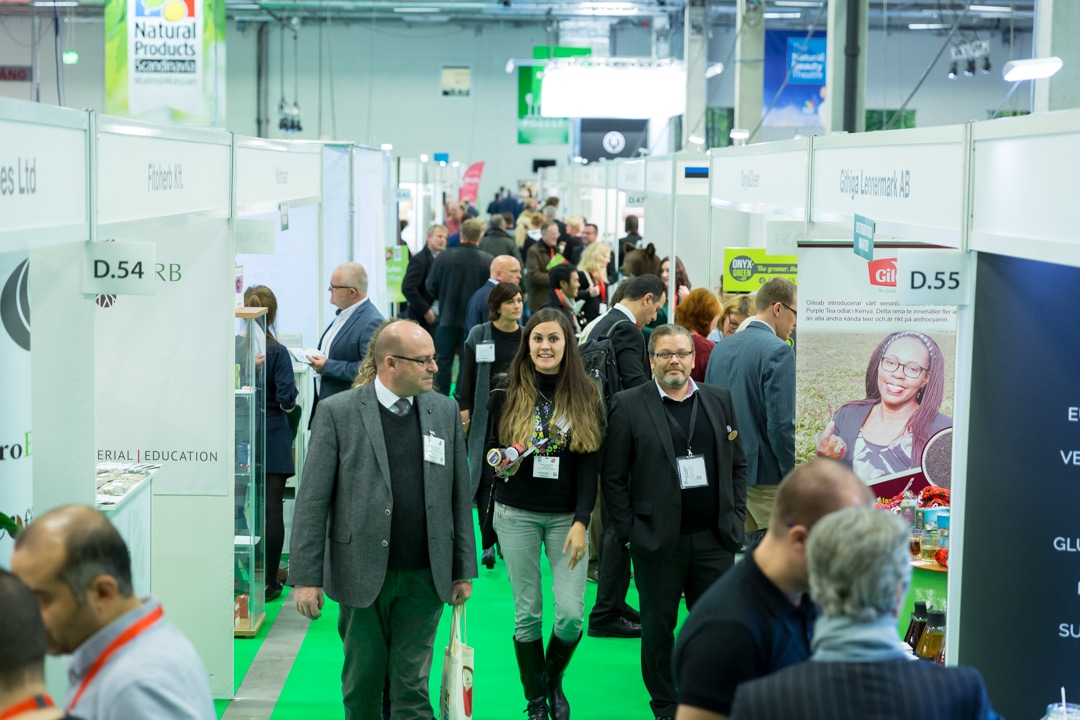 The Nordic region's biggest trade shows for natural and organic food and drink, health, beauty, eco-living and self-care products has opened visitor registration for 2017.
Returning to MalmöMässan, in Sweden on 15-16 November, the co-located events are expected to welcome over 5,500 attendees (compared to last year's 4,912), including key buyers and managers from many of Scandinavia's biggest retailers, health stores, pharmacy chains, wholesalers and distributors, public kitchens, and supermarkets.
With organic food sales increasing from 3.9 billion Swedish Krona to 25.4 billion in 2016, the Swedish organic market is growing at an exponential rate, and is forecast to double within the next 10 years, making these trade shows ideal for identifying new opportunities.
One of the show's biggest selling points is its comprehensive array of new products across all natural and organic categories, including future best-sellers and hundreds of new launches on the market. "There was a great range of producers, but more importantly, there were innovative products that did not only focus on being organic but also on new product development and sustainability," says Ricky Overeem from Magasin du Nord.
For 2017, the show will feature an unprecedented 400 suppliers from around the world, showcasing more certified organic products than ever before. "We are looking for the newest trends, and at this show we met suppliers which we don't meet anywhere else," says Kim Juhl-Kristensen, project manager at Lidl Danmark.
Returning show features include pavilions from KRAV, Organic Denmark, Austria, Organics Cluster Auvergne-Rhône-Alpes, France, Italy, Estonia, Northern Germany, Spain, and The Netherlands, with new additions from the Swedish region (Skåne), Greece, and Sri Lanka. The Nordic Organic Chef Competition, now in its third year, is also back. Hosted by the Swedish organic chef association, Föreningen Ekokockar, there will be two finals taking place at the show, including Nordic Organic Chef of the Year and Sweden's Organic Chef.  The Natural Beauty Theatre will again host four 'Beauty Hours,' which allows various brands to showcase their new products in front of a live audience.
The seminar programme will feature industry experts from: Organic Denmark, Ekoweb, Euromonitor International, EkoMatCentrum, Organic Sweden, NOC Sweden, Ecovia Intelligence, Tree of Brands, Rudefood, NATRUE, and Allergy Certified. A confirmed speaker is Marije Vogelzang, an 'eating designer' from The Netherlands, who speaks at global events  about our changing relationship with food – including various topics surrounding food waste, the lack of biodiversity, food allergies and obesity. Vogelzang works on restaurant concepts (as well as long-term medical projects for hospitals), inspiring food service operators to explore a new creative approach to food presentation – by thinking more about the 'act of eating'. She will be speaking in the Organic Theatre on 15 November and also hosting her designs and concepts to visitors on the Dutch pavilion during the show.
For more information and to register for a free trade ticket, please visit www.naturalproductsscandinavia.com or www.nordicorganicfoodfair.com and quote priority code NPUK322 (direct link: https://registration.n200.com/survey/0r4ptka5aril2?actioncode=NPUK322)