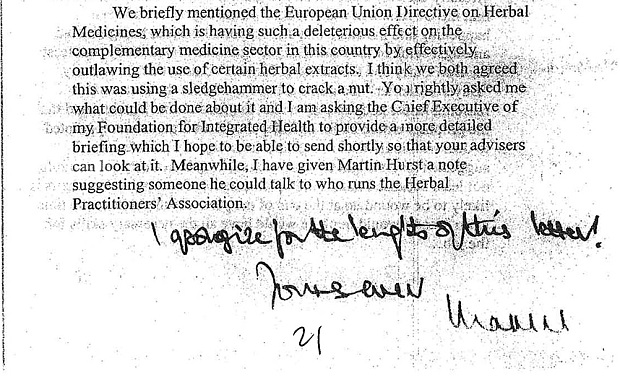 Private memos written by the Prince of Wales to Tony Blair and members of the Labour government suggest that the Prince's intervention on herbal regulation may have led to delays in Britain implementing the EU Herbal Directive.
Some of the correspondence between Prince Charles and ministers, written during 2004-2005 (the so-called 'black spider memos'), was published yesterday after a long campaign by The Guardian for the letters to be made public.
In a letter to the prime minister dated February 2005, the Prince raises the subject of the EU Traditional Herbal Medicinal Products Directive (THMPD), which was enacted into UK law in 2004. A supporter of traditional herbal medicine, the Prince was concerned by reports from practitioner groups that the THMPD would severely restrict their access to herbal products.
In the letter, the Prince said of the THMPD that it was "having such a deleterious effect on the complementary medicine sector in this country by effectively outlawing the use of certain herbal extracts." He added: "I think we both agreed this was using a sledgehammer to crack a nut" – and he offered to provide the prime minister with contacts from within alternative medicine sector.
"We can do quite a lot here: we will delay implementation for all existing products to 2011"
Tony Blair replied to the Prince in supportive tones. He said that the people with whom the prince had put him in touch "feel that the directive itself is sound and the UK regulators excellent, but are absolutely correct in saying that the implementation as it is currently planned is crazy." He added: "We can do quite a lot here: we will delay implementation for all existing products to 2011; we will take more of the implementation on ourselves; and I think we can sort out the problems in the technical committee – where my European experts have some very good ideas. We will be consulting with your contacts and others on the best way to do this – we simply cannot have burdensome regulation here."
In another memo to the then health minister, Charles Clarke, the Prince urges the government  to follow the example of South Gloucestershire council and encourage more organic, sustainable school meals.