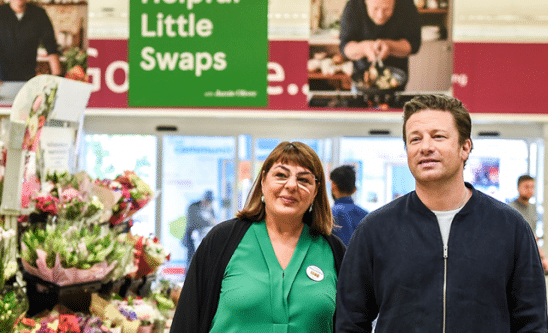 Jamie Oliver is joining forces with Tesco to help promote healthier eating through a new 'helpful little swaps' campaign initiated by the supermarket giant.
With a focus on British produce, a series of healthy recipes and tips created for Tesco by Oliver will be available to customers in store and online. To further simplify the shopper experience, many of the ingredients will be positioned together for convenience, and some will be reduced in price as a further incentive.
A recent survey of over 2,000 shoppers indicated a desire for more help where making healthy choices is concerned, with seven out of ten people saying they believe supermarkets should be more proactive in helping their customers; almost 70% said inspiration and practical advice would be welcomed.
I'm going to work really hard to respond to the different seasons and what the customer is asking for
Oliver says these results echo what he regularly hears from his audience. "Britain wants to know how to enjoy more of the good stuff, in easy fun and delicious ways. I'm going to work really hard to respond to the different seasons and what the customer is asking for, by creating exciting meals, short-cuts and tips that get people really fired up to cook. Tesco's part is to make it easier and more affordable."
Responding on behalf of Tesco, Alessandra Bellini, chief customer officer, says: "Jamie's passion and skill to inspire a nation to cook, coupled with our experience and reach in providing millions of customers and colleagues with healthy, quality, affordable ingredients will be a great combination to help people take simple steps to leading to leading healthier lives. This is a natural step in our ongoing work to make healthier eating a little easier. We are excited to have Jamie fronting up the helpful little swaps."