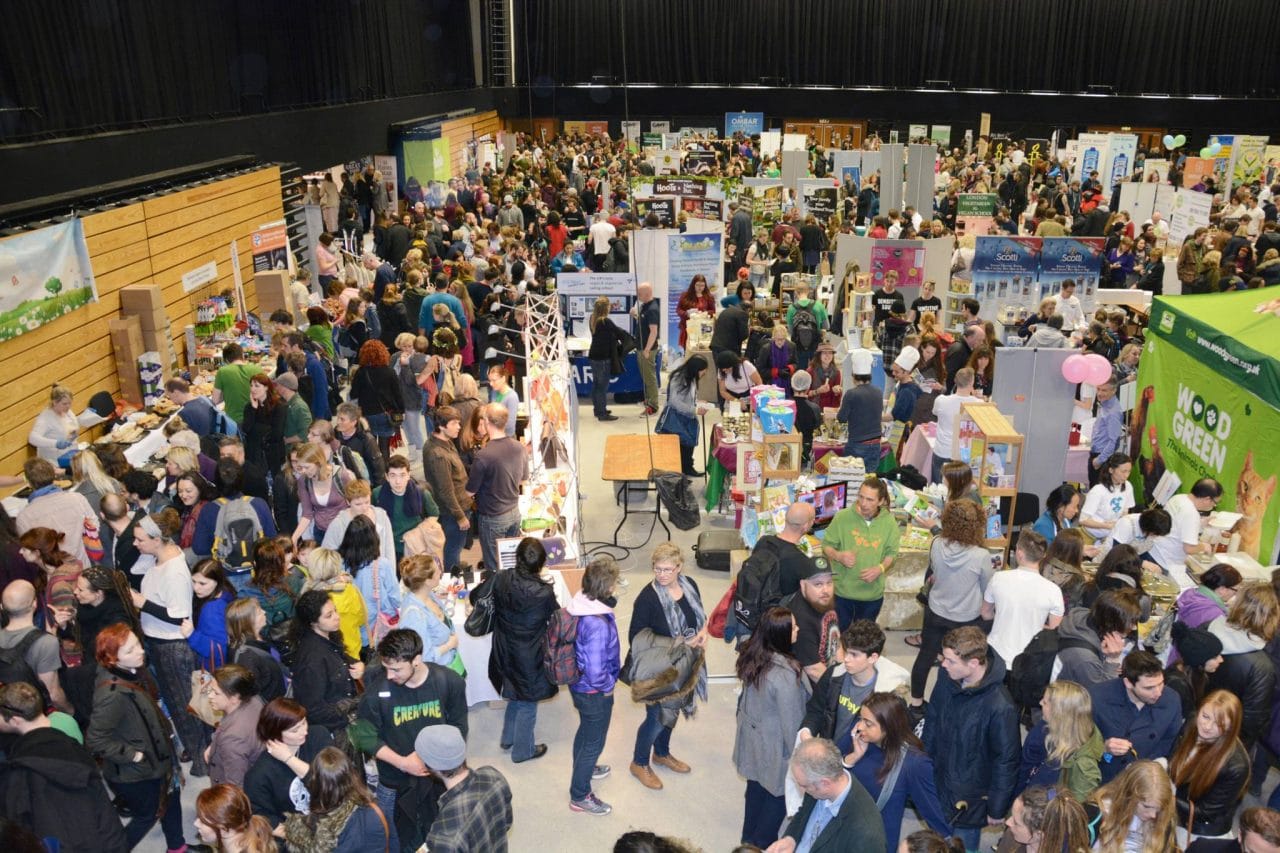 This year's VegfestUK Brighton saw a record attendance of 12,000 visitors when it took place this weekend (28-29 March) at the Brighton Centre.
As well as nearly 200 stalls, offering everything from superfoods to bodycare, snack foods to hemp products, the vegan festival included a Food Village with 15 specialist vegan caterers, including VBites Foods, Soul Juices, Simply Veg, Gillie Food and Bangwok and Beelzebab.
There were also cookery demos by the likes of Jane Easton who was recreating recipes from the Viva! Cookbook, and Matty Bowling, head chef of Terre a Terre; dozens of talks by experts including raw foodie Kate Magic and vegan beauty and skincare expert Jessica Laura; and talks which included Jasmijn de Boo, CEO of The Vegan Society, talking about labelling vegan products and the vegan trademark.
Also taking place within the event was the Global Food Sustainability Conference, a Party Political Conference ahead of this year's General Election, and a Hemp Expo with presentations by industry leaders and businesses.
Activities were also laid on to keep the little vegans happy, including kids cookery classes and entertainment.
"We're absolutely over the moon at the attendance figures of this year's Brighton event," said the organizers. "It has always been our ultimate aim to convince the general public to go vegan through our events. In years gone by, our combination of food, comedy and music has worked a treat in making veganism more accessible to the public. Nowadays, however, going vegan has actually got really sexy, and we believe that there has never been a better time than right now to up our emphasis on vegan education and put out a consistent message to the public to go vegan."
VegfestUK, which was founded by Tim Barford, has three more events coming up this year, in Bristol (23-24 May), London (10-11 October) and Glasgow (5-6 December).
VegfestUK Brighton was sponsored by Lifefood, Dee's Wholefoods, A Well-Fed World, Suma Wholefoods, Animal Aid, JASON, Nutiva, Plamil Foods, Magpie, Moo Free Chocolates, GOOD Hemp, Koko Dairy Free, Bute Island Foods, Vegfund, Yaoh and Out of Hand.
For more details, visit www.vegfest.co.uk.