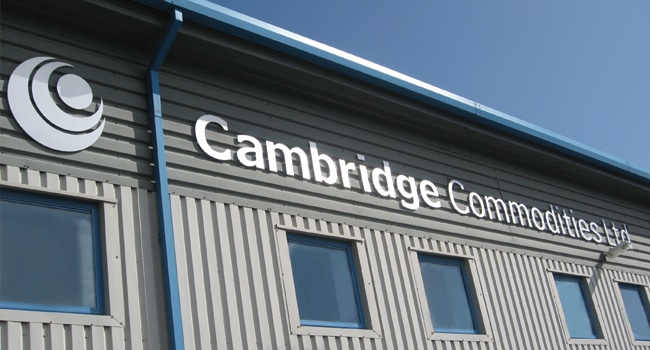 Earlier this year leading natural ingredients supplier Cambridge Commodities moved into a new 36,000 sq ft state-of-the-art facility just outside Ely. Natural Products went to take a look
Moving around Cambridge Commodities' new state of the art facility just outside Ely is like negotiating one of those computer games where a locked door meets you at every turn. In this case it's a series of unending keypads that lead you to the destination.
When we finally reach the company boardroom, where I meet founder and managing director James Stevens, I feel compelled to ask him about his security arrangements. "It's really simple. Security of ingredients is a paramount priority for us. It's primarily an issue about ingredient integrity, and always being able to demonstrate that."
The voice of ingredients
"We want to be the voice of ingredients, a one-stop-shop for a complete A-Z of vitamins sitting in our warehouse," says Stevens. And it's not one those slightly contrived A-Zs – there are actually eight ingredients listed that begin with Z!
The importance of holding comprehensive stock – 1400 different ingredients are held at the 36,000 sq ft site site on a just-in-time basis – is that it's the foundation of customer service. "It was a lesson I learned early on – stock gives you service. And service is imperative. A happy customer comes back.
"Holding this level of stock means we can help our customers meet the challenging deadlines of the modern business world. We'll work hard to source any product upon request from around the globe. If it's there, we'll find it."
In just 14 years Cambridge Commodities has gone from spare bedroom start-up to a £16 million turnover importer, exporter, distributor and manufacturer of nutritional ingredients and made-to-specification finished
products.
Quality, service, expertise
Cambridge Commodities' success, says Stevens, has been built on a three-point strategy of service, quality and market expertise. "We aim to be a supply partner – it's much more of a sophisticated relationship than being just a trader."
Much of that relationship revolves around trust. Trust in the quality and integrity of the ingredients the company sources and supplies is the starting point. Comments Stevens: "Our mission is to enable our customers to create great products through our commitment to market knowledge, technical expertise and above all the best quality ingredients. We have a highly qualified team actively travelling  the world, from China and India to Europe and the Americas, to achieve just that.
"Our dedication to providing the best quality ingredients means we liaise only with stringently selected manufacturers, while our technical team regularly audit all our suppliers around the globe in person."
Italian, French and German spoken here
That team has been steadily growing. There's a full time technical team of four and 10 people now in the busy admin department. The company's experienced buying team features several language specialists – Italian, French and German are all spoken here. "You could do business in these countries and expect customers to speak English, but we think it's part of the professional service we should be offering. It also helps in developing more rounded, nuanced relationships."
Underpinning Cambridge Commodities' commitment to quality is a series of internationally recognised quality systems. For example, it holds both ISO9001/2008 and FEMAS accreditations. To ensure it meets regulatory and quality requirements the company undertakes regular independent testing in the UK with UKAS approved laboratories. Batch Certificates of Analysis are supplied for every product with every delivery and all goods come with full Specification Material Safety Data Sheet and Process Flow Diagram.
Industry first
More recently the company, a member of the European Specialist Sports Nutrition Alliance (ESSNA), became the first multi-ingredients supplier to be awarded the Informed-Sport Site accreditation.
Informed Sport is a highly stringent testing programme designed to analyse supplements and their ingredients for inadvertent contamination with substances prohibited in sport by the World Anti Doping Agency (WADA) and the International Olympics Committee (IOC). Comments Technical director, Kevin Harris: "For customers, what this means is that by working with Informed Sport, Cambridge Commodities is demonstrating a long-term commitment to supplying clean and tested ingredients for elite sportsmen and women. The system – which tests ingredients, finished product and tub – takes 99% of the risk out of using supplements for athletes."
Harris admits the process of getting Informed Sport approved "created pressures on us as a business". Hundreds of products had to be sent for exhaustive testing by HFL and inspectors swabbed the entire warehouse – "every surface, every nook" – before the facility was officially certified as a clean site.
Sporting chance
Stevens believes that the sports nutrition category is set for continued growth. "Probably the biggest driver of growth has been normalisation of the category. Look at the extraordinary progress at some of the leading brands over the past five years.
"Yes, the London Olympics has created a big spike – and the legacy will drive continued growth of sport nutrition sales. But there's also a visible coming together of sports and nutrition/health. That's creating a huge spin out for business – so you are seeing nutrition and health specialists like Biocare moving into sports.
"As the old distinctions between sports and health products become blurred I think we'll see a time when taking your protein shaker to work will become the norm – and just a reflection of the busy, performance-led lives we lead."
"What we have also seen in product trend terms is the fat burner products being replaced by modern whey protein products. And for the health food trade it makes sense – you're talking about natural products. It's essentially curds and whey – albeit made in modern micro filtration processes. Although Holland & Barrett and GNC are selling the category effectively it's still an underdeveloped opportunity for many health food retailers. They are well placed to take an early advantage – before the supermarkets really latch on. I'm sure we'll see whole supermarket aisles devoted to sports nutrition before too long."
Meeting the challenges
Stevens says he has been impressed at the way the natural products sector has been successfully innovating its way around some of the barrage of legislation coming from Brussels. "The new herbals regime has presented big, big challenges. But the industry has  shown that its entrepreneurial spirit is alive and well. Some of the new products we're seeing, substituting banned unlicensed medicinal herbs with culinary herbs and advanced complexes, are really exciting. I've been really proud of the way the industry has responded to the challenges."
Asked how well these products will be understood by consumers, given that no on-pack claims can be made for them, he says: "I don't think there's too much of a knowledge deficit about less familiar herbs – Wikipedia, fortunately, is the biggest selling tool we have! Consumers are actually really well informed these days, although increasingly it's a case of 'you find the info, we can't tell you'."
The continuing growth of interest in all things natural, together with the recent revival of the industry's entrepreneurial spirit, give James Stevens confidence for the future – both for Cambridge Commodities and the whole sector.
An exciting future
The company has ridden the crest of a wave that has seen natural ingredients extend into health, wellbeing, cosmetics and – increasingly – sports products. With more awareness of the benefits of a holistic lifestyle to counteract busy stressful lifestyles, many of the major market data companies predict continued strong growth over the coming five years.
"We saw 30% growth last year and – since we're no longer controlled by space –  there's a real opportunity for further expansion. We see ourselves as a well run, professional and ethical business, and that's been an important part of our growth and the special long-term relationships we have forged with put customers. I'm hugely proud of what we've achieved so far – and excited and optimistic about the future."