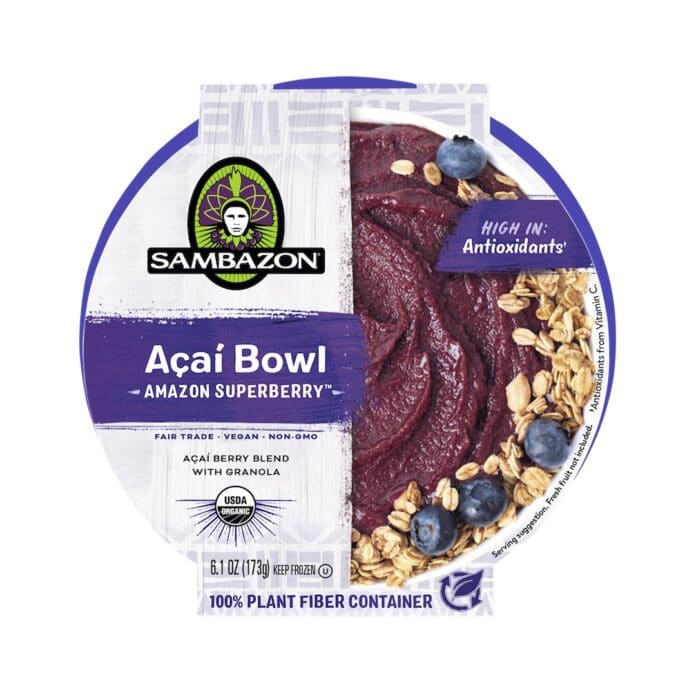 Bringing the flavours of Brazil's Amazonian rainforest to the UK, Sambazon has announced the launch of the 'world's first' frozen, certified organic Açaí Bowls in packaging made entirely from recyclable plant fibre.
The USDA-certified organic, vegan bowls are initially available in two flavours – Amazon Superberry and Berry Bliss – each of which feature a blend of wild-harvested fair trade açaí with granola toppings and thaw in minutes. High in antioxidants and omegas, the bowls are low in sugar, and the Berry Bliss flavour also contains probiotics to promote good gut health.
Striving to remove plastic from its products, Sambazon says it is the first company to launch 100% plant-based packaging in the category with the bowl, film and the adhesive used all individually certified as recyclable.
"The launch of our delicious and sustainable ready-to-eat Açaí Bowls mark an exciting moment in time for Sambazon in the UK retail market," comments Mari Laidlaw, the brand's international managing Director: "Consumers and stockists continue to look to brands to show creativity and leadership when it comes to developing healthy and sustainable products which not only provide nutritious value for all the family but can also help to protect the planet.
"The frozen food category continues to grow in popularity especially amongst health-conscious consumers and we have ambitious plans to roll-out the product nationwide in the future along with more unique flavour choices."
The launch strengthens the brand's retail partnership with Whole Foods Market, which was the first UK retailer to stock the ready-to-eat bowls in all seven of its stores across London and via Deliveroo. The bowls are also available to independent retailers.