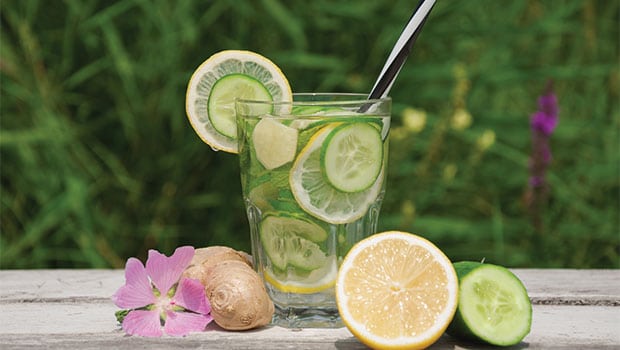 As more consumers seek alcohol-free, low-sugar and sustainably produced beverages, Jane Wolfe speaks with some natural and organic soft drinks brands to discover how they are ticking all the boxes
Summer is just round the corner, and whether your customers are planning a BBQ in the back garden, a picnic in the park or a day by the sea, they'll soon be reaching for something to keep them cool. 
Rather than opting for a G&T, bottle of chilled white wine or jug of Pimm's, they may well be seeking a healthier, but still enticing, substitute. According to the Drinkaware Monitor 2018 report Drinking behaviour and moderation among UK adults, two in five (42%) adult drinkers have made efforts to cut down, with 72% sticking to certain drink-free days, and 62% avoiding alcohol on 'school/work nights'. Over half of drinkers say they have set themselves a limit (52%), alternated alcoholic drinks with soft drinks (52%) or avoided alcohol for a fixed period (51%). 
With this rise in the number of people avoiding alcohol, or at least reducing their intake – due in some part to initiatives like Sober October and Dry January – there has never been a better time to offer innovative substitutes. No longer are flat, sugary colas or dull lime and sodas cutting it with non-boozers, so retailers would be wise to investigate the increasingly sophisticated alternatives coming to market. 
Broadening horizons
"The low and no alcohol sector is exciting, and an area that we continue to explore from a soft drinks perspective," says Steve Kearns, MD at Cawston Press. "The more people we talk to, the more people ask us for good alternatives to alcohol. As part of this, and as people broaden their horizons, there is seemingly a willingness to embrace new concepts and ideas which has seen a growing interest in flavoured sparkling waters, spritzers, fortified drinks, plant-based milk alternatives, cold brew coffee, various forms of iced tea, fermented drinks like kombucha and cider vinegars."
To cater to these requests, the brand recently introduced Cawston Dry. "Flavoured sparkling waters are the fastest driving segment within waters, but they can be austere or taste artificial," explains Cawston's head of taste, Micah Carr Hill. "So our focus was flavour. Adding a twist of our pressed juice and natural fruit extracts makes for a much more rounded finish; a refreshing but dry profile that tastes of real fruit."
Kearns adds: "We know shoppers are looking for drinks with low calories and less sugar, without scrimping on flavour. They're also wary of artificial sweeteners. They want sustainably sourced ingredients and recyclable packaging; all at a competitive price point. It feels like a positive turning point in our sector that people are now demanding better quality soft drinks."
Soft drinks positioned as alcohol alternatives are one of the biggest growth areas in the sector, says Go! Kombucha founder Gary Leigh. "Many home-grown brands are now getting listings with pub chains, high-end bars, even Michelin-rated restaurants," he says, adding that GO! Kombucha is now served at venues including The Arts Club and One Aldwych.
A fermented tipple
Leigh believes kombucha hits all three key major growth areas for soft drinks – low sugar, alcohol alternative, gut-friendly – and adds that the sugar tax is an advantage for the kombucha sector, as most brands come in at 4g/l – well under the 5% threshold.
But, despite current listings in the multiples, he says it's still early days for the fermented drink. "It will take some years for kombucha to reach a zeitgeist where the soft drinks industry is concerned, due to the incredible amount of work to be done to educate and encourage, even entice, the mainstream public away from the sugar-and additive-laden drinks they've been weaned on. It is a nod to the stranglehold that the mass-manufactured processed drinks industry has on the marketplace that it will take some time for kombucha to emerge, if indeed it ever will, as a mainstream option."
However, due to the increasing demand for natural, healthy and specifically low-sugar drinks, the manufacturing giants have been quick to make their move. "The response from the major players like PepsiCo with KeVita and, more recently, Coca-Cola, has been to get in way ahead of this awakening hitting a critical mass, so they now have their own lines of laboratory-engineered fermented drinks," says Leigh. "It is apparent that many entering the kombucha sector think it's as simple as scaling up what you do in your kitchen. It really isn't, and that is evident in the amount of adulteration – such as filtering and force-carbonating – they are having to do to stabilize their often imbalanced brews."
Kefir waters are also beginning to surface on the market, with Purearth launching a range of sparkling fermented drinks with highlighted functional benefits which includes boosting immunity, energy and metabolism, and Captain Kombucha introducing the new Oh My Gutness range.
"It feels like a positive turning point in our sector that people are now demanding better quality soft drinks"
The rise of ACV
Apple cider vinegar (ACV) has experienced something of a resurgence over the last few years, and has now entered the UK drinks sector in a number of different guises. One such is Switchle, an updated version of a drink popularized by colonial farmers in the US, who added water, ginger and honey to ACV to quench their thirst during harvest time. 
"Here in the UK we are trying to establish a category and we are seeing tremendous growth," says Carlo Buckley, business opportunities manager at brand owner Healthy Sales Group, adding that the brand has just launched in the US where the drinking vinegar category is already established. "There is a huge demand for alternative and more sophisticated drinking options as consumers become more discerning, and the market is now providing them with options which cater to their needs. Apple cider vinegar not only has tremendous health benefits but can also change the flavour profile of a product, giving that tartness and mouth feel that you get sometimes from alcoholic drinks. It was the perfect ingredient to incorporate into a soft drink to provide a more grown-up taste profile."
"Within soft drinks, our product is a really innovative concept – it's still pretty niche," Buckley explains. "We're a category, within the craft drinks category, of a new breed of healthy, soft drinks using innovative ingredients to create a different kind of consumer experience. There are still quite a few people to whom it is a completely alien concept to have vinegar in a drink; they are incredibly sceptical as to how good it's going to taste. We were really careful in our formulations to first and foremost create a drink that tastes great, because people buy on taste."
Eco credentials
Buckley says sustainability is incredibly important both from a product and packaging perspective. "We worked really hard to produce Switchle with organic ingredients and for it to be certified organic. Putting it into an aluminium can rather than plastic was also important as they are pretty much infinitely recyclable – we've got incredibly good recycling facilities for aluminium cans – they chill quicker and are a lot more efficient to transport.
"If there is a viable alternative to plastic, then a lot of people would rather use that. It even goes down to what the single unit is packed in. Is it a shrink-wrap tray or is it a carton? What people don't know is that many drinks are coming off the production line in a shrink-wrap tray, then going to a facility to be reworked; but that shrink-wrap is still being used. It's a complicated issue that the whole market needs to address, but it's going to take a long time. From our perspective as a brand, we want everything to be as sustainable as possible."
Cawston Press does use plastic shrink film on some of its cartons and cases, but says it has a very high real recycling rate as most of it is removed within the supply chain and recycled along with other outer case packaging. It is currently working with one of its suppliers to include up to 50% recycled content in the shrink-wrap on its cases and its pallet wrap.
"Our cans, cartons, straws and caps are made from recyclable materials," explains Kearns. "For multiple reasons we do use single-use plastic straws on our Fruit Water range. We were the first in the UK to add consumer-friendly instructions showing how pushing the plastic straw into the carton after use means it will get recycled along with the carton."
A saintly snifter
An increasing number of soft drinks brands are now positioning their offers as alcohol substitutes, including Ceder's, a distilled gin alternative made with South African botanicals; the non-alcoholic Irish 'spirit' Silk Tree; and the alt-gin Sea Arch, which incorporates sea kelp.
The recently launched Caleño is another non-alcoholic spirit, created after founder Ellie Webb became increasingly frustrated by the lack of adventurous non-alcoholic options on nights out, leading her to produce her own. Drawing inspiration from her home country of Colombia, the drink combines juniper, citrus and spice botanicals. 
Caleño's focus is not just on providing an innovative alternative to its alcoholic counterparts, says Webb, but also on fighting that age-old stereotype that not drinking is 'boring'. "I grew up surrounded by music, dancing and an upbeat Colombian culture. This has had a big influence on the creation of Caleño, which is here to show people that you can have fun without drinking."
Little Miracles
Bravura Foods
Tel: 0203 086 8676
E-mail:  [email protected]
www.bravurafoods.com 
Little Miracles is a range of ready to drink, organic super fruits and tea drinks. The range of organic tea is made with carefully selected panax ginseng in its purest form and açaí, making it a perfect pick-me-up day and night. The drinks provide a burst of flavour and nutrients guaranteed to give your day the kick start it needs! The brand is proud to offer these products with no additives, no preservatives, no GMO ingredients, as well as being natural, organic and fairtrade. All drink blends are sweetened with organic agave and are less than 70 calories.
Water Kefir
Purearth Life Ltd
Tel: 07875 263101
E-mail:  [email protected]
www.purearth.co.uk
Purearth water kefir is a 100% organic, naturally fermented sparkling drink, containing billions of live cultures (probiotics), digestive enzymes, amino acids, vitamins, and minerals that support digestion, overall gut health, the immune system and heathy skin.   Infused with organic superfoods, our kefirs are raw, unprocessed and unpasteurised. This means that whilst our drinks aren't preserved the benefits are! 
Flavours include:  Lemon + Spirulina, Ginger + Lemon, Hibiscus + Lime and Passionfruit + Turmeric. They are all caffeine-free, gluten-free, dairy-free, low in pre-digested sugar, vegan and 100% natural. But most of all they are simply delicious, refreshing, sparkling drinks!
Sparkling Apple Cider Vinegar Juices
Lost Coast Food Co.
Tel: 0203 858 0045
E-mail:  [email protected]
www.lostcoastfoodco.com
Lost Coast Food Co. offers our range of Sparkling Apple Cider Vinegar Juices, a great tasting and revitalising drink that is perfect for summer and which blends sparkling water, unique fruit juices and botanicals together with your daily dose of Apple Cider Vinegar.  ACV is a natural remedy that is good for the gut and known for its health-giving properties. Our drinks are low in sugar and calories with less than 50 kcal per 330ml bottle and are available in three unique and delicious flavours: Mango, Turmeric & Ginger; Strawberry, Hibiscus & Rose; and Blueberry, Elderberry & Lemon. 
Willy's Apple Cider Vinegar Ready to Drink Shots
Willy's Ltd
Tel: 01568 720244
E-mail:  [email protected]
www.willysacv.co.uk 
Willy's brings a modern twist to an age-old natural remedy; Apple Cider Vinegar. Controlling the whole story from apple to bottle, Willy's ACV is raw, unfiltered and contains all the incredible probiotic goodness of 'The Mother'. Willy's is made from 48 classic apple varieties grown in our 300-year old beautiful English orchards. You can also now enjoy a 25ml recommended daily dose of Apple Cider Vinegar in Willy's new range of shots. Naturally fermented at the farm, Willy's Apple Cider Vinegar is blended with clean, super-food ingredients such as beetroot, turmeric and ginger give you a gentle and all-natural boost. 
Captain Kombucha
Bravura Foods
Tel: 0203 086 8676
E-mail:  [email protected]
www.bravurafoods.com 
Captain KombuchaTM Raspberry is one of the UK's first fermented Kombucha health drinks, It is presented in a stunningly unique PET bottle that can be served and enjoyed both chilled and ambient. Launched by Bravura Foods it is organic, vegan, made with natural content only, free of any artificial flavours and colours and its naturally high probiotic content is great for both digestive and immune systems. Award winning Captain KombuchaTM is available in classic Original, Raspberry and Coconut flavours and the two new fabulous flavours, Pineapple peach splash and Cayenne Pepper. This legendary health drink is lightly carbonated and available in 400ml PET Bottles.
Green Coco Fairtrade Coconut Water
Brand Organic
E-mail:  [email protected]
www.brandorganic.co.uk
Dr. Antonio Martins have launched the first coconut water in the European market with official Fairtrade certification, a pure and organic coconut water made with sun-ripened coconuts from selected plantations in Sri Lanka. Available in 1L and 330ml formats, Dr. Antonio Martins pride themselves on producing coconut juices form the highest quality and taste. While they can be sold ambient, they are best served chilled and are wonderfully refreshing in the summer sun. The Dr. Antonia Martins range has just been re-launched in the UK with CLF Distribution and are now available to order. 
GO Kombucha Summer Clearance
GO! Kombucha at Gaia Brands Ltd
Tel: 07956 228141
E-mail:  [email protected]
www.gokombucha.co.uk
The pre-eminent kombucha brand is rebranding with a leading London design studio, and new-look stock will roll out from September (preview next issue). Infinity Wholesale is running a massive price promotion throughout July/August offering current label stock (pictured) at a whopping 25% off list price.  GO Kombucha adheres to the principles of traditional small batch, handcrafted fermentation, avoiding filtration and carbonation newer brands apply for shelf stability. "Kombucha brewing is an art learned over many years," says founder Gary Leigh. "We've honed and finessed our craft since 2003 to ensure a perfectly-balanced, naturally effervescent heritage kombucha with a kick that assures love at first bite.
AQUA Carpatica
Tel: 01895549041
E-mail:  [email protected]
www.aquacarpatica.co.uk
Water's water, right? Wrong. With water making up 60% of our body weight and contributing to some of the most crucial functions in the body[1], it is one of the most important elements of our diet. With an ever-increasing focus on a healthy and active lifestyle, the beverage marketplace is redefined by the progressive health and wellness consumers, paving the way for life choices based on mindfulness, authenticity and integrity. Therefore, it's time to discover the new, and exceptionally pure, natural mineral water brand AQUA Carpatica.
Each drop of AQUA Carpatica's Naturally Sparkling Mineral Water is naturally carbonated by a unique geological volcanic structure: over 200 metres under the earth, a blanket of metamorphic rock protects the water as it mixes with carbon dioxide (CO2) through a 40-year natural filtration  process giving AQUA Carpatica Natural Sparkling Mineral Water its unique effervescence and exceptionally pure natural mineral content, which is ethically bottled at the source. AQUA Carpatica's natural high concentration of Bicarbonate stimulates digestion and diminishes symptoms associated with digestion and neutralizes lactic acid generated during physical activity and prevents cardiovascular diseases. As a result, the water is also perfectly suited for athletes and people who engage in high levels of physical activity, but also to the consumer looking for the best hydration option.
AQUA Carpatica Natural Sparkling Water
• Naturally nitrate free
• Natural source of bicarbonates
• Bottled at source
• Naturally low in sodium
• Each litre provides 39% of your Calcium RDA and 26% of your Magnesium RDA
• 40 years of natural carbonisation (filtration during the underground journey of the water)
• Clean, smooth taste
• Free from chemical pollutants (fertilizers) – springs in protected area