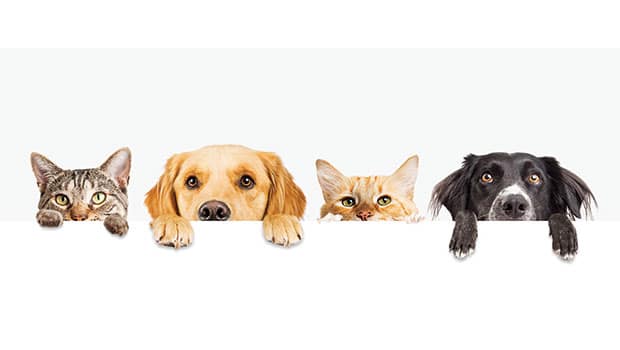 A far cry from the proverbial dogs' dinner, the pet industry is now booming with healthier and greener options. From zero waste shampoo bars to premium natural and organic foods, Sharna Waid finds out what retailers are stocking to meet the demands of a growing community of eco-conscious pet parents
In the UK, 59% of British consumers own a pet, according to Mintel. With pets so often seen as an extension to the family, and conscious consumers thinking more about sustainable food choices, a new wave of premium pet products are emerging, designed to lower the carbon pawprint of our furry friends. 
Many widely available meat-based pet foods are made from by-products from which, according to Ethical Consumer, factory farms can still profit. For pet owners who see supporting the conventionally-farmed meat industry as an unethical lifestyle choice, the quality of the meat itself is becoming increasingly important, with organic being the more favourable option. 
According to Mintel, 51% of pet care buyers say they would rather cut back spending on themselves than on their pets. This 'pets before humans' mentality, or the 'humanization of pets', has 'paved the way for premiumization' within the pet food market, says Mintel. Accordingly, retailers are stocking a wider range of organic pet food brands for owners who are willing to invest in higher quality food for their animals.  
Good enough for humans
Brands such as Lily's Kitchen, Edgard & Cooper, Webbox Natural, Beco Pets, Natural Instinct and The Natural Dog Food Company are creating high quality grain-free pet foods. Their products are made with 'human grade' natural ingredients, no artificial additives and no factory farm by-products – arguably better for animals' digestion, the quality of their coats and weight management. 
This is also the case for snacking. Pawfect Foods challenges the outdated notion that snacking is unhealthy for pets, with the launch of its vegetarian Finest Himalayan Cheese Treats for dogs. They are high in calcium and protein, and free of antibiotics and synthetic hormones – good enough for humans to eat. 
What's more, innovative sustainable alternatives, such as the use of insects, are also emerging from brands like Yora, which makes dog food out of insect protein, combined with oats, potato and natural botanicals. 
Tom Neish, founder of Yora, comments: "Animals and humans have been eating insects for over five million years, and we believe Yora is the future of pet food. Yora enables dog owners to take the lead in giving their dog nutritious, tasty food whilst having a positive impact on the environment."
Mintel notes that some 38% of millennial pet food buyers are interested in buying human-style pet food (eg pet-friendly chocolate). Combined with the growing numbers of zero waste stores, natural 'human snacks' are also becoming a sustainable choice for animal lovers. Sammy Reid, owner of Sea No Waste in Arbroath, Scotland, says: "We have customers who purchase banana chips and organic sunflower seeds in bulk for their pets!"
Treats and toys
It's not only edibles that are gaining traction in the natural pet industry. A number of retailers are stocking biodegradable, eco-friendly, plastic-free hygiene products and toys to provide a sustainable solution to cheaply manufactured plastic products. 
"We also have dog shampoo bars coming in store this week, along with nose and pad balms in aluminium tins made with natural, non-toxic ingredients," says Reid.  
Rebecca Pinder, co-founder of zero waste shop EcoVibe UK, says the high volume of pet owners in the UK alone equals 'a lot of treats and toys'. "We're thrilled that pet owners are shifting their focus to sustainability. We're excited to prove to people that sustainable doesn't mean poor quality, or that your furry (or feathered) friend has to miss out. 
"There's a great range of products on the market such as recycled pet toys and compostable food bowls, and more are being added all the time. There's no better time to be a great friend to your pet, and the earth," she concludes.
Compostable 'poop bags' for pups
Zero waste store EcoVibe stocks a range of eco-friendly, ethically sourced and plastic-free products for the eco-conscious dog lover. Co-founder Rebecca Pinder tells us about her best-selling item: compostable 'poop bags'. 
"Our most popular product is our compostable poop bags, which we launched back in March. Dog poop bags add to the huge problem of plastic pollution we already have – there's around eight million dogs, each producing an average of 152 pounds of poop a year, just in the UK, so I'm sure you can imagine that's a lot of poo bags! 
Plastic bags can take thousands of years to break down, and so compostable bags are an important way to reduce the amount of harmful plastic we throw away. Our bags are made of eco-friendly corn starch instead, which breaks down in just three to six months, depending on your composting conditions.  
"We've had such amazing feedback from our customers about these! There's also a big demand for compostable cat litter liners, which is definitely something we'll be looking into in the near future."
Natural Healing for Pets
Helios Homeopathy
Tel: 01892 537254
E-mail:  [email protected]
www.helios.co.uk
At Helios we know the healing benefits that homeopathy and natural plant based products can bring to all creatures great and small.  Our pet care range covers a wide variety of minor ailments and first aid situations for pets and comprises of a 24 remedy homeopathic kit, a natural healing beeswax balm, an SLS free botanical shampoo and a combination flower essence for those emergency situations. 
On the Go without Toxins or Plastics
HEVEA, A.P. Moellers alle 17, 2791 Dragoer, Copenhagen, Denmark
Tel: +45 5049 180
E-mail:  [email protected]
www.heveaplanet.com
With the new HEVEA foldable Bowl, you can travel long distances or go hiking without being worried about your pet getting thirsty. And it will limit the risk of diseases from water shared with other dogs. The Bowl on the go is designed to be functional, safe and practical. It is made from strong, durable and long lasting natural rubber, which is non-toxic, free of phthalates, petroleum, PVC and heavy metals. So no more damaging plastic. The bowl is suitable for small to medium sized dogs and available in two colours ̈Old Rose ̈and ̈ Pale Mint ̈. 
100% Natural Hemp Wellness Treats Retail Starter Pack (For Dogs)
HOWND
Tel:  020 3004 5255
E-mail: [email protected]
www.DogsLoveHownd.com
Most of your customers will have dogs and it's time to give them a 100% natural reward. Stock vegetarian Hemp Wellness Treats from multi-award winning ethical pet care brand, HOWND. Delicious and packed with goodness, they are a complete source of protein, easily digestible, rich in Omegas 3,6 & 9, gluten and grain free, hypoallergenic and oven baked. Five varieties targeting 5 health benefits. Offer includes x 50 units (x 10 Keep Calm, x 10 Golden Oldies, x 10 Playful Pup x 10 Got an Itch? X 10 Yup You Stink!) RRP £4.50. £119.50 plus VAT. FREE CDU.
Nature's Greatest Secret Premium Quality Colloidal Silver
Optimised Energetics
Tel: 01892 457360
E-mail:  [email protected]
www.naturesgreatestsecret.co.uk
Pet owners who appreciate the antibacterial benefits of Colloidal Silver on themselves will need little persuasion to purchase our best selling 10ppm premium Silver solution for pets. Good bacteria is anaerobic and bad bacteria is aerobic.  So, for survival bad bacteria needs oxygen. The presence of colloidal silver near a virus, fungus, bacterium or any other single celled pathogen disables its oxygen metabolism enzyme. Within a few minutes, the pathogen suffocates and dies, it is then cleared out of the body by the immune, lymphatic and elimination systems. Unlike pharmaceutical antibiotics, which destroy beneficial enzymes, colloidal silver leaves these tissue-cell enzymes intact.
SerraPet™ 250,000IU Tablets
Wholesale Health Ltd
Tel: 01606 889 905
E-mail:  [email protected]
www.wholesalehealthltd.co.uk
Serrapeptase is renowned for its powerful healing abilities in humans, but did you know that it can also be beneficial to our furry friends? Now with a max-strength dose of 250,000IU serrapeptase, SerraPet™ from Good Health Naturally provides safe and effective healing for a wide variety of health conditions when taken as part of your pet's everyday nutrition. The way SerraPet™ works is by gently dissolving scar tissue and inflammation in the body. Once the inflammation is cleared, your pet's natural healing processes can begin to function properly. Suitable for all animals including horses, cats and dogs. Contains no phthalates or coatings.