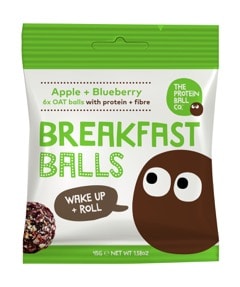 Aiming to shake up mornings, The Protein Ball Co has launched new bite-sized Breakfast Balls designed to give consumers a healthy, nutritious on-the-go choice.
Available in Apple + Blueberry, Hazelnut + Cacao and Strawberry + Vanilla, each 45g snack pack contains six balls boasting 5.4g of protein. Made using natural protein – such as pea, rice and pumpkin – they are vegan-friendly, high in fibre, 100% natural, gluten-free and contain no added sugar.
"Consumers are crying out for delicious and natural on-the-go breakfast choices and our new Breakfast Balls are the ultimate portable brekkie made from the highest quality ingredients and designed to provide a healthy and satisfying energy boost," says Matt Hunt, founder of The Protein Ball Co.
"We all know that breakfast is the most important meal of the day, but now more than ever consumers are keen to make healthy choices, but time is still a key issue. With our new Breakfast Balls we've taken the hassle and worry away and provided a nutritious, wholesome and filling breakfast option that will suit the most hectic of lifestyles."