Viridian Nutrition's founder Cheryl Thallon is among the first to sign Prince Charles' ground-breaking environmental pledge, the Terra Carta, in which he calls on businesses to make an ethical investment in the health of the planet.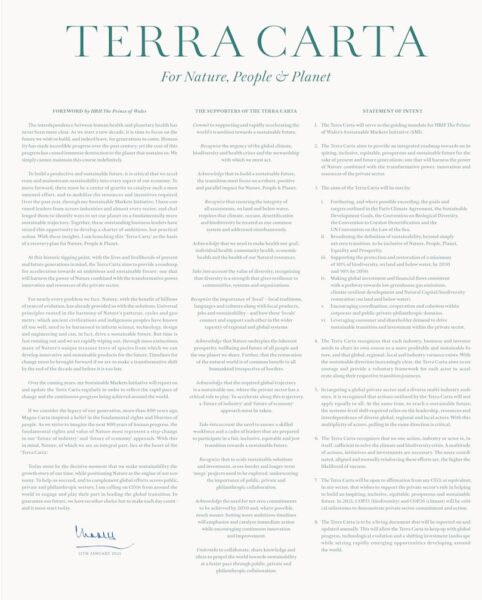 The Terra Carta initiative – which aims to raise £7.5 billion towards sustainable projects – sets out a green roadmap to 2030 outlining actions for businesses to adopt across ten transformative areas, from creating sustainable industries to harnessing nature-based solutions into their portfolios and supply chains.
"As we strive to imagine the next 800 years of human progress, the fundamental rights and value of Nature must represent a step-change in our 'future of industry' and 'future of economy' approach," writes HRH The Prince of Wales' in the charter. "With this in mind, Nature, of which we are an integral part, lies at the heart of the 'Terra Carta'."
Supporting Prince Charles' call for action and a unified approach to planetary health, Thallon is calling on fellow industry leaders to support to the initiative.
"Viridian is a long-time admirer of Prince Charles' position on addressing sustainability and climate change and his work as a life-long environmentalist," she says. "We believe the Terra Carta's ambitions resonates with Viridian's ethical principles and philosophy of protecting the health of our planet and safeguarding it for future generations. We are proud to be among the first to join Prince Charles' dynamic charter.
"However, it is essential we act collectively to make any fundamental difference and urge other colleagues in the industry to pledge their commitment to the Terra Carta."
You can find more information about the charter and pledge support here.