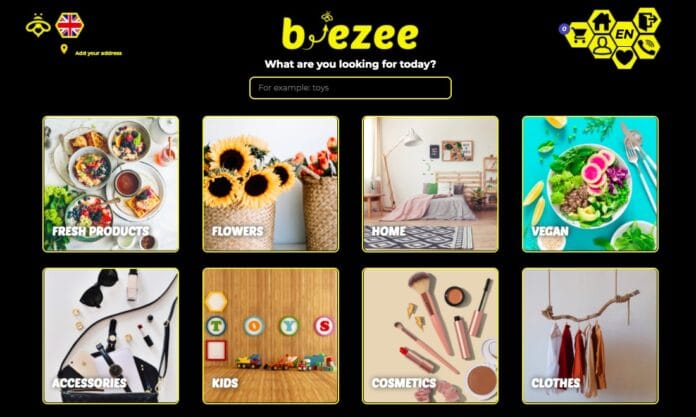 Offering independent high street retailers and small businesses the chance to benefit from an online storefront and delivery service, BeeZee has launched its app and website in the UK, enabling users to shop locally from home.
By using BeeZee, consumers can browse their local high street and purchase high quality products – from fresh produce and vegan offers to accessories, cosmetics and homewares – to be delivered directly to their door via courier.
Designed and developed by entrepreneur Georgina Green (pictured), BeeZee was launched 'to revolutionize the high street' and support small, local retailers who don't have the resources or infrastructure to offer online shopping and delivery by offering them an additional revenue channel.
"Local retailers have had to work harder than ever to ensure that they are meeting the ever-evolving customer experience, and in the current climate it's vital that we support these independent shops to ensure they survive," says Green. "Local businesses often do not have the technological know-how or infrastructure to create an online platform which would enable them to make sales while in lockdown and beyond, and that's where BeeZee comes in. The app allows consumers to shop the local high street from the comfort of their home, meeting the consumers' needs as well as the needs of retailers."
She adds: "Our local high streets and independent retailers are the cornerstones of our communities and by supporting them in any way we can, we're helping them to survive under the growing economic pressures which were already mounting but have been made undeniable worse by the COVID-19 pandemic."
BeeZee aims to offer a cost-effective solution for retailers, who can sign up to BeeZee for a free trial following which a fee of 12% is charged on sales to cover app running costs. During lockdown all fees have been waived. Delivery drivers receive 100% of the delivery fee on all purchases.
BeeZee launched in Israel in May 2020 and currently has 25,000 users and over 300 small businesses signed up. Initially rolling out in London in the UK, Green plans to extend the service nationwide in the coming months.