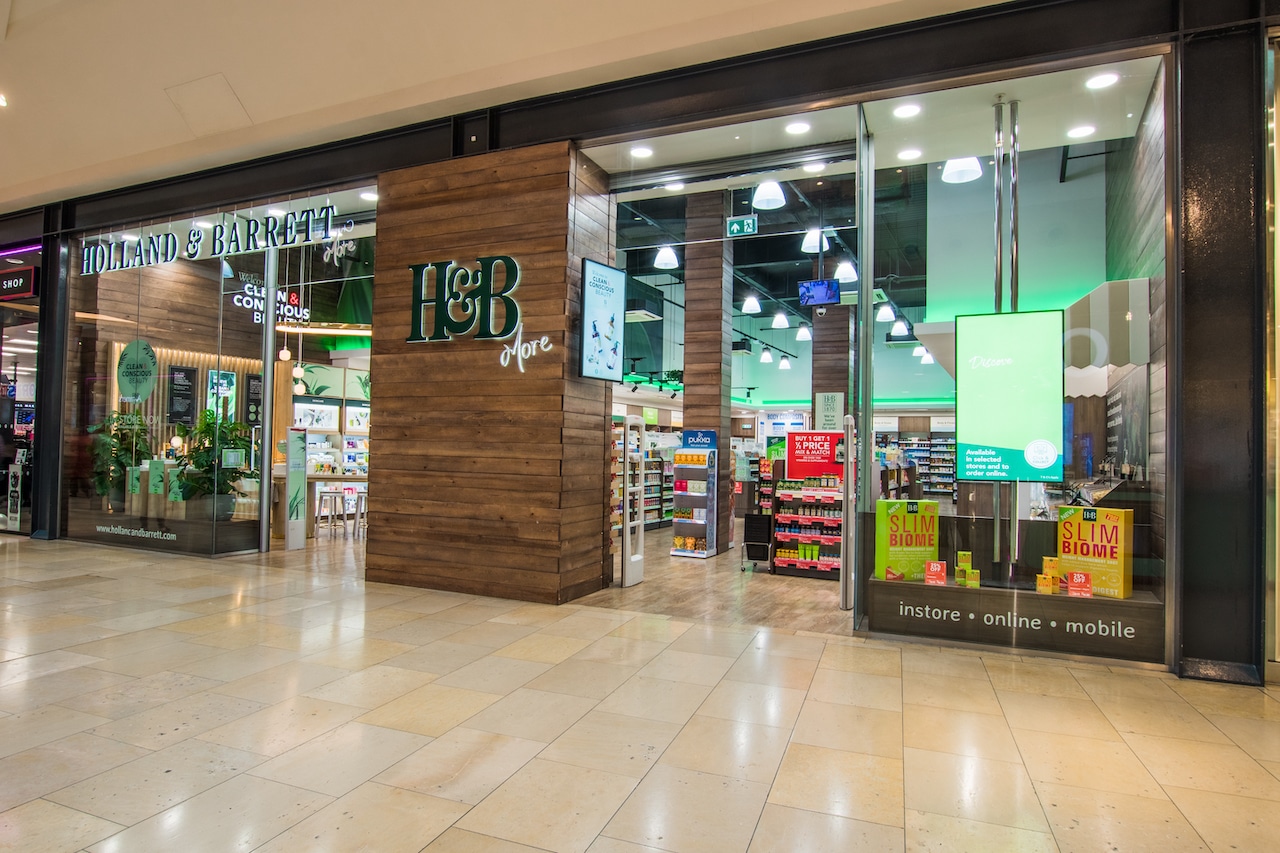 Hilary Leam, group innovation director at Holland & Barrett, tells Rosie Greenaway where she's placing her bets in 2020
Within your role as group innovation director, what are you currently focusing on?
There are three key areas that I'm looking at. One is looking at future trends and material trends that we think translate into a big own-brand story. We have the trading teams who undertake very comprehensive, customer-led range reviews; I'm certainly not the guardian of all NPD listings because we have a more than capable trading team who drive that on their own. My role is more looking at the three-year pipeline: where we think we might want to place some bets and then trying to determine where we think that might play across our current portfolio.
The second thing I'm looking at is creating new brand propositions. The first one is coming to market in the next two months or so – I think there are some opportunities for us both in international and UK markets to potentially take our expertise and play that externally.
The final element that I'm now picking up is sustainability and social responsibility – to ensure we have a very clearly articulated vision that … this isn't about greenwashing. It's a really complex area, so [we're] trying to make sure that as a business we're aligning behind the right pillars of that, working with internal teams and external experts to support us in defining a meaningful strategy.
What are you placing your bets on this year?
I still believe that CBD has lots of potential. We get approached a lot by CBD companies which is helpful. CBD is only one of the cannabidiols; we're hearing a lot more about, for example, CBG. It's an area we will continue to watch carefully.
We're hearing a lot around pill fatigue. Gummies, sprays, tonics (small at the moment, maybe, but growing); different types of bioavailability; different ways of delivering high quality products to different consumers.
And the one thing that isn't going to go away, and I think will continue to refine and develop, is plant power. Less around vegan – obviously vegan is a very big trend – but certainly around flexitarian, eating less meat and increasingly not having to compromise on texture and flavour.
We're also seeing a lot from the marine world at the moment, so some quite interesting antioxidants; there's something that we're excited about later this year that's more about power of ocean.
We believe we're placing the right bets. Some will come off, some won't. We've placed bets in the past where maybe we've been a little bit ahead of the market.
Can you give an example?
I think we went early on mushrooms. Mushroom is really big now but when I'd just joined Holland & Barrett we had a bit of a legacy where we knew the benefits, we were just a bit further ahead of the market. It happens in any progressive and innovative retailer. That's absolutely fine; when the time is right, we'll have confidence to go again.
Recently H&B has seen changes at leadership level. Do you have a clear strategy of where the business is going?
I don't know a retail business that's not going through change. The key thing is: have we got the right strategy? I genuinely think we have. I feel like we're making the investment in the leadership in the right places; the strategic direction has refined a lot. We've always been, as a business, very clear that we are (in my words) wellness specialists for everybody. How we bring that to consumers I think has changed, as it's changed for every retail business. We've got some very clear leadership now and that's helpful. I think change is encouraging. Change is part of life. I definitely don't get bored! It's fun.
We believe we're placing the right bets. Some will come off, some won't. We've placed bets in the past where maybe we've been a little bit ahead of the market
I think we're in a really good space. We are very well positioned in a very tough market. We have confidence. We still are very mindful that there are a lot of challenges out there generally – there's still lots of economic uncertainty. But I think we are clear that we are in a growth market. We're closer to customers than we've ever been. We're doing lots and lots more work listening to customers. We've set up a 'voice of customer' where they're much more present in the business on everyday decisions. We know we're in a sector that's going to grow.
What are your plans for online growth and what percentage of the business does e-commerce currently represent?
It's close to 14%. It's growing very fast. We know consumers typically still research online before they go into shops, and because our digital business has been relatively small versus our retail business, we can definitely grow both. It's a real investment area. We know we need to develop; we're looking at extended range online, we're making sure that our website is fit for purpose, we're consolidating our content to make sure we can give the right customer experience. It's performing exceptionally well for us and we've got big growth ambitions. We would envisage that being 20-25% of our business; we see it as a five to ten-year journey. We want the overall business to grow as part of that, so not to trade out of store but to complement the stores' growth.  
Does the 'Penny Sale' format work and will you continue it?
We'll keep reviewing it. It works very well for us in certain categories. You quite often get something that you're known for, and our customers understand the Penny Sale. I think it just resonates with customers; they understand it. I think we have something there which really, truly works. That's not to say it's the only mechanic we want to use. It doesn't work for everything. The trading team continually reviews mechanics, what works with which customers base, which one gives them the best value in return, but it's not something we're planning on moving away from at the moment. Never say never in retail!
Are your campaigns achieving the engagement you seek from each demographic?
I wouldn't necessarily evaluate it by demographic; I think a lot of the wellness space is around attitude. The fact that some of the campaigns in beauty attract younger consumers is not the target for it. We understand that consumers go through life stages and they face different challenges. We recognize there's an opportunity to inform and support customers about what's available. We've delivered some good campaigns; Clean & Conscious Beauty we're proud of. The Birmingham [beauty concept store] store is amazing. We've got some great brands collaborating with us in that space and I think it's really exciting. We're continually talking to our customers to understand which campaigns have the most relevance to them and how we help consumers and their families through those changes. We are only scratching the surface, there's a huge appetite for wellness advice.
We are only scratching the surface, there's a huge appetite for wellness advice
When we leave the EU, is there anything you're particularly concerned about?
I think we're as well placed as we could be going in. We work really closely with the regulatory bodies in all the markets. Regulation is not a bad thing – far from it. I think it can help in some areas. I think if there's anything to be concerned about it is that it's still ambiguous, but we will continue to behave responsibly, give great advice to our customers. If we need to refine elements of that, we will continue to work with the bodies to do so, but we're not worried about it. It's still not quite clear what's happening but we've had many conversations around scenarios and what it could look like. I think we're as well placed as anybody. I don't think it will change our policy around how we help customers navigate what is quite a complex market; we use the regulatory bodies to support that rather than see that as a barrier.
Which launches are you most excited about this year?
We've just launched SlimBiome – a very, very good ingredient. [That] is definitely one of them. We've got this marine-powered antioxidant, coming out later this year … from sea plants. It's part of a circular economy over in Ireland. I'm quite excited about that. We're launching a range of pill-fatigue alternative products; levagen; a great effervescent, apple cider vinegar; effervescent curcumin/turmeric. What we're developing is options that enable customers to shop the category more easily. So, delivering more need-state-based supplements that help consumers navigate and understand what's right for them.
I'm genuinely excited by a lot of things in our new beauty concept store: Hanna Sillitoe – we approached Hanna when we saw her on Dragons' Den and I just love her energy and passion.
Some of the innovation we're bringing to our food business like coffee, the vegan Easter egg range [and] the fact that we're going to broaden our honey business. One of the best days of my entire life was tasting those honeys, they're amazing!
I'm excited that this year, I think we're doing what Holland & Barrett does today, even better – and of course we're still developing some future innovation. I think we've got a good blend. We're thinking about our sourcing strategy and how we work; understanding our customers and working in partnership with our suppliers to bring relevant and meaningful new products to them. We're definitely not short of range excitement this year and I think customers will love it!