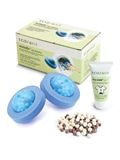 Ecozone ltd, Unit 5, 1000 North Circular Road, London NW2 7JP
Tel: 0845 230 4200 • Fax: 0845 230 4220
Email: [email protected]
www.ecozone.com
Ecozone produce a range of ecological cleaning and energy saving products made from the most natural, sustainable ingredients. Their revolutionary Ecoballs are a breakthrough in scientific technology and replace the use for traditional washing detergents often full of harsh chemicals. The scientific formula reaches deep into textile fibres, lifting away dirt without fading colours. Ecoballs are idea for sensitive skins and baby clothes; they are biodegradable, hypoallergenic and last for hundreds of washes. New to the range the Pure Oxygen Whitener can be used with the Ecoballs to boost cleaning and stain removal power and the Washing Machine and Dishwasher Cleaner has been specially formulated to clean and freshen appliances naturally, helping machines run more effectively.