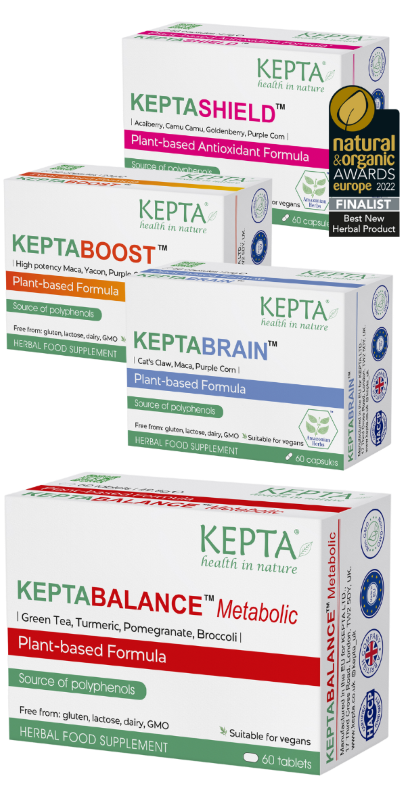 Introducing a new Herbal Formula – KEPTABALANCE Metabolic
KEPTA is a British company founded and run by scientists. We're the experts when it comes to herbal supplements, so we've developed a range of Advanced Herbal Formulas that target many hallmarks of aging and general wellbeing by supporting the immune, digestive, urinary and cardiovascular systems, brain and joints.
At the NOPE 2022, we introduced a number of Advanced Formulas.
KEPTABRAIN – an advanced combination of three powerful Amazonian plants: Cat's Claw, Maca and Purple Corn, may have a positive impact on brain function and circulation and may help to reduce fatigue and boost mental performance.
KEPTABOOST – herbal formula comprising three well-known Amazonian plants: high potency Maca, Yacon and Purple Corn. This plant-based supplement may help to reduce fatigue and restore energy, providing greater vitality and mental performance.
KEPTASHIELD – an advanced combination of three super-berries from Amazonian rainforests: Camu Camu, Goldenberry and Acaiberry, enhanced with Purple Corn. This powerful formula acts as an antioxidant, which may help to reduce chronic inflammation and have a positive effect on immune function, improve overall health and ultimately delay aging. KEPTASHIELD was short-listed as Finalist in the "Best New Herbal Product" nomination at the Natural & Organic Awards Europe 2022.
Our brand-new KEPTABALANCE Metabolic is a unique formula comprising extracts of four powerful and well-researched plants: Green tea, Broccoli, Pomegranate and Turmeric known for their strong anti-inflammatory and antioxidant properties. Moreover, Green tea extract is known as a metabolic booster which is likely to help in weight control. This synergetic combination may help to reduce chronic inflammation, may contribute to metabolic balance and in turn improve overall health.
All Herbal Formulas are:
• Free from gluten, lactose, dairy, GMO
• Suitable for vegetarians & vegans
• Produced in the EU
KEPTA LIMITED
email: [email protected]
https://www.kepta.co.uk