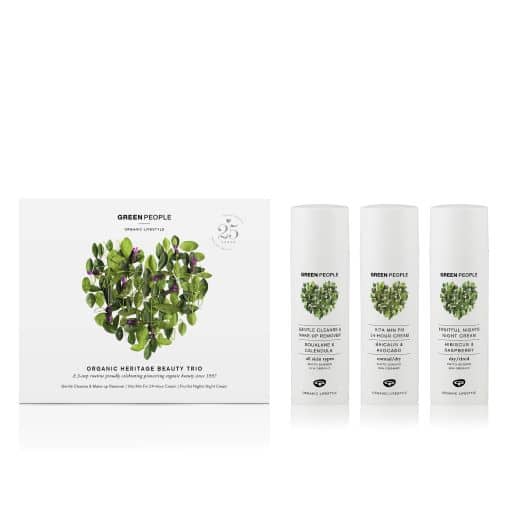 It has been 25 years since Charlotte Vøhtz founded Green People as part of her quest to help others embrace a truly organic lifestyle. To mark this milestone, Green People has launched a limited-edition gift set that contains a trio of its hero, heritage skin care products at 25% discount!
Green People's Heritage Beauty Trio contains three 50ml organic beauty products that work in synergy to cleanse, smooth and hydrate, whilst gently nourishing and replenishing delicate skin.
The unisex products featured in the special-edition skin care set were all chosen because their award-winning formulations have stood the test of time. While their packaging and ingredients have undergone tweaks over the years, each product formed part of Green People's original range and 25 years on they continue to be bestselling products.
GREEN PEOPLE'S HERITAGE BEAUTY TRIO CONTAINS:
1 x Gentle Cleanse & Make-Up Remover 50ml
Green People's purifying organic cleanser features moisture-binding actives which hydrate and nourish the skin as you cleanse. Formulated with a moisturising mix of Aloe Vera, Shea Butter and Squalane, it leaves skin feeling fresh and pure.
1 x Vita Min Fix 24-Hour Cream 50ml
Vita Min Fix gets its name from the high concentration of vitamins, minerals and antioxidants found in its active ingredients. A blend of Seaweed and Avocado replenishes the skin while clinically proven Baicalin protects and extends cell life to reduce the appearance of the visible signs of skin ageing.
1 x Fruitful Nights Night Cream 50ml
This fruit-scented skin cream helps to preserve moisture levels whilst you sleep. Highly concentrated with plant oils known for their reparative properties, a blend of Rosehip Oil, Jojoba Oil and Hemp Seed Oil maintain skin health and hydration while extracts from Pineapple, Hibiscus and Raspberry balance the skin's texture.
RRP: £44.25
Green People
Tel: 01403 740350
www.greenpeople.co.uk