From syncing your schedule with your natural menstrual cycle, to receiving paid leave for loss of pregnancy, Rosie Greenaway discovers what's trending in the world of women's health in 2021
If it seems like women's issues are hitting the headlines a lot at the moment, it's because they are. 
It's been widely reported how women have been disproportionately affected by the pandemic (from rising domestic violence rates and juggling employment with home schooling, to giving birth alone and making up a large proportion of the frontline workforce) – so much so that the United Nations warns it could set gender equality back decades. 
But in some corners of business, women's issues are being addressed at corporate level; online bank Monzo declared it will offer employees two weeks additional paid leave if they have been affected by loss of pregnancy, whether through miscarriage, stillbirth or abortion – and it's extending this to partners and surrogate mothers, in recognition that 'pregnancy loss doesn't just affect women or heterosexual partners'. 
Channel 4 announced a similar policy; and in May the broadcaster released a documentary presented by Davina McCall – Sex, Myths and Menopause – laying bare some long-standing taboos around menopause which Brits are still too embarrassed to discuss. The beady eyed among you might have spotted a tube of Yes Yes Company lube in one scene. After the show aired, the brand posted on social media that it was 'thrilled' to be featured. "Still in awe … This was without doubt the best researched and presented film with all the best interviewees covering the most important aspects, with an outstanding amount of honesty from Davina [McCall].
"What an incredible programme it was! It's left us feeling empowered and excited about the next steps for education and conversation around menopause. We've got a gut feeling that this documentary will be a game-changer for women's health. A must see for all." 
No 'get out of jail free card' 
'While there's no magic bullet for the hormonal highs and lows women experience during each menstrual cycle, there are remedies which can offer some reprieve during that monthly roller coaster. In the supplements sector, the latest 'hormone hero' is a product by the same name, brought to market by femtech start-up Yoppie in March. 
From Yoppie's survey of 1,494 UK women aged 19-54, it was discovered that 79% of women feel they 'lose' between one and seven days each month due to PMS. As the brand rightly points out, 'having a period isn't just limited to the days we actually bleed' – the reality is, the build-up can be worse than the bleed. We're talking all the usual symptoms: tender breasts, fatigue, dizziness, cramps, nausea, boating, back ache, cognitive 'fuzz' or clumsiness, and a yo-yo of emotions – aka 'mood swings'. For some women the period itself is almost a relief after days spent in a pressure cooker of unpleasant symptoms.
Given the huge impact this monthly cycle is having on 79% of the women surveyed, it comes as no surprise that 58% also reported that it's not only their personal lives that are impacted, but their professional ones too. Just 32% said their workplace has a period policy which permits them to work from home; more than half (58%) thought such a policy would enable them to be more productive during their period. It's something Yoppie founder Daniella Peri wants to see become more commonplace. 
Peri says there is a 'widespread belief that women use their menstrual cycle as a get out of jail free card when it comes to work'. "This simply isn't true. PMS symptoms differ drastically from one woman to the next and in some cases, they can be very severe." When the symptoms hit and women start to feel 'off their A-game', she adds, the last thing they'll feel like doing is heading into the workplace and pretending they're fine. "But many women do it month in, month out." Peri urges more businesses to give period policies 'some serious thought'. "If the current landscape has taught us anything, it's that remote working can work and so why shouldn't we embrace this when it's needed rather than when it's forced upon us due to a pandemic?"
"Our cycle is like an internal tracker, telling us if something's out of sync. It's like a hidden friend." 
In the meantime, Yoppie is supporting customers with a trio of NPD to help them face PMS symptoms head-on and go about their normal lives. Hormone Hero alleviates bloating and fatigue; Mood Food eases the emotional side of things, including anxiety and irritability; and Super Soother manages physical symptoms such as cramps, headaches and breast soreness. Each one is available as 21- 28- or 35-day doses, to enable women to sync their intake with their cycle length.
The absolute pits
It's safe to assume that nobody wants to smell bad; strong body odour can be socially embarrassing, after all. In the quest to tackle sweaty pits, many eco-conscious consumers veer away from aerosol deodorants – not only have aluminium-based antiperspirants been famously linked with breast cancer (thus far hypothesized but unproven by the scientific community), but they are a huge contributor to air pollution. 
In April, the National Centre for Atmospheric Science and the University of York reported that aerosols have overtaken cars 'as a source of dangerous smog', due to the high level of volatile organic compounds (VOCs) they release into the air. City smog aside, they're also a key contributor to indoor pollution. "In enclosed spaces, where we spend most of our time, high concentrations of VOCs can cause symptoms ranging from headaches and lung irritation to nervous system damage and some types of cancer," wrote the institutions. 
But preventing unpleasant body odour isn't one-size-fits-all. "Everyone's deodorant experience is very personal, their bodies will react differently, and they have different lifestyles, experiences and preferences," says Sarah Binns, co-founder of Barnes & Binns General Store. "Stocking a variety of different deodorants allows us to discuss all of these elements and help people to find the product that suits them. It is important that a product is both effective but also packaged in the most Earth-conscious way. We want to give customers a product that not only works but can be safely disposed of and isn't toxic to them or the planet."
New to Barnes & Binns' shelves are Cacao Deo – a brand customers requested – and Zerolla, which join two popular house favourites: Earth Conscious – ideal for 'customers who do a lot of sport'; and The Natural Deodorant Company – available as 'active balm' or 'gentle cream', the latter being free of sodium bicarbonate, which can cause blocked armpit pores and in extreme cases cyst-like lumps in some women. For customers who are sensitive to this key ingredient, the store recommends bicarb-free Biork – 'Very long-lasting but doesn't have any scent and so not for everyone'.
While health and allergies are drivers of sales, most of the store's visitors are 'trying to reduce their environmental impact'. Whatever the motivation, Binns says for many customers the journey of finding the right deodorant is tricky. "We have found deodorants to be a more challenging swap for people. Customers can be a bit sceptical about them working or are maybe put off by the cost. Also the concept of a deodorant cream that you either put on with your fingers or spatula seems a bit of a barrier. We always advise/reassure people that it may take a bit of time for your body to adjust and that you may have to try a few different products to find the one that suits you. We use our own personal experiences to help people and are very honest and unbiased. They all have their different merits. Once customers do find one that works for them, they stick with it." 
The fight for fertility
Talk to the average group of women and you're likely to learn that while many spend puberty and early adulthood fearing unplanned pregnancy, in later life it's quite often the opposite, with concerns creeping in about whether they can in fact conceive if and when they choose to. 
There are plenty of ways modern lifestyles can throw a spanner in the works when it comes to conception. A growing catalogue of studies link endocrine-disrupting chemicals (EDCs) to female reproductive problems, but they don't just affect women; in 2017 a major study by epidemiologist Shanna H Swan revealed that over the past four decades, sperm counts
in Western men had fallen by more than 50%. In her latest book – Count Down: How Our  Modern World Is Threatening Sperm Counts, Altering Male and Female Reproductive Development, and Imperiling the Future of the Human Race – Swan points the finger at EDCs in the environment which are 'hijacking our fertility'. 
These 'sneaky chemicals' can infiltrate food and drink, and they're present in many household products by way of phthalates and other disruptors which 'may be lurking in your home'. "Numerous industrial and agricultural chemicals can seep into the water supply, and so can pharmaceuticals, which aren't even monitored by your water supplier, so you really don't know the full extent of what you're drinking," says Swan. 
While 'knowledge can be powerful', it can also 'scare the daylights out of you', she says, but learning how to dilute the presence of EDCs helps women make positive choices to aid their fertility goals. She advises creating a 'safe haven' at home, beginning by filtering your drinking water. It's a preemptive action endorsed by organic pioneer Craig Sams, who often speaks of the harmful xenoestrogens found in tap water. "There isn't a single source of tap water in the country that hasn't got Atrazine in it," he comments. Choosing fresh, unprocessed, organic food where possible is another recommendation, and certainly washing any non-organic fruit and veg may help.  
In the supplements sector there are also proactive steps that can be taken by women wishing to start a family. For fans of BetterYou it all starts with a new family-focused range, created in collaboration with Madeleine Shaw, which includes two products aimed at women who are trying to conceive. The first fertility-supporting oral spray is called Conception, which blends seven essential nutrients – vitamin D3, iron, folic acid, selenium, zinc, thiamine and iodine – to prepare the body for pregnancy. The formulation contributes to normal cell production and supports maternal tissue growth. Then, when the time comes, it can be followed up with the peppermint-flavoured spray Pregnancy, designed to calm nausea and address flagging energy levels. 
It's just a phase
"When we talk about routines, we often think on a daily basis, but what if there was a better way to plan your routine, and it revolved around your hormone cycle?" This was a question posed by Natracare in a recent blog, and it's a concept picking up support as women seek to better understand their cycles. 
For Jen Wright, creator of the Life Aligned planner, the discovery of cyclical living came after a bout of burnout. After learning how to plan her life in harmony with menstrual, lunar and seasonal cycles, Wright began mentoring small businesses owners about work-life balance. The planner helps women 'work smarter by recognizing and harnessing their own ebbs and flows', allowing them to tune into physical, mental and emotional changes, so their schedules remain balanced. 
For Betty Lewis-Griffiths, life and cycle coach, a similar epiphany occurred during a trip to Bali. "I'd always had a really busy work life and often felt frustrated by the lack of productivity and procrastination I was experiencing at various times of the month. I learned the tools to track my cycle properly, and not just so that I know when my period is due, but to really understand my changing energy levels too. It changed my life." 
Wanting to educate others, Lewis-Griffiths created The Soulful Cycle Box – 'the most important biology lesson you'll ever have'. It's a curation of products and tools to celebrate 'the magic of the menstrual cycle' and encourage women to 'celebrate their bleed', make their cycle work for them and find joy in it. The toolkit includes: Wild Power by Alexandra Pope; full moon and new moon ritual cards and notebook; aromatherapy bath soak and candles by Senses by Sim; Period Faace mask; vegan artisanal chocolate; teas to 'comfort' and 'awaken'; a cycle tracker; and access to self-care tips, meditations and breathwork guidance.  
"Our cycle is like an internal tracker, telling us if something's out of sync. It's like a hidden friend," explains Lewis-Griffiths. "When you know where you are … the way you treat yourself is completely different. You know how to plan, when you're most productive or when you need to rest. It's changed the way I am with myself.
"While women are curious and crave connection, many aren't fully aware of their cycle. At school, we're taught to plan ahead for that time of the month by always carrying a tampon, but what we aren't taught is the power of our cycle and we often don't learn about it until we're perhaps trying to conceive, if ever. 
"This box brings everything together to teach women how our moods and energy levels fluctuate … getting clear on why we find ourselves flowing with ideas one minute and with a creative block the next."
And, she adds, with lockdown easing, many women feel 'overwhelmed or overstimulated at the thought of the return of their busy lives', so The Soulful Cycle box also aims to support them on that journey.
Heritage Store Rosewater Skincare
Heritage Store
Tel: All Enquiries to go through Distributors
www.treeoflife.co.uk
www.clfdistribution.com
www.thehealthstore.co.uk
Leaders in soul-to-skin beauty since 1969, Heritage Store's products deliver good energy, transcendent vibes, and a healthy glow – inside and out. Its refreshing rosewater facial mist is a beauty staple for many A-list celebrities, with Damask Rose Oil to soothe and soften the skin and mood-boosting Vor-Mag™ water. The growing rosewater skincare regimen also features a cleanser, moisturiser, toners, and oils. It is cruelty-free, vegan and contains no artificial dyes, harsh preservatives, phthalates, or sulfates. All Heritage Store products are on 20% off promotion from wholesalers, from 1st – 30th June 2021. For Enquiries, please go through CLF distribution, Tree of Life or The Health Store.
Pure Evening Primrose
FSC
Tel: 0800 083 0356
E-mail:  [email protected]
www.fscsupplements.com
A rich source of GLA (Gamma Linolenic Acid) in a convenient capsule form. GLA is a precursor of Prostaglandins, which are hormone-like substances known to have important biological functions.
Expressed without the use of chemical solvents or additional heat from the seeds of the evening primrose flower, this precious oil is carefully encapsulated with natural source antioxidant Vitamin E.
As with all FSC supplements, FSC Evening Primrose Oil 1300mg is made in the UK with the finest ingredients and based on widely recognised scientific evidence of their health qualities.
Collagen Complex
BioCare Ltd
Tel: 0121 433 3727
E-mail: [email protected]
www.biocare.co.uk
Collagen Complex is a unique combination of nutrients including collagen, hyaluronic acid, nucleotides and antioxidants for skin, joint and bone support. It uses the superior form of type 1 marine collagen, which is easily absorbed and rapidly transported into the bloodstream, quickly reaching the target tissues. Nucleotides are the building blocks of our DNA, needed for the fast-replicating cells of connective tissue. It also includes a rich mix of antioxidants and flavonoids including vitamin C, zinc, hesperidin, rutin and rosehip powder. Vitamin C supports collagen formation for heathy skin and bones, and protects cells from oxidative stress. Zinc contributes to normal DNA and protein synthesis. Now available in our recyclable glass packaging. Find out more by visiting www.biocare.co.uk/collagen-complex
Bio-Kult Pro-Cyan & Bio-Kult Candéa
Bio-Kult | ADM Protexin Ltd
Tel: 01460 243230
E-mail:  [email protected]
www.bio-kult.com
Bio-Kult Pro-Cyan is an advanced multi-action formulation containing cranberry extract and two specifically selected strains of live bacteria. Pro-Cyan also contains vitamin A, which contributes to the normal function of the immune system and the maintenance of mucous membranes which can be found lining the urinary tract. Bio-Kult Candéa is a scientifically developed multi-action formulation with seven strains of live bacterial cultures alongside garlic and grapefruit extract both of which are well known for their naturally powerful properties. Bio-Kult bacteria strains have been proven to survive high stomach acidity, do not need to be refrigerated and are suitable for vegetarians.
Multimax for Women
HealthAid Ltd
Tel No: 020 8426 3400
E-mail: [email protected]
www.HealthAid.co.uk
Essential Supplements for Women Health – MultiMax for Women tablets provide a complete Vitamin and Mineral formulation; ideal for supporting female health. We rarely manage to achieve the recommended daily intakes of all essential nutrients, even if we think that we have healthy diets. MultiMax for Women can ensure that we meet the recommended levels of nutrients for good health and safeguard against any nutritional deficiencies. The formula includes Calcium, Magnesium and Vitamin D for strong bones, B Vitamins for normal metabolism and Iron, which contribute to the reduction of tiredness and fatigue, as well as antioxidants to help protect against oxidative damage to the body cells.  MultiMax for Women from HealthAid retails at £11.99 for 60 tablets. Contact HealthAid Ltd on  020 8426 3400 for purchase and stockist information or visit www.healthaid.co.uk   
UT Answer D-Mannose & Cranberry Concentrate
Kinetic Natural Products Distributor
Tel: 08450 725 825
E-mail:  [email protected]
www.kinetic4health.co.uk
Nature's Answer brings you the benefits of D-Mannose and Cranberries in their unique UT Answer blend. A concentrated, alcohol-free holistically balanced® blend designed to help support Women's urinary tract health. Formulated with Vitamin C and Nature's Answer Quik-Sorb® blend, offering efficient delivery of nutrients to where they are needed the most. D-Mannose and Cranberries work as a 'dynamic duo' in this fast acting 3-day regimen. Suitable for ongoing-support, the formula is vegan and free from gluten, artificial sugars, preservatives and sweeteners. Produced by Nature's Answer in a family-owned & operated certified organic facility with a tradition that you can trust.
Lamberts® Premtesse®
 

For women of menstruating age

Lamberts Healthcare Ltd
Tel: : 01892 554313
E-mail:  [email protected]
www.lambertshealthcare.co.uk

Lamberts® Premtesse® is a high strength multi-nutrient formula specifically developed for women of menstruating age, both for adverse premenstrual symptoms and as a 'core' supplement for other female disorders. It contains 20 nutrients, including vitamin B6 that is known to be of help to menstruating women around the time of their period. Plus, magnesium which practitioners regularly recommend for PMS, PCOS, and perimenopause. B Vitamins are included for their important role in releasing energy from food, chromium for helping to avoid sugar cravings, plus zinc and vitamin C for the immune system, and iron to replace the monthly loss.
Natracare Ultra Extra Pads
Bodywise (UK) Ltd
Tel: 01454 613347
E-mail:  [email protected]
www.natracare.com
Did you know that a pack of conventional period pads contains up to five plastic bags worth of plastic? Natracare is here to change that, with period products that are plastic free by design. Natracare's Ultra Extra pads are free from oil-based plastic with only organic cotton touching the skin, making them kinder to skin and the planet. Designed to allow the skin to breathe using natural materials, the Ultra Extra range features an extra layer of cushioning for even more protection. Available in three absorbencies, each pad comes individually wrapped, with wings to secure the pad in place.  
Dida
New Nordic Ltd
Tel: 0800 389 1255
E-mail:  [email protected]
www.newnordic.co.uk
The affect of yeast? Many of us live with yeast in our body, without ever thinking about it. Researchers have showed that high concentrations of yeast suppressing plant extracts have a positive influence. Dida™ combines ingredients to help you feel good. Taking Dida™ is a long-term solution to help control yeast, bloating, sugar cravings, and upset stomach.
Dida™ is the tablet you need to reduce fermentation and formation of gas in the gastrointestinal tract. The unique bioactive nutrient, herbal and spice oil recipe contained in each tablet contributes to the maintenance and function of your gastrointestinal tract and its mucous membrane lining.
For Your Good Health
The Natural Health Practice
Tel: 01892 507598
E-mail:  [email protected]
www.naturalhealthpractice.com 
HEALTHY WOMAN SUPPORT – For every woman to help maintain a healthy, active lifestyle and optimum wellbeing. Contains:
• Antioxidants, calcium and zinc, synergistically combined with other valuable nutrients including acetyl-L-carnitine, alpha lipoic acid, co-enzyme Q10, aloe vera, grapeseed extract, green tea extract, bilberry and cordyceps
• Biotin for the normal release of energy
• Magnesium and all the B vitamins for reduction of tiredness and fatigue
• Iodine (from seaweed) for normal thyroid function
Free From Sugar, Gluten, Starch, Wheat, Dairy, Soya, GMOs, Fillers, Binders, Anti-caking Agents, Artificial Sweeteners, Flavours, Colours, Preservatives.
Nutrients in their most bioavailable form to aid absorption. Vegan and Vegetarian Society registered, Kosher and Halal approved.
NutraFlow Herbal Remedy Tea
NutraTea
Tel: 0203 146 7150
E-mail:  [email protected]
www.nutratea.co.uk
NutraFlow® by Nutra Tea® is 1 in a range of 19 herbal remedy teas that has been expertly formulated to support the excretory function of the kidneys and contribute to the body's defences against external agents. This unique blend contains 100% active botanicals that have been sustainably sourced including Goldenseal, Horse Chestnut & Cranberry to offer defence against bacterial pathogens in the lower urinary tract. Each natural tea bag contains no flavourings, oils or excipients enabling it to be reused throughout the day for a convenient way to support bladder function and contribute to the function of the urinary tract.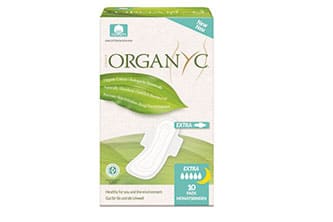 Pravera Ltd
Tel: 01557 870203
E-mail: [email protected]
www.organyc.uk
The Organ(y)c Extra and Overnight Sanitary Pads have been anatomically designed to be used overnight to provide extra protection for a heavy flow. Using only 100% super soft organic cotton, these sanitary pads are breathable, hypoallergenic and kind to sensitive skin. Each pad is individually wrapped in a biodegradable biopolymer film (made from corn starch) and have protective wings to provide security when you need it the most.  These sanitary pads are free from wood pulp, plastics, bleach, perfumes, and many more potential irritants found in conventional pads. Certified by GOTS, ICEA and VEGAN OK. 
Hiorac Antioxidant – Put a spring in your step
RB Enterprises 2020 Ltd
Tel: 07526 788516
E-mail:  [email protected]
www.rbenterprises2020.com
RB Enterprises are excited to be the sole distributor of this NZ based product.
Hiorac contains inner pine bark and the Sorac antioxidant that plays a large role in assisting the body in anti- aging, optimal weight balance and youthful skin.
Antioxidants play a vital role in keeping the body`s cells healthy by eliminating excessive free radicals which damage cell walls. It is essential for the health of the body that free radicals are eliminated.  RRP £32.00
TIPSON TEA
Tipson Tea
Tel: :  07879 856 314
E-mail:  [email protected]
www.uk.tipsontea.com
TIPSON Beauty Teas is a whole new unique addition to the TIPSON family consisting of organic & natural herbal infusions that relaxes & soothes you with its time proven nutrients for the claimed benefits. Each herbal infusion is carefully crafted with the ideal blend of organic herbs to be a perfect pairing to your daily beauty and self-care rituals. The product range consists of Shape Up, Healthy Hair, Collagen Booster, Skin Glow & Inner Balance products each aiding in different beauty aspects. These compile with all high quality standards set by TIPSON which has won the trust of many consumers.
CurcuminX4000® with Fenugreek
Wholesale Health Ltd
Tel: 01606 889 905
E-mail:  [email protected]
www.wholesalehealthltd.co.uk
Good Health Naturally's highly commended 'Best Women's Health' product, CurcuminX4000® with Fenugreek Seed Extract boasts potent antioxidant and anti-inflammatory properties, ideal for supporting joint, skin, heart, brain, digestive and immune health. Studies into curcumin's influence on female health conclude that the compound helps to regulate hormones/oestrogen levels, whilst studies into Fenugreek support that the traditionally used herb may contribute to increased libido and may also help to stimulate milk production in breastfeeding women. Uses Meriva® Curcumin, a patented delivery system for superior bioavailability, absorbed 29x better than ordinary curcumins on the market. 60-day supply. Vegan friendly.