That old childhood adage 'eat up your greens' has moved on, writes Denise Barrett, to a new generation of rainbow-coloured superfoods
We all remember the 5-A-Day campaign which was launched by the Government way back in March 2003 to arouse public awareness of the benefits of plentiful fruits and vegetables within our diet. You could say it was a precursor to something far more directional and exotic – a celebration of the core nutrient values of a group of high performance, rainbow-coloured superfoods. 
These particular superfoods get their bright, signature colouration – reds, yellows, oranges, greens and purples – from phytochemicals, which are natural bioactive compounds. In fact, the more vibrantly coloured fruit and vegetables are, the richer they are in health-giving vitamins, minerals, fibre and antioxidants. What's more, they look super tempting on the plate.
The new superfood buzz is around anthocyanins, a name derived from the Greek words for 'flower' and 'dark blue'. These uber-level antioxidants are found in high concentrations in blueberries and blackberries, and they give the fruit their rich red, purple, and blue pigment. 
Designer tomatoes
Anthocyanins are lauded for their antioxidant, antiviral and antibacterial qualities. Aubergines, red cabbage, blackcurrants and cherries all have anthocyanins, as do pomegranates, plums and prunes. Readers of the SundayTimes may recently have caught a highly researched article on gene editing. It reported that the John Innes Centre – an international research base in Norfolk specializing in plant and microbial science – has developed futuristic 'purple tomatoes' enriched with high-level anthocyanins. The scientists found that the enhanced tomatoes have twice the normal shelf life and when fed to cancer-prone mice, extended their life span by an average of 30%. 
Deep purple 
Fleur Cushman heads up the food supplements brand CurraNZ (that's code for New Zealand blackcurrants). A native of New Zealand, Cushman has lived in the
UK for over 20 years, but grew up inspired by her father, the natural health pioneer and pharmacist Mike Cushman, who shared with her his passion for the purple fruit.
New Zealand blackcurrants are certainly having their moment in the sun. But what's so special about this purple fruit? "New Zealand provides the perfect growing conditions for blackcurrants, with its hot summers and cold winters, great soil, pristine air and pure water. But a crucial factor is the strong ultraviolet sunlight, which boosts the anthocyanin concentrations in the fruit, thereby increasing the purple pigments. The result is a fruit containing a higher phenolic density than berries grown elsewhere in the world," says Cushman.
"Anthocyanins play an important role in sports nutrition, with the potential to improve performance and mitigate … exercise-induced oxidative stress"
Many New Zealand blackcurrants are destined for juicing and jam products, but CurraNZ uses a cultivar that yields a particularly high amount of anthocyanin in preference to its juicing or flavour qualities. "Our special fruit," she continues, "has about twice the anthocyanin concentration of blueberries and 1.5 times that of European-grown blackcurrants. Not only do blackcurrant anthocyanins stimulate the body's own antioxidant defence systems, but they have one of the most potent capacities for fighting free radical activity in the body."
First-line defence
Cushman explains the pro-active benefits in CurraNZ: "Our blackcurrant anthocyanins possess a 'holy trinity' of physiological actions for health and wellbeing: they are natural anti-inflammatories, potent antioxidants, and vasodilators. In fact, the combination of these actions translates into a multitude of sport and health-promoting functions, resulting in 27 peer-reviewed studies published since 2014.
"New Zealand blackcurrants help manage inflammation in the right way at the right time. By supporting the immune system they boost the body's first-line defences to help reduce 'opportunistic' infections. In fact, it's the immune-boosting properties of CurraNZ that's one of the most common pieces of feedback we receive – notably a reduction in infections, cold and flu."
Superberries
'Superberry' brand Haskapa was founded by husband-and-wife team Dr Evie Kemp and Simon Fineman (a 'green' entrepreneur). They grow haskap berries on their farm in Nova Scotia, Canada, and have spent many years researching the benefits of these rare fruits. Kemp and Fineman discovered that freeze-drying haskap berries preserved their uniquely tangy flavour and naturally high levels of anthocyanins, resulting in a delicious product with science-backed health benefits.
Anthocyanins play an important role in sports nutrition, with the potential to improve performance and mitigate the development of exercise-induced oxidative stress. Their anti-inflammatory effects may also have a role to play in improving exercise recovery.
Haskapa Berry Powder is made exclusively from tangy, plump, juicy haskap berries that feature vibrant blue skins and deep crimson flesh – as depicted in a series of recipe cards produced by the brand this spring – which, say Kemp and Fineman, gives them one of the highest recorded anthocyanin values of any berry.  
Are they listening?   
The health food sector has campaigns aplenty, but how effective are they? 
Jenni Gordon, BANT-registered nutritional therapist, comments on the success of nutritional campaign work in getting people to actively and mindfully eat a rainbow of superfoods on a daily basis: "I am optimistic these campaigns can raise awareness, provoke questions and sometimes instigate an action. There has been a lot of research around the health benefits of a plant-based diet and a 2018 review found that following this kind of regime can help both pre- and type 2 diabetics to lose weight, reduce their medication and improve their metabolic markers.
"However," adds Gordon, "I feel the fundamental wake-up call is sometimes lost. Campaigns such as the recent National Vegetarian Week mirror exactly what I frequently see with my own clients. It's common to see processed meat substitutes or starchy carbohydrates such as pasta, pastry and bread remain the main focus of meals, rather than a step-up in the consumption of fruit and vegetables. Sadly, it feels like a missed opportunity. Hopefully though, with more educational campaigns, consumers will get the message."
Superfoods in-store
"With us, superfoods really took off a few years ago with the rise in popularity of the Nutribullet," explains John Frisby, owner of Food for Living in Kent, and chairman of the Health Food Institute (HFI). "After the initial surge in sales things settled down but recently the interest has grown once again. Customers are more aware of the nutritional benefits now and tend to know what they want.
"Our superfood section replaced what was our protein (bodybuilding) space. Demand for the bodybuilding products disappeared a few years ago and that market was replaced by a more aware consumer. Cacao products are probably our most popular superfoods, along with green foods such as spirulina." 
Fairhaven Wholefoods in Hertfordshire has been trading as a vegetarian store for 40 years. Co-owner Tressa Timms says the store's customers, particularly the younger demographic, are keen to identify new trends – including superfoods. "We've definitely seen a rise in young people who are more aware of the health benefits of a diet rich in fruit and vegetables. This is particularly evident in the smoothie area, where powdered superfoods can be added to a smoothie recipe along with fresh or frozen fruit and vegetables for a highly nutritious and easily digestible meal."
Along with Fairhaven's best-selling own-brand wholefoods – Spirulina, Wheatgrass, Barley Grass, Moringa Super-Leaf Powder – Naturya Organic Superberries Breakfast Boost and the Superfoodies range are also popular.
Greens to go
Green powders have really caught the zeitgeist as an easy-to-use dietary supplement that helps busy people reach their RDA of vitamins and minerals. From Seagreens by Oceans of Goodness to Raw Living's Organic Chlorella Powder, canny brands have seized the opportunity to market green superfood powders to on-the-go health-conscious consumers who want to maximize their vegetable intake. 
The powders are designed to deliver optimum servings of superfood vegetables through the convenience of a drink or smoothie, and there is a plethora to choose from.
Uberfood from Best-care provides a full nutrient complement in its vibrant packs made from natural, organic sources with all the phytonutrients for maximum absorption and benefit. Freeze-dried whole ingredients are used, not just juice powders, which means the synergistic nutrients are preserved in the process. Uberfood's rainbow properties include spirulina, chlorella, wheatgrass, lucuma, turmeric, goji berry and blueberry. 
Not everyone is totally sold on broccoli, but family business Golden Greens is offering a solution: 10g of its Organic Broccoli Powder is equivalent to 100g of fresh broccoli that's high in dietary fibre, rich in iron and gluten-free.
Of The Earth Superfoods
Of The Earth Superfoods
Tel: 020 7255 9978
E-mail: [email protected]
www.otesuperfoods.com
At Of The Earth Superfoods, we exist to bring people naturally nutrient-dense foods that have been traditionally used for their medicinal qualities by many ancient cultures. Superfoods are nutritional powerhouses packed with vitamins, phytochemicals and fibre. They are also full of flavour and perfect to boost your health in a delicious and nutritious way. From ready-to-use blends and breakfast pots to instant drink mixes, our exciting range of natural products has been passionately created to complete your diet. Organic, free-from GM and no artificial ingredients or additives, convenient without compromising on quality ingredients.
Arctic Power Berries Berry Powders
Arctic Power Berries
Tel: 07445 293 174
E-mail:  [email protected]
www.arcticpowerberries.com
Add Arctic nutrients to your breakfast bowl
The unspoilt natural landscape of Finland is renowned for its purity. Every berry we use is hand-picked in Finland, the land of the Midnight Sun. Giving you vitamins, minerals, antioxidants and flavonoids, just a teaspoon of the fruity powder equals a handful of fresh berries.
Wild berries are exceptionally rich in nutrients and vitamins. They play a role in our immunity support, glowing skin and hair (anti-aging benefits), energy release, digestion support, cleansing and weight management just to name a few! Simply add to your smoothies and breakfast bowls for some vibrant colour, delicious taste and impressive health benefits.
Clearspring Organic Cold Pressed Oils
Clearspring
Tel: 020 8749 1781
E-mail:  [email protected]
www.clearspring.co.uk
All Clearspring's Organic Cold Pressed Oils are made using the finest nut and seed ingredients, all of which are sustainably grown and offer full traceability from seed to bottle. To ensure they have a minimal impact on the environment, their oils are certified organic and non-GMO. Additionally, their olive oil farmers use a method called 'scuotitura', to shake the olives off trees, minimising the impact on wildlife, especially nesting and sleeping birds.
Clearspring's range includes 17 delicious and diverse oil varieties ranging from their best-selling Organic 100% Italian Extra Virgin Olive Oil, to speciality varieties including organic Avocado, Argan, Hazelnut and Walnut Oil.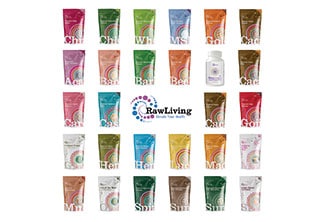 Raw Living Organic Vegan Superfoods
Raw Living Ltd.
Tel: 01803 658989
E-mail:  [email protected]
www.Rawliving.co.uk
In business since 2002, Raw Living's mission is to bring superfoods to superpeople! The world has never been more in need of superheroes: those with healthy bodies, strong hearts, clear minds and indefatigable spirits who are not just surviving but thriving in these challenging times. We have sourced over 100 of the most powerful plant foods from around the world, from Chinese, Ayurvedic, and South American traditions, and bring them to you and your customers in premium packaging at affordable pricing. Our knowledge of and passion for these wonderful foods is unrivalled; our customers tell us time and time again how much they trust our brand. We also offer select product ranges from the USA, many with exclusive distribution. Get in touch for trade or bulk pricing. 
Reasons to stock Raw Living:
• Beautiful eye-catching packaging for your shop shelves
• Accessible price points to attract entry level customers
• Comprehensive range of over 100 own brand superfoods
• Helpful, speedy, fair and efficient customer service
• We are organically certified with OFG
• We do the research to make sure we are offering the best quality available on the market
• Our expertise and quality curation comes from over 20 years in the industry
• Bulk options available for own label or for cafes, restaurants & caterers
We offer:
• Staple organic superfoods at low prices eg chia, maca, hemp, spirulina
• Mushroom extracts: dual extracted with guaranteed polysaccharide and beta glucan content
• Super snacking: trail mixes, raw chocolate bars, activated seeds, salad toppings, nori sheets and more
• Loose leaf herbal teas made with medicinal herbs such as reishi and ashwagandha
• Hard to find superfoods such as camu, purple corn extract and suma
• Distribution of cult brands from the USA such as Anima Mundi Herbals, Medicine Flower Extract and Dragon Herbs
• Exclusive UK distributor of Sea Tangle Kelp Noodles 
Gin Gins
World foods brand management ltd
Tel: 01782 366080
E-mail:  [email protected]
www.wfbm.co.uk
The UK's best selling Ginger confectionery brand is more popular than ever as consumers look to natural ingredients which can strengthen their immune system.
Gin Gins are perfect to warm a winter chill, soothe an upset stomach or ease nausea on a long road trip this summer.
The new Gin Gin Turmeric also combines the additional anti-inflammatory effects making an ideal prework out energy treat while soothing the after effects of strenuous exercise.
Higher Living Rooibos Turmeric And Superfruits
Higher Living
Tel: 01798 812 188
E-mail:  [email protected]
www.higherlivingherbs.com
Were an independent business, with the whole family at the wheel. A team of tea lovers who have been blending brews for over 20 years – we pour our passion into every cup. Higher Living Organic Rooibos Turmeric is a bold combination of these amazing ingredients, Superfuits is a blend bursting with fruits and berries – pleasingly tart and delicious hot or iced. Higher Living, promising flavours that fly!
Tree of Life Organic Superfoods
Tree of Life
Tel: 01782 567100
E-mail:  [email protected]
www.treeoflife.co.uk
Tree of Life's comprehensive range of 8 organic, plant-based, nutrient-dense seeds, nibs and powders provide a complete superfood set offering fantastic value and an easy solution to help your customers boost the power of their meals, snacks and smoothies. Taking our inspiration from around the globe, we've sourced the finest cacao from South America, the beauty berry, Acai, from the Brazilian Amazon and our unique Maca Powder blend from Peru. The range also includes plant-protein packed Spirulina and Hemp Powders and Chia Seeds. Part of the Tree of Life range of natural wholefoods helping to make health easy every day.
CurraNZ Blackcurrant Extract
Health Currancy Ltd
Tel: 07787 445 467
E-mail:  [email protected]
www.curranz.com
CurraNZ, an award-winning polyphenol powerhouse – CurraNZ is a natural anthocyanin extract that helps improve immunity and contributes to the proper functioning of muscle and joints.
A pioneering supplement, multi-award-winning CurraNZ is made from premium blackcurrants, which contain restorative compounds that improve immunity and help fortify the body by building resistance against stress. One capsule of CurraNZ delivers 105mg anthocyanin – the equivalent of a handful of nutrient-rich New Zealand blackcurrants. The subject of 27 clinical studies, CurraNZ stands apart for its efficacy and is trusted by consumers worldwide.
£23.99, available at curranz.com, Natural Trade Brokers, The Health Store and ToL.
Profusion Organic Kombucha
Profusion Organic
Tel: 020 8547 2775
E-mail:  [email protected]
www.profusionorganic.co.uk
Profusion Organic Kombucha was created to address increased interest in gut health and functional beverages. Unlike other Kombuchas, ours is raw and brewed locally in the UK from fermented green tea, with no artificial flavours, sweeteners or syrups. It is not heated above 42 degrees, to preserve the taste and nutritional benefits of each ingredient. With added superfoods such as anti-inflammatory Turmeric, Maca, for a natural energy boost, and Baobab, which contains more antioxidants than any other fruit, our range of organic kombucha's are both functional and delicious, making the perfect healthy option to quench your thirst this summer.