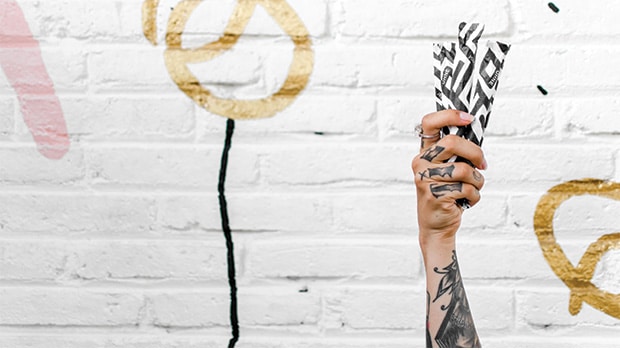 With ethical alternatives now appealing to a wider audience, and with a broader choice of natural, organic, safer and more transparent personal care products on the market, Sharna Waid talks to the brands which are not only shining through with progressive innovation in plastic-free, sustainable alternatives, but are also breaking taboos with their activism vigour
There was a time when sustainability and personal care were two terms that did not automatically sit together. That's not surprising given that the personal care industry has received criticism for unethical business practices, creating plastic waste and not changing the conversation around taboo subjects. 
At the time of NBN going to print, #EarthOvershootDay took place on an earlier-than-anticipated date of 1 August, meaning the planet had consumed a year's worth of resources in just seven months. This sobering realization means that industry needs to work together to help reduce its carbon footprint with the introduction of more sustainable practices – and quickly. 
We're now seeing brand activists with clear environmental messages who are trying to shift conversations around personal care 'intimate area' items (which nobody really wants to talk about). And it's these brands that are, quite critically, challenging the lack of education around conventional personal care processes that have arguably caused a breaking point with the planet.  
Environ-menstrually conscious
A recent example of this is how sustainability pioneer Natracare joined forces with the Marine Conservation Society (MCS) for the Time to Sea Red campaign – a Plastic Period Protest march on Brighton beachfront in July which helped raise awareness of the environmental impacts of period waste on the UK coastline. 
"There is a great need for industrywide changes to be made, not just to the specifications, but also to some of the claims being made that do not always stand up to scrutiny or laboratory analysis. Natracare has spent the past three decades fighting the cause alone and loudly," says Susie Hewson, founder and CEO of Natracare. 
Gaining national coverage, the unique campaign not only tackled the environmental issues of sanitary products, but also sparked conversations around periods – traditionally kept hush-hush. 
OHNE is also a cause-driven sanitary product business. It provides Soil Association-certified, pesticide-free organic tampons that can be delivered straight through the letter box. 
"We're fed up of seeing tampon wrappers designed to look like sweets, products that contain nasty toxins,
and dated advertising that continues to suggest that periods are something to be hidden," says brand co-founder Nikki Michelsen.
"That's why OHNE is more than just a tampon subscription service: we're a knowledge platform. We want everyone to have access to the reproductive health education they deserve because we're so done with the stigma, miseducation and taboos," she says. 
"We've also partnered with School Club Zambia, and for every box of OHNE tampons you buy, you're helping to build brand new toilet blocks in rural Zambian schools and provide schoolgirls with menstrual education," explains Michelson. 
As approximately half the world's population is female, the potential impact of eco menstrual products is far reaching, and we are now seeing more and more environmentally-friendly reusable and disposable products come to market, catering to all preferences. 
As examples, ORGANYC has extended its eco-friendly tampon product range with a bio-based plastic Compact Applicator Tampon, made with over 90% bio-mass and sugar cane; London start-up DAME is in the midst of campaigning to launch the world's first reusable tampon applicator; and the number of reusable menstrual cups on the market has increased dramatically in recent years.
Cleaner pits for the planet
Eco-friendly products don't stop at feminine hygiene, but extend to other areas of personal care. 
Danielle Kyriakides, buyer at Panacea Health & Beauty, comments: "Customers are savvier with their shopping. Our regular customers ask more questions – whether bottles are recyclable or microbead-free, for example – and these have become features that may sway their purchasing decisions." 
Listening to consumer demands, Ben & Anna has introduced a plastic-free range of stick deodorants made with a 100% recycled paper tube packaging which can be disposed of in the waste paper collection. "The reason for the change was … the horror stories about plastics in our oceans. We thought, hang on, we have such a great green product, every ingredient is certified natural or organic, but at the end we put it in plastic packaging. This is nonsense. That was the start for us to think about paper packaging," says Marco Hülsbeck, Ben & Anna business partner. 
Eco-friendly oral care 
Oral hygiene products, too, have come under scrutiny for plastic pollution. As more and more plastic toothbrushes are thrown into landfill and oceans, sustainable brands are providing plastic-free alternatives for these everyday disposables.  
"We have just launched WooBamboo Toothpastes and our customers love the fact that the tube is made from plant-based plastic and completely
eco-friendly ingredients," says Kyriakides.
Natural and zero waste oral care company Georganics is 'passionate about making a difference' to the planet. "We offer products that are environmentally sustainable. That's why we use plastic-free and biodegradable packaging to ensure every product is recyclable or compostable. Our ingredients and packaging are sourced from local suppliers and manufacturing partners to reduce emissions," says Georganics' founder Alesandro Rocchi.
What's more, innovative alternatives like bamboo brushes are now creeping their way into the mainstream, sitting beside conventional oral care products in larger retailers. The Humble Brush Co – the Swedish bamboo brush developed and supported by dentists – is now stocked in Boots, Superdrug and Waitrose. For every Humble Brush purchased, a donation goes to the Humble Smile Foundation, set up to deliver comprehensive and sustainable preventative oral care to vulnerable children around the world. 
Driving change 
Many natural and organic brands are not afraid to challenge stigmas and encourage consumers to choose safer and more sustainable alternatives through impactful campaigns – and consumers are listening. 
"Brand activism ought not be about style or trend, but directing deliberate change that brings about better outcomes for women and the global ecology," comments Hewson. "Activism is important in effecting a change in standards and the law, if necessary. That takes more than trendy packaging and a three-word brand slogan. 
"Activism on all levels – personal, organization and brand – encourages people to think more critically about their consumer choices.
The joining together of all of these forces is what drives this change. It is important for other brands to do their bit and to be transparent about what the raw ingredients are and their true environmental impact."
Image credit: OHNE.
Ben & Anna Natural Soda Deodorant
Pravera Direct
Tel: 01557 332498
E-mail:  [email protected]
www.benandanna.uk
The Ben & Anna Natural Soda Deodorants contain a unique blend of ingredients to keep you dry and smelling fresh. Bicarbonate Soda is known for its anti-bacterial properties and works to keep you whiff-free, whilst arrowroot narrows the pores and helps keep the skin dry. Together they form a safe yet effective formulation which can compete with any high street brand, all whilst still being free from aluminium and any other potentially harmful chemicals. Available in 6 amazing scents in the plastic packaging range and 7 scents in our newly launched paper packaging – including the NEW Pure stick with no added fragrance.
Earthwise Menstrual Pads
Earthwise Girls Limited
Tel: 01491 832943
E-mail:  [email protected]
www.earthwisegirlsuk.co.uk
Washable menstrual pads in easy care fabrics and vibrant prints, supplied without plastic packaging.  A perfect addition to your personal care range.  Available to stock as single items, or in our Buy 3 Give 1 charity packs.  For each charity pack sold, a pad is donated to a girl in need in Kenya via our link with The Nasio Trust.  This helps girls to remain in full time education well past puberty, significantly improving their life choices.  Good profit margins and eye catching on the shelf or on your website.  Contact us for more information and an order form.
Eco Femme
Earthwise Girls Limited
Tel: 01491 832943
E-mail:  [email protected]
www.earthwisegirlsuk.co.uk
Eco Femme is a global women's empowerment initative promoting healthy, dignified, affordable and eco positive periods. Our cloth washable menstrual pads are stitched by rural Indian women collectives earning them a living wage. By switching from using disposable to reusable menstrual pads you can prevent an average 600 disposable pads from being thrown away over 5 years.  Fully recycled plastic free card packaging, available in free standing retail friendly pouches or mail order friendly flat packaging.  Two ranges now available, natural organic (pictured) or vibrant organic.  Product information leaflets are available for shops and shows.  New stockists are welcomed.
FLO Organic Femcare
Here We Flo Ltd
Tel: +44 7845 323 816
E-mail:  [email protected]
www.hereweflo.co
Hello, gorgeous! Fancy some 'cheekily conscious' organic femcare? We're FLO, and our mission is healthier, eco-friendlier menstrual products that are affordable, accessible and adorable! FLO tampons, pads and liners feature natural, hypoallergenic and biodegradable materials like organic cotton and bamboo, while still offering the comfort and protection of the products we grew up using. We're also green-innovating to make periods as zero-waste as possible! To give back, FLO donates 5% of profits to charities supporting girls and women in need, and each month we donate products to UK schools, asylum centres and food banks to help fight period poverty.
OrganiCup
OrganiCup
Tel: +45 23 71 80 40
E-mail:  [email protected]
www.organicup.com
OrganiCup – The award-winning Menstrual Cup – Change to OrganiCup, and you no longer have to worry about your period. OrganiCup holds up to 3 big tampons worth of blood and offers up to 12 hours of protection. That means you can swim, dance and sleep – without limitations or worries. OrganiCup is the HEALTHIER, EASIER AND GREENER alternative. Made from 100% medical-grade silicone it is 100% free of any harmful substances, so it doesn't mess with your body's natural environment. And it is reusable for several years.  AllergyCertified™ and certified Vegan.  Buy OrganiCup in selected, independent health stores or at www.organicup.com.
Enna Cycle Menstrual Cup
World Foods Brand Management
Tel: 01782 366080
E-mail: [email protected]
www.wfbm.co.uk
Menstrual cups are becoming one of the fasting growing feminine health care products in the war on plastic. The New Enna Cycle menstrual cup is It is the ONLY cup to come with an applicator and comfort string to ease extraction; it also provides more capacity and it is available in three different sizes. Providing better value the Enna cycle provides 2 cups for the price often paid for 1 and also comes complete with a travel case in which to store and sterilise it, making it perfect for on-the-go.
Woobaboo Eco-awesome Toothpastes
Mahi Naturals Ltd
Tel: 0208 886 4001
E-mail:  [email protected]
www.mahinaturals.com
When toothpaste options tend to be either sweet, bubbly chemicals or sadly bland naturals, Woobamboo now proudly offers the best of both worlds. Bursting with delicious natural flavours, Woobamboo's toothpaste is made for those not only looking for a bright smile and fresh breath, but a cleaner conscience as well!  Fluoride-free with calcium carbonate, green tea and bamboo extra plus Stevia and Xylitol.  The striking tubes come with a bamboo cap and are made from all plant based materials. The range of delicious and unique flavours for Adults and Kids include: Vanilla Mint, Sweet Cinnamon, Bubble Berry and Marshmallow. Available from CLF, THS, Queenswood, Wholefoods Ireland, Natural Dispensary, Jumla
Lunette Menstrual Cup
Lunette Menstrual Cup
Tel: +358 50 3554 064
E-mail: [email protected]
www.lunette.com
Lunette is revolutionising the future of period care with their small but mighty menstrual cup. Lunette is a Finnish, women-lead company with a mission and one of the original menstrual cup creators. Their Menstrual Cups come in different colors and are vegan and bpa-free. In addition to being easy to use and giving you up to 12 hours worry-free use, everything Lunette does is sustainable, ethical and taboo-busting.  Every time someone chooses Lunette they are supporting period positivity and locally-driven, impactful women's rights movements all over the world. 
Pacifica – Wake Up Beautiful Hydrating Mask
Kinetic Natural Products Distributor|
Tel: 08450 725 825
E-mail:  [email protected]
www.kinetic4health.co.uk
Don't waste a minute taking care of your skin! Supercharge your sleep with Pacifica's creamy overnight mask that helps quench thirsty, stressed, sun damaged skin and bring back the supple, dewy appearance of youth. Essential lipids, antioxidants and clinically studied natural extracts help revive and re-hydrate. This no-rinse, non-greasy, non-sticky formula leaves skin visibly improved while the aroma therapeutic benefits aid in relaxation. For dry and combination skin types. 100% vegan and cruelty-free.  
Natracare's organic and natural period products
Tel:  01454 613347
www.natracare.com
E-mail: [email protected]
Natracare period products are made using 100% certified organic cotton and natural plant-based materials. Why certified organic cotton? Conventional cotton is the most pesticide sprayed crop in the world. The production of conventional cotton generates pollution with a human and environmental cost. Organic farming keeps our air clean and removes CO2 from the atmosphere, protecting the health of cotton growers. When using Natracare, Women on their period can feel confident knowing only Soil Association certified organic cotton is next to their skin. Natracare's plastic-free and pesticide-free pads, panty liners, tampons and wipes allow for a period with a clean conscience.