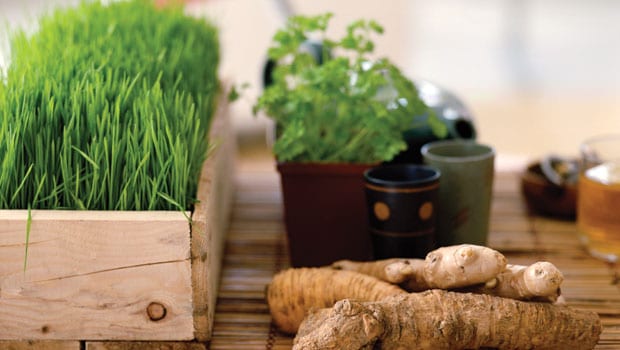 With negative reports regarding detox appearing in the media and claims regulations becoming more restrictive, Jane Wolfe takes a look at how the market is modifying in order to survive
Over the past few years there seems to have been a concerted attempt from various 'skeptic' groups to discredit detoxi-fication and the science behind it, with a spate of negative stories appearing in the press questioning its validity. The so-called 'detox myth' is based on the premise that the idea of 'detox' is meaningless. Add to this increasingly restrictive health claims regulations and you may wonder if the sector is healthy enough to survive. According to Dr Robert Verkerk, executive and scientific director of the Alliance for Natural Health (ANH), the people pushing this anti-detox campaign state that nothing has been demonstrated to provide a detoxification effect beyond our body's existing organs and metabolic processes; that nothing you can take naturally is able to enhance our inbuilt detoxification systems. "The reality is that there is copious evidence showing the role of specific nutrients that, for example, regulate enzyme systems associated with detoxifi-cation," he explains. Although the body has inbuilt detoxification systems to cope with the toxins it produces, in an increasingly toxic world we are producing higher levels as well as having to cope with external toxins, for example from foods and environmental pollutants, so these systems increasingly need a bit of a boost. And this is where detoxing comes in. As Sebastian Pole, herbal director at Pukka, says: "A toxin is anything that accumulates in your body that doesn't serve any healthy purpose – and that needs to be removed." Pole sees detoxing from an Ayurvedic and traditional herbal medicine point of view: "If you accumulate too much heat in your body, for example, you get inflam-matory problems, so that heat needs to be removed – and there are various ways of doing that. Traditionally you would take herbs called alteratives that help alter the blood chemistry or the functioning of a body organ or system; this is why a lot of herbs are talked about as being blood cleansers, for example, or kidney cleansers or liver cleansers. And using these herbs can help give you a greater threshold so you can tolerate more of these so-called toxic qualities." "Many people are taking herbs for detoxification purposes," explains Verkerk. "The scientific evidence on herbs like milk thistle and its very specific liver protective functions is unquestionable – it's extremely conclusive. Also if you look at green tea and curcumin, the evidence is extraordinarily robust. There's also great evidence for B vitamins and a number of co-factors associated with them, and alpha lipoic acid as a co-factor is extremely important. There are hundreds of research papers for each of these ingredients … Frankly, it's really unfortunate that the people who have stimulated the debate refuse to engage with the science, because there is such a large amount of science on it."
What's in a name?
Verkerk says that the detox sector is also coming under threat in other ways. "With more government authorities around Europe taking on board the highly limiting scientific substantiation require-ments of the European Food Safety Authority, more com-panies are being challenged for claims made either via brand names or elsewhere on packaging or advertising. Detox claims are becoming increasingly vulnerable, and as we speak companies using these in the UK, Denmark and other EU Member States are being challenged." And the word 'detox' itself is coming under fire, leading to even more regulation red tape when attempting to market new products. "The word detox is also now under threat and that's been one of the elements pushed by some of these skeptic groups, but it's now feeding very much into the minds of regulators," explains Verkerk. "Firstly, under the nutrition and health claims regulation the word detox is definitely a health claim – if it's not a medicinal claim – if it was used prior to July 2007. Assuming that a government thinks detoxifi-cation isn't a medicinal claim but a health claim for foods, then you can still use it, but when bringing a new product onto the market you can't. This is one of the reasons why we're seeing fewer products. "So, it's the regulatory process plus a skeptic movement-inspired negative media campaign that is having an effect, and all of that is happening while the actual science on detoxifi-cation and the use of foods and concentrated nutrients is increasing in strength – it's the ultimate irony really." Shona Wilkinson, head nutritionist at The Nutri Centre, London, has definitely seen a change in attitude towards the word detox. "It's very untrendy to use the word now," she says. So how would The Nutri Centre describe the sector? "Well, that's the catch. The new Nutrition and Health Claims Regulation is very strict about what you can and can't say – and detox is one of the words it won't allow. Lots of companies aren't following this legislation which is why you'll still see it everywhere. But we still need to sell the product somehow. "We were trying to think of an alternative, so we applied for the word cleansing but we're not allowed to use that either, so it does give us a problem. We're going to approach it by saying 'reinventing yourself', 'revamping yourself', rather than cleansing and detox. We're doing this partly because of legislative reasons and partly because of consumer trends – the word detox is a bit of a no word at the moment."
The fallout
So, how are these factors affecting sales of detox products in health stores? Randi Henderson from Elixir Health in Wadebridge has certainly felt the effects: "We used to sell loads of detox plans and packages but that's almost died a death. We hardly sell any now – there's been so much negative press in the last few years about detoxing – it's pretty annoying. When you read so much nonsense in the papers it's a shame, but we've lost that market." Detox may be declining in more rural areas but it seems to still be thriving in cities, perhaps due to the perception that there are more pollutants and potential toxins. Janet Barnett from Barnett Wholefoods in Liverpool hasn't noticed a drop in demand from her customers. "We get a lot of young men coming in realising they've been drinking too much; many want to join the Forces or are starting a new job and they've got to clean certain substances out of their systems – that is why milk thistle is such a big seller here." From a producer's angle, Pukka hasn't noticed a negative reaction either. "We have been growing through the support of the independent health food trade ever since we launched. I think it's about the way in which you communicate with your community – your customers – about the benefits and the quality of your products," explains Sebastian Pole. He admits that Pukka is slightly strangled by Nutritional and Health Claim Regulation in terms of what it can communicate to people, but believes it's all about good education and having a great relationship with customers.
New approaches
So is the detoxification market adapting in any way to face these new challenges and keep future demand from flagging? Shona Wilkinson says that although she hasn't seen a decline in demand for products, she has seen a change in what people want. "People won't necessarily buy a product that says 'detox' on it now – they want a more natural approach. The whole emphasis is on gentle and natural rather than a real harsh detox." She says that chlorella and spirulina are her best sellers. "These are huge at the moment – we're selling loads, and because juicing is quite trendy and you can get these in powder form, people are just chucking them into their juices. Wheatgrass and barley grass are also really popular," she adds. Medical herbalist Dee Atkinson from Napiers in Edinburgh, says: "Interest-ingly, many cultures have traditional times of fasting or of using 'spring cleanse' herbs. Historically we used teas and even ales made from nettle, dandelion and cleavers, which are now part of some detox or 'clean' blends. I think companies are always looking for new ways to market products and avoid falling into the minefield of legislation regarding making claims or selling foods versus medicines." Without doubt, one of the most popular single detox herbs is milk thistle; however this is also coming under threat. "Milk thistle has been banned as a food supplement in Sweden and they're trying to ban it in the UK because they're trying to push it as a THR product. What you've got to recognise is that many of the THR products are inferior to the food supplement ones," explains Verkerk. Although helpful for eliminating toxins, detox products aren't a total solution on their own, and need to be used in conjunction with other lifestyle changes. When customers come into Barnett's store wanting to detox she gives them balanced advice on diet and improving their lifestyle too. "We don't sell detox products as a magical cure because you have to keep them in context don't you? They're a tool to help an overall detoxing regime." Atkinson agrees: "Perso-nally, I don't like the way 'detox' has become a marketing tool. Some of the products that I have seen advertised simply will not work, and it encourages people to look for miracle cures. As our store is integrated with our clinic we try to use the 'detox' concept to encourage people to visit a nutritionist or herbalist and look at their eating habits, and lifestyle patterns." "I do think detoxification needs to be looked at in the whole context of health and you need to look after your digestion and take rejuvenative tonics as well – I don't think detoxification is something that should happen in isolation to strengthening and building your health," says Pole. "It's a balance of pouring out the toxins and then nourishing or rejuvenating the body."
When to cleanse?
Detoxing often only crosses people's minds when they know they're likely to overdo it, for example when the Christmas party season approaches – but how helpful is this? "There is no doubt that the detox industry has been built around this notion of getting people to detox from time to time, particularly after Christmas. I think we need to see a modification of that which is more in line with the science, so that detoxing is either on a permanent basis to support this toxic overload or on a more regular basis, and not just in January," says Verkerk. Henderson believes that detoxing just after Christmas isn't the right time: "A little bit closer to spring is much better for the body as far as detoxing goes." Pole says that detoxing is something he'd encourage people to do a few times a year, seasonally. "It isn't something that I would recommend someone does all the time, but definitely don't just do it after Christmas because we accumulate a build-up of unmetabolised waste all the time. I think these herbs help us come back within our constitutional threshold and we can then tolerate extra stress, whether that be a virus or a bacteria, an emotional impact or too much chocolate." So how do you know if you need to detox? "A liver function test is probably the most solid and widely accepted marker to tell if you're in need of a detox," says Verkerk, "but feeling sluggish, not waking up feeling vital, having black rings under your eyes – there are a whole range of signals, but probably people's vitality is a pretty good indicator."
A weighty issue
The diet and detox categories are closely linked as many products recommended for detox also claim to help with weight management. In addition, a lot of toxins are retained by the fat in the body, so when you lose weight many of these are released into the body. According to data from the Health and Social Care Information Centre, the obesity epidemic in England is continuing, with just 34% of men and 39% of women having a healthy BMI in 2011, and 65% of men and 58% of women now thought to be overweight or obese. These figures have serious health implications, with the same report showing that in 2011, 53% of obese men and 44% of obese women had high blood pressure, and that from 2011-12, 11,736 hospital admissions were due to obesity – an 11-fold increase compared to 2001-2002. The weight management segment is still a steady performer for a lot of retailers, but as with detox, there's a change of focus. "Weight management pro-ducts are a bit of a constant and I think that's always going to carry on, but with a slight change in the ingredients. Raspberry key-tones and green coffee bean extract are the big sellers at the moment, whereas before it might have been caffeine-based products or guarana," says Shona Wilkinson. Janet Barnett has also seen sales remain steady and says that, as with detox, she doesn't push slimming pro-ducts as a magical cure: "The things we sell work because we make sure they are used as part of a lifestyle change."
Health File Listings
CoffeeSlim HealthAid Ltd,
Tel: 020 8426 3400 Fax: 020 8426 3434 
E-mail: [email protected] 
www.HealthAid.co.uk
Help Support Weight Loss CoffeeSlim™ is new weight management supplement with essential ingredients, such as Green Coffee Bean, Raspberry Ketones, Green Tea, African Mango Seed, Blueberry Extract, Cayenne Pepper and Chicory Root. Green Coffee Bean Extract help's to release fatty acids from fat stored in the body. Chlorogenic acid helps the liver to process these fatty acids more efficiently. Raspberry Ketones are naturally occurring phenolic compounds found in red raspberries which help curb appetite and cravings for food. CoffeeSlim™ has the additional benefit of key Amino acids and Minerals to help support, healthy metabolism and weight management. Suitable for Vegans CoffeeSlim™ retails at £19.99 for 60 capsules. Contact HealthAid Ltd on 020 8426 3400 for purchase and stockist information or visit www.healthaid.co.uk.
Health Plus Slimming & Detox range
Health Plus,
Tel: 01323 872277 Fax: 01323 872278
E-mail: [email protected]
www.healthplus.co.uk
Health Plus have wide selection of products in these categories, including Konjac Fibre which has been a best-seller for us for many years now, Phase 2® 500mg and the brand new Xtra-Slim for slimming and Detox 2000, the conveniently comprehensive Detox Pack and the latest addition Liver Kind for detox. All are available from stock in single units, with no minimum order and excellent customer service. Health Plus have been serving over 200 quality products to the retailer and practitioner market for over 20 years now. If you haven't tried us yet, now's the ideal time!
Kilo Trim
New Nordic Ltd,
Tel: 01482 300695
E-mail: [email protected]
www.newnordic.co.uk
Kilo Trim™ is the tablet you need for proven weight loss results. The unique combination of herbal konjac glucomannan and birch bark with chromium picolinate contained in each tablet is an amazing break through. Glucomannan contributes to weight loss. The beneficial effect is obtained with a daily intake of 3 g of glucomannan in three tablets of 1 g each, together with 1-2 glasses of water, before meals and in the context of an energy restricted diet. Chromium contributes to the maintenance of normal blood glucose levels and normal carbohydrate, protein and fat metabolism.
Green Coffee Extract (Svetol®) 200mg
Natures Aid Ltd,
Tel: 01772 686231 Fax: 01772 688700
E-mail: [email protected]
www.naturesaid.co.uk
NATURES AID GREEN COFFEE The term "Green coffee" refers to raw or unroasted seeds (beans) of Coffea fruits which are used to produce the coffee that we are all familiar with. The key components in green coffee are chlorogenic acids, compounds with antioxidant activity known to inhibit glucose-6-phosphatase and increase fat release from the adipose tissue. Each Natures Aid Green Coffee tablet contains 200mg of Svetol®, a decaffeinated Green Coffee Bean Extract, providing a guaranteed minimum 45% chlorogenic acids per tablet. The efficacy of Svetol® on weight management has been clinically proven. The tablets are suitable for vegetarians & vegans. 60 tablets RSP £16.95
Udo's Choice Super 8 Hi-Count Microbiotics
Savant Distribution
Tel: 08450 60 6070
www.savant-health.com
When bad bacteria outweighs the friendly bacteria in our gut, problems can arise such as gas and bloating. Super 8 High-Count Microbiotics can help by providing 30 billion active bacteria* in every one-a-day capsule, that's three times more than that found in a typical microbiotic yoghurt drink! What's more, they have been formulated using eight strains of bacteria, this compares with just one to three strains in a typical microbiotic yoghurt drink. *at time of manufacturer
d'mix
Conscious Food Ltd
Tel: 0207720 7099
E-mail: [email protected]
www.consciousfood.co.uk
Just Chew on the next big thing in Digestive Wellness. As featured in national newspapers, magazines and radio, it is the first ever product to focus on the importance of chewing to improve digestion, with natural state botanicals to support food absorption and elimination. Train your digestive system back into healthy functioning. A proprietary Ayurvedic-inspired food supplement, it enhances all supplements, probiotics and enzymes and has no contraindications. Results seen within one month. D'mix: your perfect digestive partner. High level of repeat business, POS materials, in-store demos and training. Order now from CLF, Tree of Life, Natural Dispensary or Conscious Food. For more info visit www.consciousfood.co.uk or call 0207 720 7099. RRP £19.99
Amazing Grass – Amazing Meal
Kinetic
Tel: 0845 0725825
E-mail: [email protected]
www.kinetic4health.co.uk
Amazing Grass Amazing Meal contains all the goodness of Green SuperFood products, along with complete protein sources and is till slimming. 15 complete meals in a jar with a great pomegranate/mango or chocolate taste. Amazing Meal gives an immediate satisfied feeling and lots of energy. 100% complete whole food mix combining plant proteins, fruits, vegetables and Green SuperFood. Each serving contains 10 grammes of protein and 6 grammes of fibre and is a full meal replacement if combined with milk for those who want to lose weight.
Nature's Answer – L-Carnitine with Raspberry Ketones & Green Coffee Bean
Kinetic
Tel: 0845 0725825
E-mail: [email protected]
www.kinetic4health.co.uk
This unique formula supports healthy weight loss when combined with a diet and exercise plan. It features the purest form of L-Carnitine, Carnipure, with 125 mg of natural raspberry ketones, a naturally derived compound that produces the scent of raspberries. Together they promote healthy weight maintenance by promoting fat metabolism. The formula is further enhanced with "fat fighters" green coffee bean (50% cholorgenic acid) and green tea. It features Quik-Sorb, an exclusive blend of herbs known to enhance delivery of nutrients to the body. Unlike other products on the market, Nature's Answer is benzoate-free.
Lepicol – for naturally healthy bowels
The human body is home to trillions of different microbes. The resident gut flora has been shown to be very different between those who are lean and obese1. We already know that the gut flora has an important role to play in the digestion and absorption of food but findings are now suggesting that it may also affect how much we eat, how efficiently we are able to breakdown food and how much is stored as fat in the body. A 12 week trial in 2010, suggested a beneficial influence of taking a daily lactobacillus supplement which resulted in a reduction of fat around the middle and body weight. Prebiotics, a food source for the beneficial bacteria, are also showing promising results in the area of weight loss mainly through increasing satiety. There is however, much more research needed in this area and supplementation should be taken alongside a balanced wholefood diet, regular exercise, relaxation and adequate sleep. Maintaining regular healthy bowel movements is essential to remove waste substances and toxins from the body. Many people experience more energy and a sense of general well-being after cleaning their bowel out. The consumption of high fibre foods such as vegetables and salads provides bulk to stools while adequate water intake helps the stool mass to stay soft and easy to pass. For those who don't consume enough fibre in their diet psyllium husk is a gentle fibre supplement known to absorb much more water than other fibres forming a soft gel like substance. Probiotic intake has been shown in studies to increase bowel movements by up to 50%3. Lepicol is a 3 in 1 combination of gentle psyllium husk fibre which helps to normalise bowel transit, 5 probiotic strains to help rebalance gut microflora and inulin acting as a prebiotic.