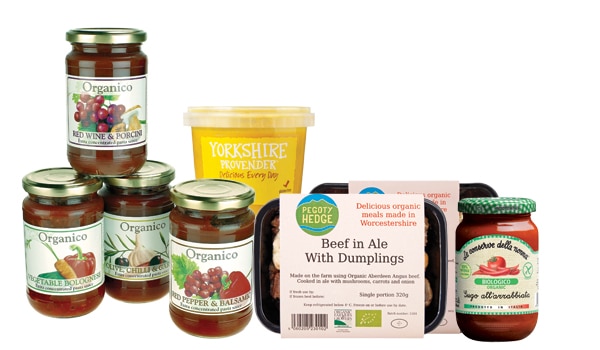 Jane Wolfe takes a look at what's available in the way of convenient, but healthy and hearty options to keep your customers warm and satisfied on a chilly winter's eve
With winter well and truly upon us, what could be more satisfying than a hearty but healthy hot meal at the end of the day? According to Key Note, the soup market in the UK has grown to £612 million, despite the economic crisis, and is set to continue growing over the next five years, rising by 29.5% between 2013-2017 to £860 million. "The market for soups is going really well and our sales have been rising, particularly over the last 12 months," says Ann Turkington, manager at Rod and Ben's. The company expanded into soups after starting as a veg box scheme. "Initially it was to use the veg that we were growing on the farm, and it grew from there." Turkington sees soups as an all-season category but says there's a huge rise in sales during the winter months, so it's worth reviewing your offer to suit the seasons. Rod and Ben's offer is seasonal, with flavours ranging from Mushroom & Thyme, Courgette & Tomato and Pea & Mint to Thai Chicken and Smoked Haddock Chowder. Riverford Organic also has a strong showing in this sector. At the Soil Association Organic Food Awards this year, four Riverford products won, with its Vegetable Harira and Butternut Squash & Bacon Chowder soups both winning Gold. More unusual flavours come from North Yorkshire's Yorkshire Provender, which produces chilled soups like Fresh Beetroot Soup with Parsnip, Horseradish & Ginger and Gently Spiced Vegetable Soup with Chicken, Coconut & Ginger. Tideford Organics' soup range is gluten- and wheat-free, and low in salt and fat, with varieties such as Organic Courgette, Smoked Fish Chowder with Organic Leeks & Peas, Organic Spinach & Split Pea with Nutmeg, and Organic Minestrone with Gluten-Free Pasta. However, unusual flavours aren't everyone's cup of tea; Suma's Pea soup is still its best seller, followed by Spicy Lentil. New additions to its selection include Leek & Potato, Lentil & Courgette and Organic Barley & Bean.
What a sauce
According to Key Note, the cooking sauces market was valued at £623 million in 2012, up from £550 in 2008, representing a rise of 13.3%. Italian, Indian, Chinese and Oriental sauces dominate the sector, and there is a rising demand for Malaysian, Thai and Peruvian cuisine. For a taste of the Mediterranean, Organico's range of pasta sauces come in Olive & Capers, Olive, Chilli & Garlic, Red Wine & Porcini and Red Pepper & Balsamic varieties. Real Organics Food Co offers Arrabbiata, Sicilian Tomato & Olive, Mushrooms & Red Wine sauces, as well as Indian and Thai Red, Green and Yellow curry flavours. Meanwhile, Meridian's collection of Free From sauces includes Green Thai, Korma, Tikka Masala and Creamy Sun Dried Tomato – in addition to its line of organic pasta sauces. And new to the UK, the Free From Italy range offers pasta sauces sourced from Italy – Le Conserve della Nonna Pasta in Tomato & Basil and Arrabbiata varieties along with a Green Pesto Sauce – and aim to supply 'the same quality that any Italian would expect'.
Ready, steady, eat
"The demand is strong. I think traceability has certainly been brought to the fore over the last 12 months"
The Horsegate scandal was great news for those rare ready-meal producers able to target mainstream buyers looking for a convenient meal made using locally-sourced and/or organic ingredients. "The demand is strong. I think traceability has certainly been brought to the fore over the last 12 months and people appreciate that, organic or not, our products are tasty, fulfilling, satisfying, good-value meals," says Oliver Surman from Pegoty Hedge. "They offer all the convenience you'd expect from a ready meal but deliver products with the taste, ethics and ethos that is distinctly different from what you'd expect from a ready meal." Pegoty Hedge ready-made meals come in one, two, family and catering sizes. Rod and Ben's Meal-in-a-Pot range comes in five varieties – including Vegetable Balti, Beany Bacon Chilli, and Minestrone Stew – and aim to be a quick and healthy option. "It was just an idea that somebody had for something a little bit more substantial than soup – obviously pulses and beans are a healthy option – and we gave it a try. At first they weren't terribly successful but they are now," says Turkington. Dorset-based Manna Kitchen's ready-made meals use locally-sourced ingredients and 100% free-range meat and eggs. The selection includes Lamb Tagine, Pork with Cider & Caramelised Apple, Aubergine Curry, Butternut Squash & Mushroom Crumble, Luxury Fish Pie and Moroccan Roasted Vegetable Tagine. Indian Vegetable Korma, Broccoli & Cheddar Bake and Thai Red Curry are part of Amy's Kitchen's offering, which also caters for special diets with Gluten-Free Country Vegetables & Pasta and Vegetable Lasagne.
Pie-eyed
Another comforting dish for a cold, dark night, is a good old-fashioned pie. Clive's Pies, produced by Buckfast Organic Bakery in Devon, are all organic and are handmade in small batches. The range comprises gluten-free versions – such as Cheese & Potato, Vegetable Chilli and Minty Chickpea – wholemeal, including Arabian Chickpeas and Greek Lentil & Olive, and pasties. The bakery also produces pots of Thai Veggie Curry, Moroccan Tagine, and Aduki Bean Stew. Riverford's pastry offering comprises Pork Pies, Spicy Lentil Pasties, Smoked Chicken Tarts and Homity Pie, another Gold Award-winner at the Soil Association Organic Food Awards.
Fish4Ever French Organic Soup
Organico Realfoods,
Tel: 01189 23 8767 Fax: 01189 23 8761
E-mail: [email protected]
www.fish4ever.co.uk
A traditional French fish soup made with organically farmed salmon and pot caught crab and lobster and a selection of winter-warming vegetables with tomato concentrate and seasoning. All farmed ingredients are organic. Or why not try our fantastic new solid chunks of tuna steaks in precious single estate organic olive oil or the seafood cocktail made with wild prawns and organic farmed mussels. These glass products are great as gift or a treat and taste as good as they look. Delicious!
Organico 2013 Soil Association Award winners
Organico Realfoods,
Freda Cantrell
Tel: 01189 23 8767 Fax: 01189 23 8761
E-mail: [email protected]
www.organico.co.uk
All our products are sourced with care that goes beyond organic – we choose our growers and farms, our producers and our recipes to bring the very best quality, provenance, ethics and taste. In this year's Soil Association organic awards 2013 our brilliant wholegrain black rice, strozzapretti pasta and thin "torinese" style breadsticks all won gold making Organico the top performer for store cupboard items and 3rd out of 200 entrants. Torinesi £1.60 for 120g, Black rice £3.95 and stozzapretti, part of the premium pasta range £2.89.
Real Organic winter warmer sauces
Real Organics
Tel: 01491 615280
E-mail: [email protected]
www.realorganic.co.uk
Stock up with our aromatic Indian and vibrant Thai cooking sauces or try our Pasta sauces, inspired by the regional kitchens of Italy. Now even fresher-tasting, giving your customers 'home-made' freshness captured in a jar. Indian sauces include best-selling Korma, an authentic recipe from Kerala, uniquely flavoured Tikka Balti, Rogan Josh full of heady spices and Jalfrezi with fresh red chillies. Also, award winning luxury high fruit conserves, delicious chutneys and Redcurrant & Mint Jelly – all cooked in small batches. Real Organics passion for pure tastes and inspirational recipes Talk to us today www.realorganic.co.uk 01491 615280
New Amy's Kitchen Frozen Ready Meal Range
Amy's Kitchen 
Tel: 01536 424820 Fax: 01536 744355
E-mail: [email protected]
www.amyskitchen.co.uk
Amy's Kitchen is a family owned business set up in 1988 by Andy and Rachel. We are deeply committed to producing convenient, healthy prepared foods that taste homemade. We use only the finest natural ingredients, prepared with the same careful attention as you would in your own home. All our products are vegetarian and cater for gluten free, dairy free and vegan. Our new frozen range includes Gluten Free Rice Crust Pizza, Thai Red Curry, Gluten Free Dairy Free Vegetable Lasagne, Broccoli Cheddar Bake and Gluten Free Manhattan Veggie Burger, there is something for everyone. Find out more at: facebook.com/AmysKitchenUK
Orgran Custard Mix
Orgran Natural Foods
Tel: +61 3 9776 9044 Fax: +61 3 9776 9055
E-mail: [email protected]
www.orgran.com
Orgran Custard Mix is perfect for pouring over all your favourite winter puddings. Like all Orgran products, it is free from gluten and contains no eggs so is perfect for those with food allergies. All Orgran products are also suitable for vegans, and with no artificial colours, flavours or preservatives, this custard mix will be loved by the whole family. Try lashings of delicious, warm Orgran Custard this winter over your Christmas Pudding, or have it cold in a trifle. For more information about the entire Orgran range visit www.orgran.co.uk