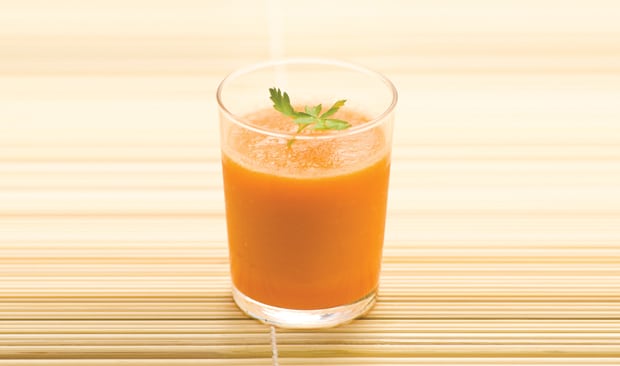 Raw food is still rocking the aisles of natural products stores up and down the country, writes Jim Manson 
Retailer and brand owner Alan Martin is a raw food enthusiast, and he's in no doubt it's a category that's going places. "We have seen the raw sector grow exponentially over the past couple of years as more products become available and more people begin to realise the value of raw food. Raw is rocking!" he says. "I think what we are seeing is an explosion of small artisan-style producers that are creating raw products to an outstanding level. From chocolate to kale chips, granola to crackers, we are witnessing a real revival of handmade, small production runs of expertly crafted product from the likes of the Raw Chocolate Pie Company, Inspiral and The Living Food Kitchen, all the way up to large scale production from companies like Raw Health."
Raw demand
"These companies are delivering finished products but there is also a demand for high quality organically certified raw ingredients, supplied by companies like Creative Nature, Detox Your World and more recently our own BonPom brand." But Martin sees some challenges for the raw sector in its relatively early stage of development. "The very nature of these ranges is that they are made in small batches. So the downside of the success we've had with some lines is a difficulty keeping product in stock and on the shelves consistently. But I think customers are more forgiving of out-of-stocks on these products than they are on other more mainstream suppliers." These production challenges are something very familiar to Andrew Davis, founder of Gourmet Raw. Davis's experience with raw food was a personal one from the start, he told NP: "I'd been in a fast-paced, pressured job in advertising, was living unhealthily – and I got sick. I stumbled across raw, and went to America to study it. It was so important in my recovery I came back to London and promptly set up the Raw Food School, which I ran for eight years."
Labour of love
Five years ago Davis launched Gourmet Raw, initially with a small range of raw, nutrient and flavour-rich brownies. Today there are five brownies and three varieties of vegetable crisps – all raw, organic, vegan, dairy- and gluten-free. But making these products had become a labour of love and meant that price points were inevitably higher than some would want. Says Davis: "Making raw food products is expensive. A lot of it's hand-made. It's often dehydrated, so it takes a long time to make. Basically it's slow food. "But we're now at a stage where we can outsource and upscale our production. And that means we will able to reduce our prices – which is exactly what we are about to do. And we've been told that if we can keep the price points down a bit the products will fly off the shelves." In fact, price pressures – "times are tough and people are skint" – were the motivation for Davis's new brand Happy Snacks, which will be launched at Natural & Organic Products this month. "The new air-dried, raw kale and buckwheat crisps meet with our commitment to producing best quality foods, but on this occasion aren't organic – which means we can pitch them at a more mainstream consumer," he says.
Sweet and sauer
Simona Stasiulyte of leading raw food brand RAW Health says that the choice of raw foods is growing ever-wider. The brand's own range stretches from raw chocolate and crispbreads to raw olives and honey – and a newly launched unpasteurised sauerkraut. "There are more and more raw product categories becoming available and that reflects the growing understanding of the benefits of raw," she says. "To help build on that we do lots of in-store demonstrations and get some really useful feedback from consumers that helps us to develop the range." Sandra Leary from Dimensions Health Dru Store says that raw chocolate is a reliable seller. "We are supplied by a very local producer who makes the chocolate just few miles away from us and supplies us and a local café – so there's a really nice story behind it," she says. "We're a wholefood and superfood focused store so raw fits well for us. Dru's own organic Barley Grass is a big seller both at the Bangor shop and nationally. People with conditions like eczema use it and say they get real benefits from it."
Happy Raw Day!
Davis is convinced that raw food has a bright future. "People are definitely looking for alternatives to sort out their health – and they are turning to raw. It's the Internet that's driving awareness. It's helping people to understand that they can heal themselves with food – and I think we will see more and more people wanting to incorporate raw into their diet." Martin adds : "We are also seeing something akin to what happened years back when people would have a 'Veggie Day', only now we are seeing people have a 'Raw Day' instead, and indeed demand is increasing as the weather starts to improve and we head for summertime. "Judging by what we saw at Biofach this February, Raw is rocking and growing. It's fun too. "And if you haven't already, it's time your store began RAWmance!"­
Raw Foods Listings
100% Organic Raw Coconut Oil
Viridian Nutrition Ltd,
15 High March, Daventry, Northamptonshire NN11 4HB
Tel: 01327 878050 Fax: 01327 878335
E-mail: [email protected]
www.viridian-nutrition.com
Simply the most delicious coconut oil you have ever tasted, fresh from the Philippines and Soil Association certified. Attractively packaged for body and hair care and for cooking, keep one jar in the kitchen, one in the bathroom and a little one in your handbag. Recipe sheets and extensive POS available. Viridian is an award-winning company with 180+ nutritional products. With experienced sales, marketing and technical expertise, Viridian is dedicated to the future development and security of the health food store.
RAW Health Organic Energy Balls – Hemp Protein and Spirulina Orange
RAW Health
Tel: 0208 547 2775 Fax: 0208 546 9942
E-mail: [email protected]
www.rawhealth.uk.com
Delicious raw energy balls bursting with rich flavours and natural goodness. Scrumptious snacks from RAW Health that are packed with the power of raw organic ingredients and super foods and never heated above 42°C to ensure the health-giving nutrients and enzymes stay alive and well. Try our new, delicious energy balls with spirulina and hemp. All RAW Health energy balls are packed in boxes of three balls -perfect for sharing and enjoying. There is bound to be a favourite for everyone. For a super indulgent treat look no further than RAW Health Blissed Chocada Truffles. These delicious little balls are bursting with rich cacao flavours and juicy dates. Or try zesty Lemon & Chia Seed or fruity Coconut Energy Balls.
Beond Bars
Pulsin' Ltd.
Tel: 01452 728900
E-mail: [email protected]
www.pulsin.co.uk
Pulsin' have launched new packaging for the award winning beond bars which won Best New Organic Food Product 2012 at the Natural and Organic Products Europe Show. These tasty bars are ORGANIC, RAW, VEGAN, GLUTEN FREE, DAIRY FREE and SOYA FREE and are perfect for special diets including no added sugar. They come in two delicious flavours, Raw Choc and Acai Berry and are produced in Pulsin's Gloucestershire factory using 100% natural wholefood ingredients. The beond Raw Choc contains single estate raw chocolate from Peru, dates, almonds and raisins. The beond Acai Berry contains almonds, dates, acai berry and raspberry.
Golden Apple from Slovenia
Azimut – Vester d.o.o. Deteljica 3, 4290 TrÏiã, Slovenia
Tel: 00386 4 592 45 62
Fax: 00386 4 592 45 61
E-mail: [email protected]
www.goldenapple.si
DELICIOUS_ PURE NATURAL_ RAW CRACKERS, nutritionally rich and tasty product that supports us in our everyday life with pure, healthy and lasting energy, either when working in the office, or to enrich our home lunches, as delicious snack at parties or simply the best dessert for children and adults. SUPER FOOD_RAW_ PESTO_Slovenian WILD Garlic (Aglio selvatico) in virgin Olive oil. It is a WILD PLANT, gathered in a completely unpolluted area where there's no mass farming or any other 'civilisation' influences to the environment.
Dru Organic Barley Grass Powder
Lynda Binks, Dimensions Health Store
Tel: 01248 351562 Fax: 01248371756
E-mail: [email protected]
www.druhealth.com
Dru Organic Barley Grass Organically-certified New Zealand barley grass powder containing a wide range of nutrients as well as enzymes, chlorophyll and trace elements. It is alkalising, balancing and nourishing. Being easily digestible, Barley Grass is a fantastic complement to a healthy diet. Simply add to your favourite juice or smoothie. £9.25 for 100g – one month's supply, or £16.75 for 200g – two months' supply. Taster kits available for stores. Available from Suma, The Health Store, Tree of Life or Call 01248 351562, email: [email protected]
100% Organic Premium Grade Coconut Oil
Essence of Eden Ltd
Tel: 01491 61 4444
E-mail: [email protected]
www.essenceofeden.co.uk
Shortlisted yet again for another Award in 2013, Essence of Eden has consistently supplied the UK market with their 100% Organic Premium Grade Raw Virgin Coconut Oil. "Year on year, we have experienced growth in sales and repeat clients which is a strong testament to both quality of product and service" Our coconut oil is a top grade oil, produced using the centrifuge method which means less moisture, resulting in a beautiful flavour, texture and highest level of nutrients. Well known for its multi use properties, Essence of Eden's Organic Coconut Oil have received four awards in three years to date.
Organic Food Bar
Alex Barani, Kinetic Natural Product Distributor,
258 Belsize Road, London, NW6 4BT
Tel: 08450 725 825 Fax: 08450 725 826
E-mail: [email protected]
www.kinetic4health.co.uk
ORGANIC FOOD BAR products consists of alkaline-forming, enzymaticaly-active organic whole foods, sprouted superfoods and antioxidants that provide optimal nutrition for your body. The products are all cold processed from 100% organic ingredients to ensure maximum nutritional value. They provide high and sustained energy levels from complex carbohydrates, are alkaline-forming which means they support deto in the body. All products are gluten-free, up to 100% raw, suitable for vegetarians and vegans, and free from hydrogenated oils, preservatives, additives, sale and refined sugar.
Rawr Chocolate
Rawr Foods Ltd.
Tel: 01223 798 555
E-mail: [email protected]
www.rawrchoc.com
Melt-in-your-mouth, dairy-free organic raw chocolate. With its highly moreish quality, Rawr chocolate is popular in 15 countries, reflected by an outstanding near 100% repeat trade purchase rate. The 6 exceptional flavours are 70% cacao Purity, 80% cacao Intensity, After Dinner mint, orange Zest, goji berry and vanilla Passion, and Gold, the new caramelly alternative to white chocolate. Innovative packaging sets the range apart on the shelf. Rawr chocolate is produced at low temperatures, maintaining the nutritional value of its ingredients. Naturally sweetened with coconut palm sugar and contains no artificial anything!
Organic Raw Seed & Nut Butters
Sun & Seed Ltd
Tel: 02072677799 Fax: 0207 2677799
E-mail: [email protected]
www.sunandseed.com
Sun & Seed crafts products using traditional techniques with artisan imagination offering a full range of raw organic whole foods. We make our healthy spreads using a traditional stone mill. It is a slow and careful low-temperature process which ensures that all the nutritional value and benefits are preserved. Our butters are perfect for tasty, healthy snacks and can be used in many raw food recipes. Aside from nutritional benefits, our aim is to create products which taste exceptionally good. Raw Walnut Butter winner of the Soil Association Organic Awards 2009 – "quality fresh nuts, simplicity in a jar. Finger licking good!".