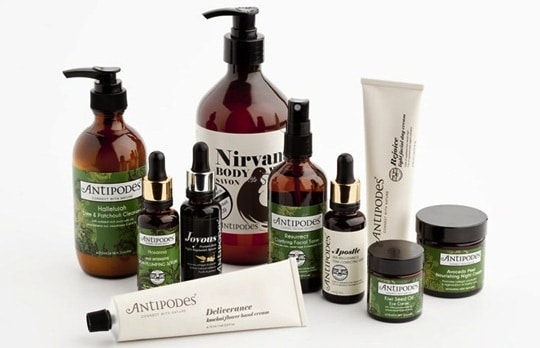 As it makes final preparations for this weekend's Natural & Organic Products Europe show (April 7 & 8, Olympia, London), leading natural products distributor Kinetic Enterprises is reporting "significant growth and activity both in the UK market and increasingly in Europe".
Kinetic co-founder Alexander Barani told Natural Products: "It's been a fantastic year and very exciting times for us. Our three-division operation –superfoods, beauty and supplements – is working really well and enabling us to give each category the focus and attention it needs. That's helping retailers and it's helping the brands."
New products galore
The company – whose key brands include Jason, Dr Bronner, Terra Nova, Antipodes, Amazing Grass, Nutiva and Natures Answer – will be launching over 10 new products at this year's Olympia show from its two stands right at the front of the show. Reflecting the new company structure, one stand has a superfood and supplements focus, while the other concentrates on the beauty offer.
"Both stands will have so much going on, and so much to see. On the beauty stand we will be offering complimentary facials and beauty advice. And there will be an opportunity to meet with the founder of the beautiful Antipodes range from New Zealand, Elizabeth Barbalich. We're so proud to be working with this brand, which really has joined the A-list of skincare ranges. To be selected by Selfridges's new upscale beauty department, and be among the world's top 11 beauty brands, is an incredible honour."
Capturing the imagination
On the beauty front, Barani also singles out the Jason Vitamin Skincare range: "This range has really captured the imagination and taken its place alongside premium skincare ranges. It's scientifically proven and backed by clinical trials – so consumers know it works. It's suitable for such a wide range of skin ailments, from psoriasis and eczema to skin pigmentation issues and thread veins. And we mustn't forget Dr Bronner which goes from strength to strength, helped by the recent 'Bronnerisation" of the range. And look out for some other exciting developments too like Alba's teenage range Acnedote and Avalon's lovely repackaged lavender range now called Luminosity.
Kinetic's superfood offer has "really taken off this past year" says Barani, who cites the company's presence at key European events like Biofach and Natural Products Scandinavia as part of this recipe for success. "Amazing Grass has taken off so well – it's already become the number one seller at Whole Foods in the 'supergreens' category. And Nutiva has become the coconut oil brand of choice, and now enjoys a really high level of brand recognition along with its chia seed products."
Hero product
Terranova's Life Drink meanwhile has acquired "hero products status" according to Barani. "It's a great product and a great brand. With Stephen Terrass's reputation behind it, the range was fated to succeed! And with the world becoming more and more niche and specialist, Terranova's time has come. It's as pure as 'natural' can be, and with its synergistic properties it is truly unique."
• Kinetic is exhibiting on stands 4008 and 5008 at Natural & Organic Products Europe (April 7-8, Olympia, London)