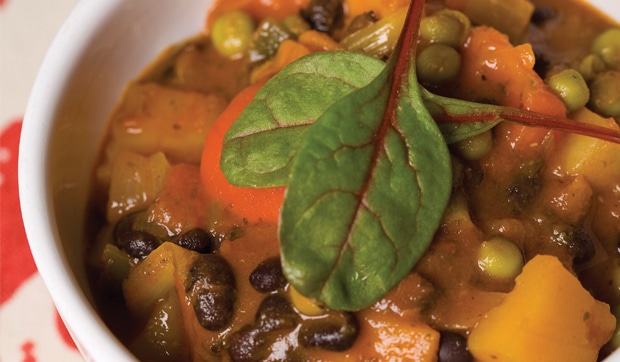 Come in from the cold and heat up in-store for a homely selection of winter treats to warm your customers' cockles.
As the temperature goes down and the thermostat goes up, it's time to push aside the salads of our (short-lived) summer and stock something a little more warming in-store. After all – health-conscious shoppers looking for tasty lunchtime fare will want something a little more substantial to get them through the long Winter months.
"Lunchtime can be tricky," says Sally Carson, one half of the husband and wife team behind Clive's Pies.
"People want to have something healthier and more nutritious than a chicken pie, but they don't necessarily want something cold like a cheese sandwich."
Clive's Pies is a range of Winter warmers with the onus on healthy and organic values. Everything in its selection is handmade – from the pastry to the freshly-prepared organic vegetables.
"The inspiration really comes from our customers," continues Carson. "They're people that love food and they're not exclusively vegetarians, just trying to eat a wider range of healthy foods and reduce their meat intake."
Pies make up the core range – but the company has also tried out new ideas, like its innovative Pots. These include Thai Veggie Curry, Moroccan Tagine, Aduki Bean Stew and Mediterranean Ragout.
"People, especially women, loved the pies but wanted to cut back on the pastry," explains Carson.
"And they asked if we could just provide the fillings as something you could put in the microwave."
So far gluten-free is a big part of the range, a trend which Carson says is now 'booming'.
"The mushroom pie is our biggest seller by far and we're already working on a gluten-free mushroom pie for 2012," she says.
Take it Easy
Meanwhile, as the Winter winds bite natural brands are giving office workers the chance to enjoy nutritious meals 'al desko' rather than heading out in the cold.
"There is good demand for healthy convenient food for lunch and overall ready meals as a category is growing much faster than grocery as a whole," explains Christina Baskerville, MD of Easy Bean.
"Healthy lunch food options include soups and one-pot meals at winter time. We have developed the Easy Bean range to be filling and fulfilling as well as sophisticated in its taste.  Naturalness is a big trend at the moment and we believe we have led the way – Easy Bean pots only contain 100 per cent natural ingredients and do not include starch thickeners which gives an exceptional home-made quality to the range."
Baskerville points out that younger consumers are looking beyond traditional tastes and textures for flavours that are subtle, exciting and exotic.
"Spicy world cuisine and delicate flavours particularly appeal to this group of consumers," she says.
With this in mind Easy Bean has developed a range including Moroccan vegetarian chickpea and aubergine tagine, plus an African stew of free range chicken in a vibrant spicy peanut sauce.
"The most recent launch is a Seasonal Speciality line and the first recipe is Italian Pasta e Fagioli, perfect for winter with borlotti beans, porcini mushrooms, pearl onions and savoy cabbage," says Baskerville.
"We have had tremendous feedback about this – it's perfect for the time of year. Our French Cuisinées pot , which contains sweet chestnuts, also has a Christmassy touch which goes down well as we approach the festive season."
Souped up
Elsewhere soups are always a dependable Winter warmer in a category which includes high-end flavours such as Biona's new Gourmet Minstrone Soup and contemporary twists on classic recipes such as Tideford's soup range.
The Tideford soups, which form part of the brand's Autumn range, include Farmhouse Chciken with Lemon & Tyhme, Spicy Buttetnut Squash with Sweet Potato and Winter Parsnip with Warm Spices and Ginger. The selection is gluten-free and low in salt and fat.
Tideford is also diversifying into porridge too in convenient, ready to microwave pots.
Soup Stats
Soup is still a big deal for health conscious consumers – as these facts from Mintel show…
Most adults see soup as a low calorie / healthy option.
The UK soup market is worth £511m.
Some 38 per cent of consumers customise their soup with fresh ingredients and spices.
Consumers in the 16-24 age bracket are more likely to go for big flavours and more exotic option.
Winter Warmer Listings
Free & Easy
Healthy Food Brands
Tel: 01403 786460
Fax: 01403 786280
E-mail: [email protected]
www.healthyfoodbrands.co.uk
Keep warm this winter with Free & Easy's delectable range of organic soups and ready meals – ideal for creating delicious, warming dishes for the whole family, even those with food intolerances and allergies. Like other products in the range, Free & Easy's organic soups and ready meals blend wholesome ingredients, spices and seasoning to create rich and satisfying flavours for easy, nourishing and healthy meals. Free from wheat, gluten, lactose and yeast but bursting with full-on flavour, the Free & Easy range includes mouth-watering soups, ready meals, gravies and sauces all created to deliver a taste sensation for every mealtime.
Tideford Organics Soups, Porridges and Sauces
Lynette Sinclair, Tideford Organic Foods, 5 The Alpha Centre, Babbage Road, Totnes, Devon, TQ9 5JA
Tel: 01803 840555
Fax: 01803 840551
E-mail: [email protected]
www.tidefordorganics.com
Multi award winning Tideford Organics launch their new range of soups, sauces, and porridges.  Gluten free, low salt, low fat, vegetarian and vegan products with no additives or preservatives. With the emphasis very much on health, their recipes include winter warmers such as Spicy Butternut Squash & Sweet Potato, Winter Parsnip with Warm spices and Ginger and Farmhouse Chicken with Lemon & Thyme. Single serve microwaveable formats and standard 600g retail pots – perfect for the Food to Go!  Also new to the range are two delicious ready made porridges – Cinnamon Porridge and Vanilla porridge made with organic oats and South West milk.
Biona Organic Minestrone Soup
Simona Stasiulyte, Windmill Organics, 34A Image House, Clifton Road, Surrey KT2 6PH
Tel: 0208 547 2775
Fax: 0208 546 9942
E-mail: [email protected]
www.windmillorganics.com, www.biona.co.uk
Biona organic Minestrone Soup is the latest addition to the Biona Organic Gourmet collection of hearty soups. The generous blend of vegetables, beans, herbs and wholemeal pasta provide a rich meal full of goodness. Already in the range, smooth and creamy another Italian classic – Tomato Basil Soup with aromatic Mediterranean herbs. Teaming with rich flavours, the lightly Spiced Pumpkin Soup with turmeric and nutmeg. Perfect for a quick, balancing meal the Hearty Lentil Soup is a nourishing fusion of leeks, carrots and celeriac. Flavoursome and filling, these wholesome and warming soups are perfect for cold winter days. Ready to eat and suitable for vegetarians and vegans, they are kitchen cupboard essentials this winter! All 6x680g £12.11 RRP £2.69. Available from your preferred wholesaler.