Kate Miller grazes on the £5.2 billion snack market, translates what TikTok's 'girl dinner' is all about and finds an alternative to odorous workplace microwaves
If snacking were an Olympic sport there are many of us who, through no small effort, would have come within a whisper of a gold during the pandemic. Left to our own devices, like teenagers home alone, there were no designated mealtimes, making the line between snacking and meals blur until it no longer existed. And now, with the trend towards working from home, some of that blurring seems to have continued.
So it's no surprise that the latest food trend on TikTok – termed the 'girl dinner' is one where these blurred boundaries are celebrated, with women worldwide sharing a variety of artfully arranged snacks as their main meal, meze style. What connects the meals – which can include meats, cheeses, olives and nuts – is the fact that they are quick to prepare and contain small snacking bites. LA-based Olivia Maher, who coined the term, has said that these 'girl dinners' were inspired by the type of snacks that medieval peasants might have eaten, although quite which country's peasants would have had access to charcuterie and an array of cheeses from the four corners of the Earth is anyone's guess. Maybe they bought them from Ye Olde Wholefoods.
Probably more reflective of wider eating habits than the TikTok trend is, Noel Bollman, joint CEO of nutritionally complete brand yfood, says that there is a nutritional gap between meals and snacks. "The difference between these two intakes on your physiology is huge. A meal, due to its combination of protein, fibre, carbohydrate and fats in solid form, is digested and absorbed very slowly in comparison to the same foods eaten in isolation. This slow digestion results in staying satiated and fuller for longer."
Founder of organic snack brand Nourish, Ineke Nugteren, says she thinks that, post-pandemic, people are more curious about the snacks they eat: "People who overindulged realized they'd put on weight [and] had more health conditions so have now shown an interest. I think COVID changed everything about the way people eat."
The fact that the TikTok trend is female-led is reflected in a 2022 YouGov study examining the UK's eating habits which found that women are significantly more likely than men to pay 'a lot of attention' to the amount of processed food they eat, with half of Britons ranking taste (over health) as the most important factor when it comes to food (24%).
And this extends into snacking, according to the most recent Mintel report which discovered consumers still want to make healthy choices, with 63% of people who eat and buy these snacks wanting to see their favourite brands offer more healthy options in their ranges [Mintel UK Savoury Nuts and Snacks Market Report 2023]. And even the treat-focused are keen on healthier versions being available to them, with 65% of those buying crisps, savoury snacks and nuts to treat themselves saying this was desirable. Some 72% of those who would like more healthy options are interested in trying new savoury snacks made with different base ingredients (eg, chickpeas, lentils) compared to 60% overall. 
Most snacks in the £5.2 billion market fall in the 'self-treat' category, with a move away from snacking on-the-go towards evening consumption. Nugteren, who has a nursing background and is a functional medicine practitioner, says this emphasis on self-treat is key to her brand focus: "We wanted food to taste amazing and still be clean in their ingredients. So often food that is deemed healthy [tastes] like cardboard or has had so many shortcuts done to it to make it for the masses, or it hits the dietary requirements but it loses all of its taste. So the biggest thing for us is that it must taste delicious while being in its most natural form, without being too … altered. So simple ingredients, very few of them. It tastes like it should be naughty, but it's not."
One snack item aiming to tick the healthy box without sacrificing taste is from RawQ which utilizes the ingredient du jour, buckwheat, as the basis for a bar providing long-lasting energy. Launched in three flavours – Coconut, Spirulina & Almond; Bilberry, Apple & Hazelnut; and Mango, Banana & Cashew – founders Arina Kuzmina, nutritionist, and Daria Medvedeva, former pro athlete, say it fills a gap in the market for an energy bar 'that provides a sustained energy release without a sugar crash'. Vegan and gluten-free with a list of superfood ingredients, the bar is backed by Grand Slam champion Daniil Medvedev. 
Protein was the big snack story for a few years and new onto the market is a low-carb, low-sugar keto snack from The Protein Ball Co. Spotting a gap in the market for a range of grab-and-go Keto Balls, the range has a sweet nut butter base, is high in fibre and packs 5g of protein per 25g gluten-free serving, providing slow-release energy at less than 1g of carbs per ball.
On the savoury side of the market, 'gut happy' brand Boundless launched two new chip flavours in March in 25g grab-and-go bags and 90g sharing bags; and Human Nature Food launched its award-winning plant-based snacks with Degusta Box in January. The brand's Hot Jalapeno & Lime Lentil Sticks plus its Sour Cream & Onion variant also won a Great Taste Award. 
Clearspring is another company launching NPD this year with two gluten-free, vegan Japanese Brown Rice Cracker flavours: Black Pepper & Tamari and Green Nori & Tamari. According to the brand, the majority of Japanese and Asian rice crackers are made using white rice and usually contain fish stock, added sugar and MSG. It took Clearspring over a year to perfect two minimally processed recipes using organic wholefood ingredients. 
For those wanting something more along the lines of a traditional lunch, Nice Rice is a new sustainably-farmed rice brand, launched earlier this year with a mission to create demand for a better industry by sourcing its rice from a farmer group which tackles the grain's poor sustainability record by using a farming method endorsed by the UN and IPCC for being significantly more sustainable – achieving a 49% reduction in C02 equivalent emissions per tonne of rice compared with the national average. Water used for irrigation is also reduced by 3,300 litres per kilo while farmers' yield is improved by 10%.
HFSS compliance
Of course, for any health food retailer the fly in this category's ointment is the issue of HFSS compliancy which has banished many a best-seller away from fast-selling till spots. 
The legislation has come under fire from many quarters due to its seemingly arbitrary application of what it deems healthy. For instance, a product which scores positively for sugars, fruit and nuts, etcetera, but contains coconut, scores negatively due to the latter's high fat content.
Some brands have tackled the legislation with innovation: Kind launched two compliant products last year with Maple Pecan Almond and Fruit & Nut, and has since added Caramelised Biscuit Nut and Chocolate Chip.
Jade & Joy has launched six new HFSS-compliant chocolate bars to its luxury range. The new Wellbeing line comes in six flavours: Key Lime, Caramel Blondie, Speculoos, Cookie Crumb, Double Choc Brownie and Hazelnut & Almond. 
Nugteren says that despite the legislation, health food stores are in a good position if staff are well informed about products. She also says that brands can help retailers by providing scientific-backed information to give those selling products the confidence to speak about their benefits. 
As well as being very active on social media, the company has recently launched a podcast – Nourishing Lives – featuring expert opinion on a variety of health topics, and the part that food, functionality and nutrition plays in health. "We pull in experts who have got experience in those fields so they can educate people [to] feel more knowledgeable and … make those choices themselves," she explains.
Lunching outside the box
For those of us stuck at our desks, an office lunch usually means a creaking, slightly grim shared microwave where you are in line behind someone reheating last night's obnoxiously smelly dinner, complete with splashes. However, an interesting launch into the marketplace seeks to address this. Steambox is a rechargeable system which can heat up to three meals on one single charge. Users pack their meal inside the box and fill the small water container. When it's approaching time to eat, the water is added to the heating element and the timer is set. On average, food takes just 15 to 20 minutes to heat up through steam. There is also an app to control the box, and the brand provides recipe ideas. 
An accompaniment to Steambox comes from Mnched which has launched a Travel Cutlery Set made from stainless steel and porcelain, packed in a recycled polypropylene box free of BPA, BPS and phthalates.
For at-home lunchers, Naksha Recipe Kits have launched into the UK. The kits are comprised of recipe cards and specialist ingredients for authentic flavours, such as spice blends, herbs, grains, noodles, sauces and other extras. Recipes include Cuba's Ropa Vieja, Lemak Cili Padi from Singapore, Turkey's Dark Chocolate Fondant with Turkish coffee, and Curried Goat from Jamaica.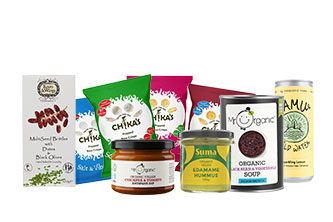 Hot Stocks
Lucky dip
Suma's award-winning Edamame Hummus can be paired on-shelf with vegetable crisps thanks to its ambient presentation in a 135g glass jar. Equally tasty teamed with crudités or used as a plant-based protein spread in sandwiches, the vegan, organic dip's ingredients include soya beans, green peas, sesame seeds, black cumin, fenugreek and chilli.
Healthy hydration
No lunch is complete without something to wash it down. Jamu Wild Water's gut-friendly Sparkling Lemonis a prebiotic-filled refreshing soft drink, packed with immune-boosting British-grown botanicals and fibre from chicory root. Raspberry and Blood Orange complete the collection.
Multi-seed selection
Slow-baked in the oven, Roots & Wings' hand-made MultiSeed Brittles are sav-oury crackers packed with seeds, providing a versatile vehicle for toppings or as a straight-from-the-box snack. The three gluten-free variants – Original, Dates & Black Olives and Black Olives & Sun Dried Tomatoes – also come in a Selection Pack.  
Popped and punchy
Chika's new Popped Rice Crisps are full of punchy, elevated flavours and familiar crisp-crunch. Each variant – Smokey Barbecue, Salt & Vinegar, Sweet Chilli Samba and Sour Cream & Onion – is gluten-free and non-HFSS. Sharing bags and individual servings are available. The brand says they offer  'a world of goodness in every bite'. 
Starters and mains
Lunchtimes just got more flavoursome with Mr Organic's new soups and dips. Bringing Italian flare to snack boxes are three Antipasti Dips: Blackbean & Red Pepper; Butter Bean & Yellow Pepper; and Chickpea & Tomato. Follow with a hearty bowl of soup in high-protein Blackbean & Vegetable or classic Tomato & Basil.
Slow Roasted & Signature Chocolate Impulse range
Kestrel Foods Ltd
Tel: 028 38350934
E-mail:  [email protected]
www.forestfeast.com
Snacking brand Forest Feast have replicated their best-selling Signature chocolate & Slow Roasted Nuts in handy Impulse packs. These are perfect for front of store, as part of a meal deal, or in café areas. The slow roasted & seasoned nuts such as Heather Honey Roast Peanuts & Cashews or Sea Salt & Black Peppercorn Nut Mix, are gently air roasted, not fried to deliver a richer flavour, distinctive texture, and a healthier product, perfect for stores who need to consider non-HFSS snacks.  The chocolate covered lines, such as Salted Dark Chocolate Almonds or New Valencia Orange Milk Chocolate Almonds are made using traditional artisan panning, a continuous layering of chocolate around the centres and are adding a presence in the mindful indulgence category. The 40g packs are all gluten free, vegetarian or vegan friendly, packed into recyclable film and are available in branded Shelf Ready packaging.
Seeded Gluten Free Sliced Bread & Original Flax Keto Bread
Dillon Organic Ltd
Tel: 07932 648095
E-mail:  [email protected]
www.dillonorganic.co.uk
Dillon Organic make delicious Keto breads, including the Original flax with only 3g carbs per 25g slice. They recently launched tasty Gluten free sliced bread in 2 flavours (Seeded and Olive) packed full of organic seeds including Sunflower, Flax, and pumpkin. All the keto and Gluten free breads are Organic, Gluten Free and low carb, vegan and high fibre. No preservatives, additives, gums, fillers or other nasties either.
All flavours are available through CLF, Suma, Essential, Queenswood, and Independent Irish wholesalers.
Clearspring Limited Edition Organic Okumidori Matcha
Tel: 0300 373 1919
E-mail:  [email protected]
www.clearspring.co.uk
Clearspring is launching an exclusive limited-edition Matcha to celebrate the brand's 30th anniversary: Clearspring Organic Japanese Ceremonial Grade Okumidori Matcha.
The limited-edition Organic Okumidori Matcha has been specially selected by Clearspring's tea master Nagata-san. Okumidori, meaning 'deepest green', is a superior, artisanal matcha from Wazuka, in Uji, Kyoto, a place steeped in eight centuries of matcha history. Of all the tea fields in Japan, fewer than 5% are dedicated to growing Okumidori Matcha, which makes it so valuable. Clearspring will be donating £1 from the sale of each pack of its Limited-Edition Matcha to long-term charity partner and community cookery school Made in Hackney.
JAMU WILD WATER
JAMU WILD WATER
Tel: 01392 984311
E-mail:  [email protected]
www.jamuwildwater.co.uk
Say hello to these all-natural, gut-friendly drinks that deliver prebiotic fibre to support your gut-microbiome without any sugar or artificial sweeteners in sight!  Jamu Wild Water's award-winning drinks won gold at the Nourish Awards, the UK's leading health food awards, which means you'll have to keep them under lock and key if you intend them for yourself!  Each flavour sparkles with gentle sweetness and contains Vitamin C and Zinc to further support immune health.  These refreshing drinks bursting with botanicals are certainly making a splash by harnessing the functional benefits of plants for healthier hydration.
Bonsan Toscana style spread and cashew chive cheese-free spread
Biona
Tel: 020 8547 2775
E-mail:  [email protected]
www.bonsan.co.uk
Bonsan's 100% vegan, yeast-free, and organic spreads cater to the growing 40% of UK consumers demanding plant-based options. Bonsan has launched two irresistible vegan spreads – Toscana style spread and cashew chive cheese-free spread. The light and creamy Toscana style spread boasts distinctively Mediterranean-inspired flavours that will elevate any sandwich, while cashew chive cheese-free spread is a velvety, dairy-free delight. Bonsan offers vegan foods bursting with flavour that flexitarian and plant-based consumers will love!