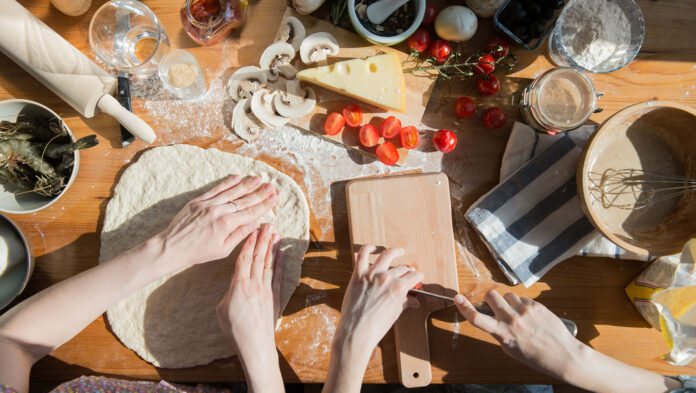 Emily McCoy dons her chef's hat and does an inventory of the health store ingredients and products helping turn novice home cooks into Masterchef wannabes – even on a budget 
With the cost of living crisis still raging, many people are looking to reduce spend on eating out, choosing instead to cook up a storm in the home. 33% of people said they expected to be cooking from scratch more [AHDB/YouGov Consumer Tracker, August 2022] and Mintel predicts this trend will increase as people continue to feel the squeeze on household finances. This presents challenges for retailers as shoppers will undoubtedly still be keeping their belts tight, but there are opportunities in the sustained popularity of scratch cooking.
Whether it's a quick mid-week dinner or a celebration meal, cooking at home means there's more in the budget to spend on quality products instead of going out for a five-star meal. Retailers should offer a selection of basic store cupboard staples to ensure repeat custom for value (and quality) products, alongside special occasion items that would be perfect additions to parties, family events or solo from-scratch suppers.
The benefit of a broad range is a wider appeal. From fresh produce to condiments, frozen goodies to nuts, seeds and baking essentials, as well as local items that aren't available nationwide, it's a good opportunity to attract people looking for all kinds of ingredients alongside your regular shoppers. And with so many new and interesting products on offer, there's even more reason for them to pop in this autumn.
Start with sauces
Sauces are a great place for tentative chefs to begin their first foray into homemade cuisine – especially those who want to practice their 'spoon drag' and add some impressive flair to the plate. 
People who may be used to spending on takeaways but are adjusting because of budgets will be looking for full flavour with maximum ease. Let's start with maxi-mum luxe and minimal guilt: The Simple Root Truffle & Ch**se Style Sauce is an indulgent vegan sauce ready to pour over pasta or bake into cauliflower. Staying on the pasta train, Tarantella offers a bottled bunch of liquid herbs and spices for adapting pasta sauces or adding flavour to any dish cooked at home. Garlic was crowned the UK's top ingredient in January by bulk.com research, so be sure to stock up on Tarantella's Liquid Garlic, while Basil, Chilli and Dill bring a hit of flavour to simple dishes.
Moving to Asian flavours, you'll find even more great sauces to tempt cooking newbies. Biona, always a pro when it comes to natural and organic, won Best New Food Product at the Natural & Organic Innovation Awards this year for its Organic Green Curry Coconut Milk with Lemongrass – a helpful shortcut to a flavoursome Thai curry; while new(er) kid on the block NOJO has produced three innovative sauces in Tahini, Teriyaki and Sesame variants. Made with minimal processing and avoiding sweeteners and artificial
flavourings, NOJO's sauces are a quick and easy way
to take home cooking to another level.
For an 'unmistakably spicy hit', Chilli No. 5 has recently launched its Make Your Own Hot Sauces Collection. Customers can choose five mini hot sauces from the brand's extensive range to mix and match, add as a garnish, use as flavouring or spice up a quick wok dish.
Fully filling
From pasta to protein, a hearty meal cooked at home will always warm the soul. Mr Organic Greek Style Butter Beans are a silky centre piece for stews, while Sunflower Family Organic Sunflower Hack (Mince) is a low-fat vegan protein which works well in Bolognese – and coupled with Kaizen Food Company's Radiatori High Protein Pasta, it makes a filling dinner. 
For home cooks looking to switch out animal ingredients for vegan proteins, VEGBLOC is a must-try and a must-stock for retailers hoping to upsell (launching January 2024), while Ecomil Cusine's Organic Plant-based Cooking Creams will give a decadent finish to any dish.
Sticking with staples
Just because it's a store cupboard staple doesn't mean it has to be lower quality. Mr Organic's tinned tomatoes are testament to that. For Valerio Simonetti, the brand's MD, their exceptional taste reminds him of his family history and Italian heritage: "For Italians, food and family is very important. My great, great grandfather was the first in our family to run the tomato farm in Pontinia, which is south of Rome. The farm got passed down three generations of tomato producers, and then 20 years ago I inherited it."
The farm now uses 100% renewable energy and has a kitchen on site, so the tomatoes are cooked almost as soon as they are picked, preserving that sweet and juicy flavour.
Clearspring, another family business, now has an impressive 280 products in its port-
folio, having recently developed an Organic Chickpea Miso – mastering the perfect non-soya miso for special dietary requirements.
When stocking up on store cupboard staples, you can't forget to include tahini – especially with the popularity of Middle Eastern-style cooking following Ottolenghi's rise to fame. Where home cooks would once have struggled to find his extensive list of ingredients, now even the big supermarkets stock rose petal water. Be ahead of the trend with authentic mainstays for the Ottolenghi tribe with Clearspring's three new tahini products in White, Whole and Black Sesame variants – all organic, of course.
There are a few other vital ingredients cooking-from-scratch customers will be on the hunt for: oils being one of them. Mr Organic's first cold press of Italian Extra Virgin Olive Oil is a classic, and Hunter & Gather's 100% Avocado Oil is a great option for those keen to widen their oils collection. Avocado oil handles high temperatures well so is perfect for cooking, and is packed with antioxidants.
Spice up your shelves with Opies pickles in all sorts of combinations, including: Silverskin Onions with Turmeric & Mustard Seeds; Silverskin Onions with Red Wine Vinegar; and Pickled Pears. Sticking on the spice train, Lähde supplies dried ingredients wholesale, so test out its Fajita Blend or Medium Curry Powder.
No homemade delight is complete without condiments. Hunter & Gather has four flavours of vegan 100% Olive Oil Egg Free Mayo – Classic, Basil Pesto, Garlic and Sriracha – each satisfying market demand for tasty vegan alternatives.
Baking for days
Baking took off during lockdown and many people kept hold of those newly acquired skills, now making their own instead of purchasing shop-bought baked goods. Flours are the first port of call, and Doves Farm is a firm favourite with 24 variants in its range. The brand is expanding further with new Baking Aids, including Bicarbonate of Soda, Baking Powder and Cornflour. Matthews Cotswold Flour is also growing the market with its offer of interesting heritage wheats such as a Stoneground Wholegrain Heritage Broadway Flour. And Strp'd is coming in hot with an easy-peasy, gluten-free baking mix for Chocolate Chip Cookies – keep an eye out for this product (coming soon) as it uses tigernut flour and is sure to appeal to sweet-toothed shoppers.
For more sweetness without the sugar, try the latest syrups from Clear-spring, available in Organic Coconut Blossom, Date and Oat. Along with the best-selling Organic Rice Malt Syrup and Organic Barley Malt Syrup, these offer bakers a delicious alternative to refined sugar or other sweeteners. "The grain-based syrups (rice, barley and oat) deliver a deep flavour and gentle sweetness … [whilst the others] appeal to those with a sweeter tooth," says Maria Dawson, director
of Clearspring.
Above and beyond
Katerina Pavlakis from Health & Food in Llanrwst, North Wales, started a cooking workshop in lockdown after many years standing in the shop, talking to people about cooking. The store, which had prioritized supplements under previous owners, benefited from its fresh focus on food during lockdown as people were shopping more locally. As a sideline, she started the Intuitive Cook, offering online and in-person cooking workshops.
"We have always defined ourselves as a foodie store and take great joy discussing ingredients and recipes with customers. Our margin on fresh veg and fruit is similar to the margin we get on supplements, therefore adding fruit and veg to our range (about five years ago) has been a significant addition. Our best- sellers are the simple things – local eggs, local sourdough, olive oil, etcetera – but we can tell when certain trends take hold as people come in looking for things they can't find in the supermarket," she says.
Whether you're looking to increase your foodie offering or are just open to exp-loring a different approach, there are so many new products coming through this year, it's a good time to test what goes down a treat with your customers.
Cooking from (almost) scratch
Pre-portioned ingredients in recipe kits are a simple way for home cooks to dip their toe and gain confidence. Naksha Recipe Kits represent authentic cuisines from around the world and were born from couple Nisha Ramisetty and Sam Williams' love of cooking and their realization that some of the ingredients they needed were only available in bulk. "Many of the more enticing and adventurous cuisines are wrongly perceived to be either too complex, time-consuming, expensive or wasteful to cook at home," notes Williams. "Naksha dismantles this dogma by curating accessible, user-friendly recipe kits."
Customer favourites include Jamaican Curried Goat, which can be prepared with vegetables for a plant-based take; Lemak Cili Padi – a creamy Malay-style curry from Singapore; and Cuba's iconic, yet little-known, national dish, Ropa Vieja.
Hot Stocks
Bee boosted
Honey – already a popular cooking ingredient – gets a zingy, savoury twist with BeeHype's Ginger Boost Raw Honey with Ginger & Turmeric. Blended into salad dressings, spread across salmon before baking, or simply stirred through porridge, this fiery jar delivers high-dose antioxidants, vitamins and minerals with every spoonful. 
Perfect pairing
No two items were more destined to line health store shelves side by side than Biona's award-winning Organic Thai Green Curry Coconut Milk with Lemongrass and its Organic Himalayan Basmati Rice – available in White and Brown, and now housed in 100% plastic-free recyclable paper bags. 
Chef-grade ingredients
Lauded by professional British chefs for its quality and authenticity, Belazu has had a visual rebrand to go with its recently acquired B Corp status. Among its SKUs, the luxury Wild Mushroom Pesto offers a 'rich and earthy' hit of six varieties of wild fungi, along with mascarpone and ricotta to balance the truffle notes. Perfect for bruschetta, risotto and gratin, says the brand.  
Make it with millet
With 2023 having been named the International Year of Millets by the United Nations, now is the ideal time to highlight millet products on-shelf. Arrow-head Mills Organic Gluten Free Millet Flour is rich in thiamine and a good source of fibre and iron. Bakers will find it gives a 'lightly sweet, mild corn-like flavour' to breads, cakes and muffins.  
Sicilian spaghetti
Artisanal Italian food brand Seggiano has launched a new range of slow-produced Organic Ancient Grain Wholewheat Pasta in Spaghetti, Orzo, Lumaconi and Busiate varieties. Using a 10,000-year-old Sicilian durum wheat variety, Seggiano brings to market a pasta significantly lower on the glycaemic index, helping to control blood glucose levels and support digestion.
Chilli Oil
Chilli No. 5
Tel: 00 33 675836531
E-mail:  [email protected]
www.chilli-no5.com
"There is not a single pizza that shouldn't have this chilli oil smothered all over it!" Pizza Pizzazz is the natural chilli oil from Chilli No. 5 made from 100% Italian extra virgin olive oil, thyme, rosemary and infused with the most exclusive chilli's in the world including the Carolina Reaper, Scorpion, No. 5 Chilli, Habanero, and the Ghost. The taste is award winning and has been awarded Great Taste Award by the Guild of Fine Food two years running. Enjoy this chilli oil in a designer bottle that looks incredible on any dining table, restaurant table, buffet, or even at work, with a golden coloured easy pour spout. Bring your pizzas, pastas and food to life with Chilli No. 5's Pizza Pizzazz authentic Italian chilli oil.
Seagreens® Nutritious Condiments
Seagreens
Tel: 01444 400403
E-mail:  [email protected]
www.seagreens.shop
Replacing salt with seaweed was an innovation when Seagreens® introduced The Mineral Salt. Half the salt, twice the flavour! The Ruby One goes further for Seagreens' quarter-century anniversary. It's a quarter salt with 2 seaweeds: a salty, smokey umami flavour. Reducing salt lowers cancer and cardiovascular risk through their comprehensive balance of minerals including iodine, and all the marine micronutrients. Their uniquely researched, certified non-allergenic seaweeds are safe for us all, every day.
Email [email protected] for their free booklet '25 Years in Seaweed Nutrition'. Explore Seagreens.Shop and for stockists. Seagreens, The Warren, Handcross, West Sussex RH17 6DX. 01444 400403.
Suma coconut range
Suma
Tel: 01422 313848
E-mail:  [email protected]
www.suma.coop/wholesale 
Coconut products are a versatile, popular ingredient for a wide range of customers wanting an alternative cooking oil, a natural sweetener or dairy-free swap. Our all-organic range includes bestsellers like odourless and extra-virgin coconut oils, light and standard coconut milk, coconut cream and creamed coconut, as well as the more unusual coconut blossom syrup. They're ethically sourced from a farming co-op in the Philippines using organic methods, giving a fair wage and supporting sustainable farming methods. The freshly harvested coconuts – all collected without the use of monkeys – are graded and the best quality selected for Suma.
Suma paper-wrapped pasta
Suma
Tel: 01422 313848
E-mail:  [email protected]
www.suma.coop/wholesale 
We've ditched the plastic. Our Italian organic wheat pasta is now packaged in biodegradable and recyclable paper, sourced from sustainably managed forests.
Our pasta is made using traditional methods by a co-operative bringing together over 300 farms. It's produced using a slow drying process that uses 100% renewable energy. We have eight different types of pasta, so, plenty of choice.
The product lasts as long as it would in plastic packaging if stored correctly, and has a premium look combined with a highly competitive RRP, at just at just £1.89 with the exception of the tricolore at £2.25.
Ginger People
WFBM Healthcare
Tel: 01782 528611
E-mail:  [email protected]
www.wfbm.co.uk
Ginger and Turmeric have never been more popular, and the Ginger People have it covered!
Sourced from the beautiful and unique growing conditions of Fiji the Organic range includes sushi ginger, minced ginger, ginger spread and ginger syrup and are complimented by the new wild crafted pure ginger and turmeric juices all contained in fully recyclable glass jars and bottles.
Supported with social media cooking tips and ideas the range will make a perfect gondola end in your Health store!