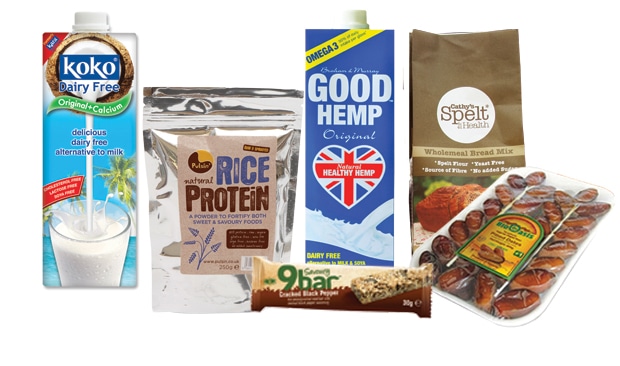 At Natural & Organic Products Europe the halls resounded to the emerging meat-free revolution, writes Matt Chittock. Additional reporting by Emma-Louise Jones.
Any retailer wandering around Natural & Organic Products Europe in search of food inspiration will have noticed that the meat-free category is definitely having a moment.
As Craig Sams put it, during his talk at Natural Products Live: "Bill Gates, of all people, has spoken in favour of meat alternatives being good for both health and the planet. You can taste many of them here on the show floor – and they're delicious."
What particularly stood out at Olympia was the wealth of innovation in the category – which these days is several light years away from the standard vegeburger 'n tofu banger options.
Field Roast, for example, is taking the artisan route with a meat-free offering that's made from grain 'meat' with a high-end look and taste designed to "elevate your offering in the vegetarian category."
Meanwhile, spicy meat-free options were in the ascendant too. Talifun weighed in with mild smoky tofu fillets spiked with oregano, plus a fruity Curry-mango variant. Elsewhere Doctor Tempeh provided quality ready-to-eat Tempeh Curry for eating on-the-go and Wheaty offered convenient BBQ packs (including a Vegan Virginia Steak) ready for summer.
It's products like these that are vying for their place in a market that Mintel estimates is currently worth £634m, reaching an estimated value of £800m by 2017.
"Exciting, delicious and nutritious – good vegan-friendly food appeals to just about any customer, which is a key reason why the meat-free sector is so dynamic," comments Paul Philbrow, trademark and business development officer at The Vegan Society.
"Over half of British shoppers now consciously choose meat-free meals. The sector is innovating with inspiring world cuisines, and healthy, sustainable fruits and vegetables will find increasingly wide and diverse audiences in the years to come."
So what's driving this trend? Well, the recent Dobbinburger scandal has been something of a gift horse for the meat-free movement and has forced consumers to look hard at where the food they're putting on their fork originates.
It's no surprise that sales of meat-free burgers at Holland & Barrett have risen by nearly 20% since the horse meat scandal shocked the nation. It has even seen some of its vegetarian lines increase by over 50% .
Kyle Rowe, head of buying at NBTY Europe, says: "It appears that consumer confidence in supermarkets is at an all time low thanks to the horse meat news. We have noticed that shoppers are rushing to stock up on meat free products and believe that is down to concern about the provenance of the meat they were buying."
This crisis in confidence could prove a death spiral for the cheap meat market, with plenty of benefits for the planet along the way, explains vegan food writer and campaigner Tony Bishop-Weston.
"Health is deteriorating, the planet is facing catastrophe, and meat manufacturers are having to either get more chemically ingenious, or take shortcuts that result in health risks to keep the price down," he warns.
"If we want to survive on this planet we really don't now have a choice, we must eat significantly more plant foods. Even McDonald's and KFC are looking at how they can incorporate new meat-free alternatives into their main products. Any new UK legislation to counteract the horse meat fiasco will further increase costs, which will make meat-free even more tempting for shareholders."
One of the neatest things about the meat-free category is the way a single product can tick several boxes across the health store spectrum. So, a product like Four Sigma Foods' mushroom-based hot drinks could chime with lactose intolerant and vegan customers at one fell stroke.
Brands like Clearspring, Lucy's, Orgran Free From Foods and granoVita UK were all at Olympia showcasing products that fitted in perfectly with the free-from category as well as the veggie/vegan shelves.
The popularity of the Vegan Pavilion at Natural & Organic Product Europe also proved the massive influence of this sub-category in the contemporary health food sector.
"We welcome the recent surge in interest in the vegan diet and lifestyle," said Vegan Society ceo Jasmijn de Boo.
"It is hard to know whether it's the result of food scares such as the horsemeat scandal, the public support of celebrities for the diet or whether consumers are simply recognising that they need to re-think their food choices for the benefit of animal welfare, the environment and their own health.
"Whatever the root causes this trend can only be good news for manufacturers and retailers that cater well for the vegan community."
On the show floor many manufacturers were exhibiting high quality sweet products for vegans. Familiar face Plamil showcased its new dairy-free hot chocolate flakes, which were available in exotic flavours including cayenne and ginger.
Back at Natural Products Live brand owner and health expert Lisa Gawthorne was living proof how the stereotypical image of veganism has been transformed over the last couple of years.
"I'm not blowing my own trumpet, but I'm a county runner and I've won loads of races. There's this idea that vegans are weak. I'm definitely not weak," she said.
"It really is getting better for vegans in the UK. I live in the north and I'm seeing more specialist vegan places springing up there."
Whey to go
Experts agree that cutting back on meat means looking out for high quality sources of protein. For vehans this means giving many sports nutrition products the swerve, since they often feature whey to build up muscle.
Luckily, Good Hemp Nutrition has solved the problem with its new sports nutrition shakes developed with a brand new ingredient – Hemp Protein Concentrate. This acts as a plant-based protein that can match the nutritional brilliance of whey.
"Vegetarians are always looking for sources of protein and this fits right in with the smoothie sector," says Michael Hammond from Good Hemp Nutrition.
"We listened to our customers and made the product less sweet than previous ranges so it's excellent for vegetarians, or people who are lactose intolerant."
 Veg Fest returns bigger then ever
Plant-based eating isn't just about the food – as every retailer knows there's a whole culture that's been built up around those that choose not to exploit animals. And, for the last few years that culture has found a focus point at VegFest – a moveable feast of everything veggie, vegan and plant-positive. The festival beams down to London on the 5 and 6 of October with a bill that includes musician Macka B alongside famous industry faces like Janey Lee Grace and Dale Pinnock. But before that comes a visit to Bristol on the 24, 25 and 26 May with a Madchester-style selection including Peter Hook and 808 State, plus a host of proudly vegetarian and vegan companies for consumers to choose from. For more information, plus details on how to exhibit, see www.vegfest.co.uk.
Food Focus Listings
Dates and date paste
Global Foods (UK),
311 Chase Road, Southgate, London N14 6JS
Tel: 020 3086 8746 Fax: 020 8920 9438
E-mail: [email protected]
www.globalfoodsuk.com
Global Foods (UK) is Europe's premier distributor of conventional and organic dates and date paste. We specialise in Deglet Nour dates grown in Algeria, regarded as the finest dates from North Africa. We stock and distribute dates in a range of packaging sizes, ready for retail, as well as bulk industrial dates for re-packing or the food processing sector. We are certified for: Soil Association Organic, Halal, Kosher and our processing plant has HACCP. We can service orders from half a pallet to full container loads.
Cathys Spelt for Health
Yvonne Whitty
Tel: + 353 87 2111153
E-mail: [email protected]
www.cathysspeltforhealth.ie
Cathy's Spelt for Health is an artisan company owned by Cathy who produces a range of natural bake at home mixes. All are made from spelt flour and there are five in the family so far. The mixes are very versatile and each mix and can be tailored to suit the customers own dietary requirements. Made from spelt they are suitable for those whom are wheat intolerant and they are also yeast free. Diabetics can enjoy the bread mixes as they contain no added sugar. A must for those who like the home baking experience but whom have little time.
Koko Dairy Free Original + Calcium 1L
Koko Dairy Free, Coconut House,
15 Aston Court, George Road, Bromsgrove, B60 3AL
Tel: 01564731980 Fax: 01527831904
E-mail: [email protected]
www.kokodairyfree.com
Delicious dairy free, soya free, milk alternative. Enriched with calcium and vitamins D2 and B12, Koko Dairy Free is a unique dairy free alternative to cow's milk made with freshly pressed coconut milk. Koko Dairy Free is ideal for vegetarians & vegans being 100% dairy, and soya free. With a fresh, light flavour it can be used on breakfast cereals or in cooking without adding a flavour of its own. It can also be added to tea & coffee without curdling. It has the same fat level as semi-skimmed milk, but with just 27 calories per 100ml it's even easier on the waist than skimmed milk.
Figgy Flapjack
Doves Farm
Tel: 01488 684880 Fax: 01488 685235
E-mail: [email protected]
www.dovesfarm.co.uk
Doves Farm are proud to announce a new addition to their popular snack bar range. Figgy Flapjacks combine luscious soft fig pieces and wholegrain oats to make a satisfying snack that everyone will enjoy. Made using organic, Fairtrade ingredients these bars are a good source of fibre and contain essential vitamins, minerals and antioxidants. Available from your local wholesaler in two size formats, display cases of 16 bars are perfect for counter-top sales and multipacks of 5 bars offer customers a weekly supply for lunchboxes. Previewed at Natural & Organic Products 2013, these flapjacks are sure to be a hit! SSP: Multipack (5x40g) £1.72 / Display (16x40g) 42p per bar
GOOD HEMP milk
Tel: 01271 858377
E-mail: [email protected]
www.goodwebsite.co.uk
Hemp milk is the UK's healthiest and tastiest answer to dairy milk. GOOD HEMP captures that same distinct nuttiness of the hemp seed while being the only dairy-free alternative that's easy to digest, low in saturated fat and rich in Omega 3 and Omega 6 (GLA). It's delicious and refreshing flavour makes it perfect in tea and coffee, over cereal, for cooking and simply on its own as a refreshing drink. With just one glass offering 50% of your recommended daily Omega-3, it really is the healthiest milk around. It's good for the planet too!
Nutiva Hemp Protein
Kinetic Natural Products,
258 Belsize Road, London, NW6 4BT
Tel: 08450 725 825 Fax: 08450 725 826
E-mail: [email protected]
www.kinetic4health.co.uk
Nutiva's Hemp products are the only line on the market which is 100% organic with every line certified. Hemp protein is an excellent addition to a vegetarian or vegan diet as it is a significant source of all of the following vital nutrients • The 9 essential Amino Acids • Omega-3 and Omega-6 Essential Fatty Acids • Zinc • Iron • Magnesium • Fibre (90% insoluble 10% soluble) Taking Nutiva Hemp Protein may help with regulating metabolism, weight loss, muscle gain, and repairing muscle tissue. As well as Hemp Protein, Nutiva also offer Hemp Oil, Seeds and Shake Powder, Coconut Oil and Manna, and Chia Seeds Superfoods.
Pulsin' Protein Powders
Pulsin' Ltd. Unit
16, Brunel Court, Waterwells Business Park, Gloucester, GL2 2AL,
Tel: 01452 728900
E-mail: [email protected]
www.pulsin.co.uk
Pulsin' protein powders are unflavoured, gluten free, hypo-allergenic, 100% natural, with no added sweeteners, giving the freedom to develop your own recipes. The new Sprouted Rice Protein has great qualities being 100% raw, vegan and 80% protein. The Whey Protein comes from UK grass-fed cows and has 90% protein content. The Soya Protein contains 90% protein and is a good dairy-free alternative to whey. The Pea Protein has 85% protein and is the perfect alternative for people avoiding dairy/soya proteins. The Hemp Protein Powder is a raw, natural source of omega 3 oils, fibre and contains all essential amino acids. Follow us on Twitter @pulsinandbeond Follow us on Facebook facebook.com/pulsinandbeond
Natures Aid Traditional Herbal Registration Range
St Georges Park, Kirkham Preston, Lancashire PR4 2DQ
Tel: 01772 686231
E-mail: [email protected]
The UK's vegan range of Traditional Herbal Remedies. Natures Aid boasts one of the largest ranges of Traditio
nal Herbal Remedies within the UK. The range consists of 6 of the most popular herbals which have been developed using only natural ingredients suitable for the health food industry and are all suitable for Vegetarians and Vegans. • EchinEeze® – Echinacea root extract 70mg used to relieve symptoms of the common cold • JointEeze® – Devil's Claw root extract 300mg used for the relief of backache, rheumatic & muscular pain • DigestEeze® – Milk Thistle extract used to relieve symptoms of over-indulgence • SleepEezy® – Valerian root extract 150mg used for the relief of sleep disturbances • StressEeze® – Rhodiola root extract 166mg used for relief of symptoms associated with stress • Ucalm® – St John's Wort extract 300mg used to relieve the symptoms of low mood and mild anxiety
Tideford Organics Gluten Free, Organic Soup Range
Francesca Johnson,
Tideford Organic Foods, Devon
Tel: 01803 840555 Fax:01803 840551
E-mail: [email protected]
www.tidefordorganics.com
Tideford Organics launches its new Pea & Mint Soup and Minestrone with Gluten Free Pasta to its award winning range. All their products are gluten free, low salt and low fat and contain no additives or preservatives whatsoever. Available in 600g and 300g pots with heat proof microwaveable sleeves. With 50 awards from around the country they are also supporting the Save the Bee campaign by donating 10p from every pot of Pea & Mint soup they sell. Tideford Organics – Just the Good Stuff!
9bar Savoury
Wholebake Ltd, Tyn Y Llidiart , Corwen, Denbighshire, LL21 9RR
Tel: 01490 412 297 Fax: 01490 412 053
E-mail: [email protected]
www.9bar.com
9bar Savoury – a new snacking sensation. Unveiled at Natural Products 2013, the 9bar Savoury range created a very exciting buzz. Taking a unique approach to the savoury snack market and providing a definite twist on what you are used to from 9bar there is a taste suited to every palate with four great tasting flavours: Anglesey Sea Salt, Cracked Black Pepper, Sweet Chilli and Firecracker Chilli. All varieties are packed with at least 75% seeds, are gluten, dairy and wheat free, suitable for vegans and contain less than 2g of sugar or saturated fats per bar. 9bar Savoury is available to stock now from Suma and Tree of Life.
Vegusto award-winning meat and dairy free meats and cheeses
Vegusto UK
Unit 1 Ashwyn Business Centre, Sheddingdean Industrial Estate, Marchants Way, Burgess Hill, RH15 8QY
Tel: 01273 936010
E-mail: [email protected]
www.vegusto.co.uk
Vegusto sell an exquisite range of award-winning meat and dairy free produce, suitable for vegetarians and vegans. We have up to 50 vegan society approved products, including cheeses, sausages, burgers, sandwich slices, pepper steaks, smoked luncheon rolls, roasts and pâtés. Handmade in Switzerland, all the products are 100% natural, sustainable and healthy, with no artificial colours, flavourings or preservatives, non-GM and trans fat and palm oil free. Vegusto Dairy-free Mild Aromatic Cheese won the FAIR Trophy for the Best Free From Food in 2012. Our products are becoming available at health stores and can be brought online at www.vegusto.co.uk.
100% Dairy Free Sheese
Bute Island Foods,
14 Craigmore Road, Rothesay, Isle of Bute PA20 9LB
Tel: 01700 505357 Fax: 01700 505394
E-mail: [email protected]
www.buteisland.com
Bute Island Foods is dedicated to making Vegan alternatives to dairy products. BIF produces many tasty flavours of Vegan hard "Sheese" including Mozzarella, Blue, Smoked, Strong & Red Cheddar Styles. Try the delicious Melty Cheddars – perfect for melting onto pizza, pasta or making wonderful "Sheese" toasties! The award winning Creamy Sheese comes in 5 mouth- watering flavours including Cheddar Spread, Garlic & Herb, and the new exciting Spring Onion & Cracked Black Pepper. This vegan range is Kosher certified, gluten-free and lactose-free. So if you're suffering from milk allergies – or just love animals – smile and say "Sheese!"