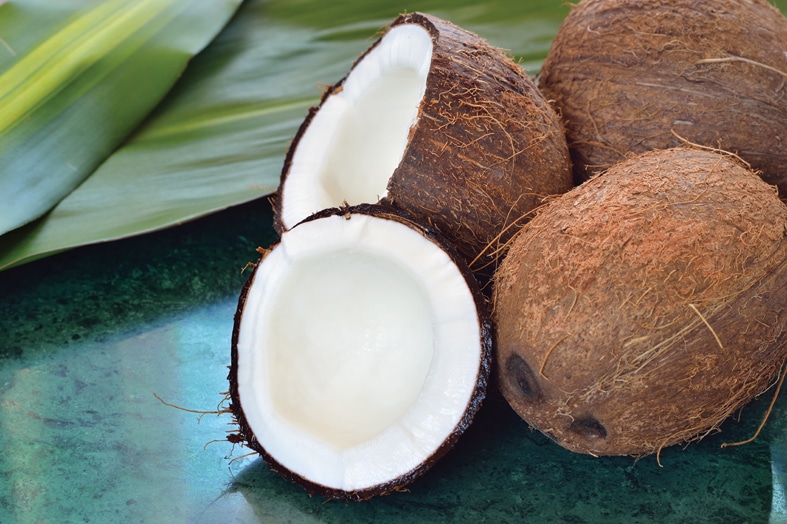 A new generation of healthy oil brands are mixing foodie credibility with nutritional quality
Healthy oils have always been the space on the health store shelves where nutritional concerns and good taste come together. And now, with coconut oil finding favour with celebrities and nutritionists alike, independents have a chance to get seriously on-trend with health conscious consumers. Lucy Bee's Coconut Oil is one of the newer products in the market – and gained exposure at this year's Natural & Organic Products' New Products Showcase. Phil Buckingham from Lucy Bee says that coconut oil perfectly reflects the company's focus on high quality, and highly healthy, products. "We're massive on healthy eating as a family and so when we first came across coconut oil we were really impressed by the health benefits and the taste," he explains. Buckingham saw an opportunity in the market for a coconut oil offer that reached the right price point for shoppers. "I was disappointed with a lot of coconut products I saw," he says. "They're in plastic bottles for a start – which I hate – and they're just so expensive! I saw them on the shelves and just thought – there's no reason this should be 18 quid. There's still such a way to go on the price to make it less of an expensive product and therefore available to absolutely everyone." He says that he's able to offer the product at a good price because Lucy Bee is still a relatively small company – and therefore can be nimble on its feet. That means that when Whole Food's Market had some comments on the packaging design, they were able to take them onboard quickly to tweak its look. "We're the new boys in town and we haven't got the layers of corporate profit that need to be made," he says. "But there's no compromise on quality and we still manage to be fairtrade. We're lean and mean, and yet, the sums still work."
I should coco
"Coconut oil is definitely having a moment!" says Rebecca Goodyear from Kinetic. "I think this is for a number of reasons. Firstly it really is a superfood. Many foods make this claim but very few are truly super. Secondly, case studies are popping up in the news of people who have treated conditions with coconut oil; cholesterol management, nervous system diseases including Parkinson's and most recently Alzheimer's. Thirdly, celebrities are advocating coconut oil for dieting as it burns fat, increases metabolism and prevents fat from being stored in the body." Goodyear also heralds the oil as a real multi-tasker, which can be used for hair and skin treatments, or in baking rather than cooking. To meet this market Terranova has released Coconova coconut oil. "Terranova is a well-respected health supplement brand with Stephen Terrass behind it, an incredibly knowledgeable and highly-regarded figure in the industry," says Goodyear. "Coconova also has chic and sleek packaging which looks appealing on the shelf to those who like to show off their foodie kitchen ingredients."
Ultimate oils
Stepping away from coconuts for a minute, Udo's Oil has been one of the most consistent healthy oil success stories of recent years. And most retailers already know the story of how Udo Erasmus developed the brand when he became ill in the eighties and chose to heal himself rather than rely on doctors. So what does he recommend is the right dose of healthy oil? "I use the same formula that I recommend to others," he says. "I use a tablespoon of Udo's Oil Blend per 50 lbs of body weight per day, mixed in food and spread out over the course of the day, or the amount necessary to make skin soft, smooth, and velvety. "In the winter four tablespoons a day is my optimum intake while in summer I take two or three. I decide the amount based on the feel of my skin. Dry skin needs more good oil, from the inside."
ProvenANce matters
The lack of viable coconut trees in the UK means manufacturers have to go abroad to source their products. And for caring companies this means giving back to the communities they trade with. For instance, in 2009, TIANA signed long terms contracts with coconut producers to buy raw materials at fair prices in order to help disadvantaged coconut farmers in the Philippines to get a better life. Since them, the TIANA Fair Trade Project has helped over two thousand coconut farmers and their families. Meanwhile Lucy Bee also work hard to trade fairly, with profits going to build much-needed wells in key growing communities. "It's very important for us to offer good products, but to do good too," says Buckingham.
Healthy Oil Listings
Essence of Eden 100% Organic, Premium Raw Virgin Coconut Oil
Essence of Eden Ltd
Tel: 0800 458 29 28
E-mail: [email protected]
essenceofeden.co.uk
Shortlisted yet again for another Award in 2013, Essence of Eden has consistently supplied the UK market with their 100% Organic Premium Grade Raw Virgin Coconut Oil. "Year on year, we have experienced growth in sales and repeat clients which is a strong testament to both quality of product and service" Our coconut oil is a top grade oil, produced using the centrifuge method which means less moisture, resulting in a beautiful flavour, texture and highest level of nutrients. Well known for its multi use properties, Essence of Eden's Organic Coconut Oil have received four awards in three years to date. Introducing our new Cold Pressed Organic Coconut Oil in addition to our Premium Grade Organic Centrifuged Coconut Oil.
OilveHeart Extra Virgin Oil and OliveHeart daily monodoses
i-inspire health Ltd /OliveHeart, 21 Mount Close, Pound Hill, Crawley, West Sussex 
Tel: 07958 679503 
E-mail: [email protected] 
www.i-inspirehealth.com
Olive Heart extra virgin Olive Oil has been formulated by a group of leading professionals with more than 30 years experience in developing Olive Oil. The production process is different from standard Olive Oil, in which Olives are collected at the beginning of the harvest, or even earlier. It is at this stage that the Polyphenols are at it higher level, and more so, beneficial to the final consumer. This combined has made this the ONLY EXTRA VIRGIN OLIVE OIL with an official Article 13 HEALTH CLAIM for the 'PROTECION OF LDL CHOLESTROL AGAINST OXIDATIVE STRESS'.
Nutiva Oils for Health Kinetic Natural Products,
258 Belsize Road, London, NW6 4BT
Tel: 08450 725 825 Fax: 08450 725 826
E-mail: [email protected]
www.kinetic4health.co.uk
Nutiva offer the finest quality organic raw extra virgin coconut oil and hemp oil. Nutiva Coconut Oil is certified both organic and non-GMO, made from cold-pressed fresh coconut, unrefined, unfermented, unbleached, undeodorised, unhydrogenated, solvent and chemical-free. Nutiva Hemp Oil is raw, expellar cold-pressed and unrefined. It is light green in color, lighter in flavour, and has more GLA content compared to other hemp oils. Health benefits of coconut oil include weight loss, maintaining cholesterol levels, stress relief, increased immunity, proper digestion and metabolism whilst hemp oil contains all the essential amino acids and essential fatty acids required for human life.

Cleanmarine Krill Oil Range
Savant Distribution Ltd.
Tel: 08450 606070
E-mail: [email protected]
www.savant-health.com
Studies show that Cleanmarine Krill Oil offers better DHA and EPA uptake than fish oil, meaning similar to superior benefits can be gained from smaller one-a-day capsules. The easy to swallow capsules, unlike fish oils, produce no fishy burps and are certified by the Marine Stewardship Council as being sourced from a sustainable fishery. So your customers can have confidence that they are buying a superior omega 3 supplement and supporting sustainable fishing practices. New to the popular Cleanmarine brand are Cleanmarine Krill Oil for Women and Cleanmarine Krill Oil for Kid's, meaning that there is a superior source of Omega 3 for every member of the family.
Udo's Choice O-KRILL 3
Savant Distribution Ltd.
Tel: 08450 606070
E-mail: [email protected]
www.savant-health.com
Udo Erasmus is a renowned authority on Essential Fatty Acids (EFAs) Omega 3 and 6. Whilst he has long recognised the benefits of marine sourced omega-3 fatty acids, he has been unable to endorse them due to the harsh processing they require and their lack of sustainability. After carefully reviewing the benefits of Krill Oil, its sustainable eco-harvesting method, and its minimal processing, Udo introduces Udo's Choice O-KRILL 3. With superior absorption compared to fish oils and no fishy 'repeat', these small easy to swallow capsules are great for your customers and the environment. • High in EPA/DHA Omega-3 fatty acids • Fast Omega 3 absorption • No fishy repeat • Sustainably sourced – carries MSC accreditation • Phospholipid and Astaxanthin rich
Lucy Bee Extra Virgin Organic Fair Trade Coconut Oil
Petrina Grint, Lucy Bee Ltd PO Box 214, Hertford, SG14 2ZX
Tel: 01992 537874 Fax:01992 536594
E-mail: [email protected]
www.lucybee.co
A nutritious dietary oil from organically grown coconuts from the Philippines. Cold pressed, Raw and Extra Virgin. Fair Trade aims to improve the life of workers, farmers and producers through sustainable community projects. Lucy Bee Extra Virgin Organic Fair Trade Coconut Oil is sold in glass jars. Great for all cooking – baking, roasting, frying and spreading. Can also be applied to skin and hair as a natural beauty product. Lucy Bee – Nature's perfect ingredient Available from Tree Of Life, Suma, CLF, Infinity Foods and Queenswood SRP £9.95 for 500ml