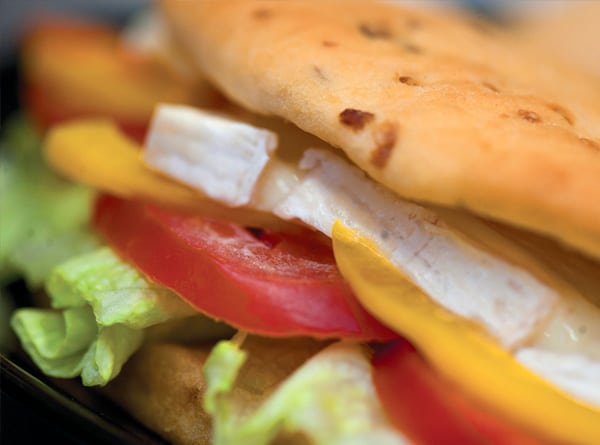 Twelve o'clock to two o'clock – two hours in the day that could transform your business. Are you embracing the opportunity of a lunchtime? Jim Manson has been talking to retailers who are.
More and more health food retailers are going for lunch. They're tapping into a market worth a staggering £10 billion and making it their own by offering healthy, nutritious and ethically-sourced alternatives to the usual grab-and-go fare of 'meal deals' and goo-laden sandwiches.
According to Chris Brazier, event manager of the trade show lunch!, a real opportunity has opened up for natural products retailers and suppliers to capture a slice of the lunchtime action. "We've been seeing a steady trend towards a healthier lunch proposition from both the major chains and independent cafés. As a result, growing numbers of the brands that you'd expect to see at a show like Natural & Organic Products Europe – for example Clipper, Cherry Active, Fresh! Organic, Peppersmith and Island Bakery – want to put themselves in front of a food-to-go audience."
Brazier believes health food retailers should be getting straight on the trend. "Health stores are the best-placed retailers on the high street to be making the most of this. They have the products, the credibility and the heritage. They should be showing everyone who does healthy best!"
It isn't an approach for everyone, but with the right location and customer base there's a real opportunity to make a resounding success of the lunch trade.
"There are lots of estate agents in the street here, and their staff come in for their lunch. They probably wouldn't come into a health store otherwise."
Dandelion, in Battersea, London, is one such retailer. From its small kitchen (think two worktops and two hard-working staff) it provides its customers with a choice of four hot meals a day – always with one gluten-free option. Comments co-owner Claire Batemen: "That will always include a parmigiana and lasagne and one gluten-free soup. There'll usually be quiche and tortilla too. As we're selling between 85 and 100 lunches a day – including 50 'mains' – we get through nearly everything.
"We also do four freshly made salads a day with lots of interesting ingredients. We price the salads at £3.40 for a large one and £2.25 for a smaller version. Our main meals are £3.45."
Not surprisingly, Dandelion isn't without competition for the lunchtime trade on the busy south London street where it's located. But, over the years, it's developed a winning formula. "Other local sandwich and salad sellers can't compete with the wide range of ingredients we use – probably six or seven in a typical salad – and the nutritionally balanced meals we offer," says Bateman.
As well as working commercially, Dandelion's busy lunchtime trade has the added advantage of bringing new customers into the shop. "There are lots of estate agents in the street here, and their staff come in for lunch. They probably wouldn't come into a health store otherwise. Once they're in the store there's the perfect opportunity to talk to them about remedies and supplements."
Other spin-offs of offering an imaginative food-to-go service include taking orders for parties and special events – Dandelion is providing the food at this year's National Health Store Conference. Bateman says the store also gets regular requests for a Dandelion cookbook. "It's on our wish list at this stage!," she adds.
One stop shop
The Natural Food Company in Nottingham, meanwhile, describes itself as a "one stop shop for your lunchtime needs". A proud independent with a complete health food mix – from supplements and remedies to eco products – the store's accent is on offering the widest possible vegetarian and vegan offer.
The store works with local bakeries to ensure it can offer a wide range of vegetarian wraps, samosas, tartlets and parcels – with several gluten-free ingredients. There's a pretty impressive cake, crumble and cookie selection too, with a constantly changing range to keep the takeaway offer looking fresh.
The store offers cold drinks and juices – from manufacturers such as Fentimans and Purdy's – along with a range of hot drinks for customers to take away.
Owner Rachel Preston told Natural Products: "The lunchtime food-to-go trade is really important to our overall business. Our range is really popular and turns over quickly. By working with local suppliers like Forest Foods, we're able to offer our vegetarian and vegan customers a great choice. And even if they're not vegetarian or vegan, people are really pleased to find something a bit different from Greggs!
"We started a gluten-free range recently," Preston adds. "We were getting so many people coming in asking us if our wraps and so on were gluten-free. We started with a small range but it's taking off nicely and we'll almost certainly be adding to it soon."
Healthy Lunch Listings
Bounce Natural Energy Balls
The Natural Brands Company
Tel: 0845 838 2579 • Fax: 0845 838 2509
E-mail: [email protected]
www.bouncefoods.com
Made from the highest quality ingredients, Bounce Natural Energy Balls are a nutritious, tasty and convenient way to satisfy your hunger and give you more energy.
Innovative dispensers are now available for theses category-leading Balls! Just see what the retailers are saying:
"This unit delivers! It doubled our sales and increased customer interest"
"Saves space – perfect! Simple, efficient and compact"
"Eye catching and brighter – encourages customers to try new flavours"
• creates impulse purchases instantly!
• a proven success in hundreds of stores
• has a small footprint – produces huge sales
Organic Village Fruit Juices
Organic Village, 89 Teignmouth Road, London NW2 4EA
Fax: 0207 692 7692
E-mail: [email protected]
www.organicvillage.org
Organic Village have a range of 7 authentic fruit juices – so you can top up your vitamins every day of the week! The 200ml bottles (rrp £1.29) are ideal when you're on the go. The 1ltr bottles (rrp £3.50) are great for all the family at home. Both options provide organic quality at affordable prices. All 7 flavours – Pomegranate, Cherry, Peach, Apricot, Strawberry, Apple and Grape – are certified organic. 100% pure first-pressed fruit juice, with no concentrate, no added water, no added sugar. An intensive burst of promotional activity and tasting sessions this autumn will support the range.
One-pot meals
Easy Bean, Fosters Farm, South Barrow,
Yeovil, Somerset BA22 7LN
Tel: 01963 441493
E-mail: [email protected]
www.easybean.co.uk
Easy Bean – Our delicious one-pot meals are packed full of pulses and chunky veg, infused with herbs and spices. Cooked in small batches in the Easy Bean Somerset kitchen using natural and Fairtrade ingredients, they're as good as homemade. Each 320g pot provides 2 to 3 of your 5-a-day and is low in fat, low in salt, high in fibre, gluten and dairy free. We have six recipes in the range, four are vegetarian and two vegan. Our New Mexican Chilli and African Palava carry the FAIRTRADE mark. Distributed by Suma, Marigold, The Health Store and Queenswood.
Healthy lunch products from Redwood
The Redwood Wholefood Co. Ltd
Redwood House, Burkitt Road,
Earlstrees Industrial Estate, Corby, Northants
NN17 4DT
Tel: 01536 400557 • Fax: 01536 408878
E-mail: [email protected]
www.redwoodfoods.co.uk
From tasty Cheatin' 'meats' in ham, beef, chicken, turkey, garlic sausage and pepperoni styles to mouthwatering pâtés and ready-to-eat sausages, ethical food firm Redwood produces a host of delicious meat-free foods that are perfect for sandwich fillings and lunchboxes. Also available are Vegideli Chicken-Style pieces, spicy Cheatin' Chorizo (great for wraps!), fabulous falafel, dairy-free 'cheese', frankfurter-style hotdogs and Streaky-Style Rashers – ideal for the meat-free 'blt'. There's even a tasty fish-free tuna style pâté. Everything is made from 100% natural plant-based ingredients so free from animal products and derivatives as well as cholesterol, artificial colours/preservatives, lactose, hydrogenated fats and GMOs.
Tree of Life Pre-packs
Tree of Life
Tel: 01782 567120
www.treeoflifewholesale.com
This extensive range includes over 280 wholefood, natural and organic products, providing customers with a huge range of possibilities to help them to prepare a nutritious wholesome lunch for themselves and their family. Sub-divided into eight easy to follow colour coded categories including: Dried fruit, Beans & Pulses, Nuts, Oatmeal, Brans & Grains, Snacks, Seeds, Flour & Salt and Organic; So, making it easier to stock up on store cupboard essentials for home baking, creating healthy lunchbox snacks or simply supplying the finest organic ingredients to budding chefs, the Tree of Life pre-pack range has it all.
To make an order, please contact the Tree of Life Telesales Team on: 01782 567120, alternatively visit our website at: www.treeoflifewholesale.com
The Food Doctor 'Wholesome Pots'
The Food Doctor Ltd , 13, Harley Street London W1G 9QG
Tel: 0207792 6767
Fax: 020 7792 6710
E-mail: [email protected]
www.thefooddoctor.com
A truly healthy innovation for busy executives and mums on the go. Made from dehydrated wholesome grains & pulses, such as Quinoa, Bulgar wheat and lentils, with dried vegetables, herbs and spices, just add boiling water for a genuinely nutritious snack, high in fibre and protein.  No salt, sugar or preservatives, just all natural ingredients, at last a healthy 'Pot Noodle' without the noodles!
Three varieties – Asparagus, leek & a hint of mint; Tomatoes, black olives and a pinch of basil; and Tomatoes, red peppers & lightly spiced with Cumin. Snacking 'al desko' has never been so tasty or convenient!