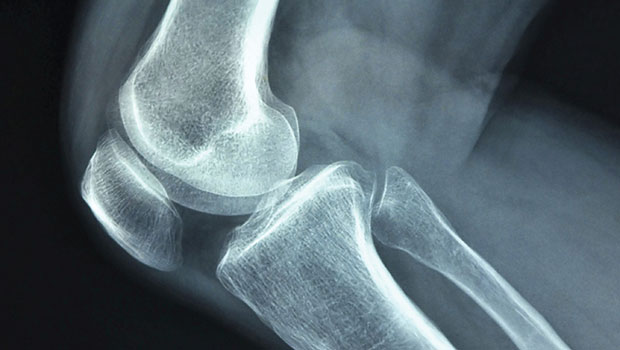 Bone and joint health issues are a worry for many modern consumers – so it's great news that the natural health industry has cooked up some trusted solutions, says Matt Chittock.
From everyday aches and pains to more serious exercise-related strains, bone and joint problems are something people in the UK often complain of, but rarely do anything about.
According to healthcare provider Simply Health, 89.5% of those with pain in their lower backs and joints are reluctant to consult a physiotherapist or other professional that could help them.
According to the research, the result of these issues is 10 million lost working days each year – and a lot of personal pain for those that ignore what their body is trying to tell them.
That statistic shows that as a nation we need to get better at recognising, and taking seriously, bone and joint health-related problems. And that means visiting the GP (as well as booking time down the yoga studio), and listening to good advice when we feel a tell-tale twinge.
So enough about the big picture – what can be done from a natural health point of view? The category is definitely a broad church. On one hand it covers gym bunnies who may have joint pain because of over-exercising. On the other are people suffering from arthritis or other degenerative conditions often related to aging.
Broad church
While addressing lifestyle factors like diet and exercise is important (see box), there's also a range of supplements that could help prevent bone and joint health injuries and issues, as well as minimising their impact when they appear.
Mention the category to most health store managers and the first supplement they'll reach for will probably be glucosamine, which has been a complementary health favourite for many years.
"Glucosamine is an important building block of cartilage – supplementing with it may help to prevent further joint degeneration and relieve pain," says Aimee Benbow, technical services manager at Viridian Nutrition.
"My recommended intake of glucosamine is 1500mg daily."
Higher Nature nutritionist Kelly Rose is also confident about the benefits of glucosamine, confirming that a dose "of 800-1600mg daily" is supportive. She also maintains that all-round favourite omega-3 may also be another good natural approach.
"As omega-3s from fish oil contain natural anti-inflammatory precursors it is wise to increase these – an intake of 900-1200mg of the active EPA and DHA is advantageous," she adds.
"Devils Claw is also a traditional herbal medicine that is used for the relief of backache, rheumatic or muscular pain and it may assist in joint ache – a dose of 600-1200mg of a standardised extract has been shown to be of use."
Benbow definitely agrees about the use of omega 3s: " Increasing the intake of omega 3 from fish and seeds can help with reducing inflammation throughout the body and also provide further lubrication to the joint," she says.
Meanwhile, to assist with any related pain, she recommends that anti-inflammatory herbs may also be of use, like boswellia, turmeric and ginger.
As a major problem within bone and joint health, many customers are seeking help with oseteoporosis. Benbow says that there's a variety of supplementary approaches to try, alongside advice and support from a GP.
"Some supplementary nutrients which should be considered to try and limit the extent of bone loss in osteoporosis include calcium (1200mg daily), magnesium (375mg daily), vitamin D (400-2000IU daily), vitamin K (45ug daily) and boron," she says.
Despite the wealth of products that can work, it's important for consumers to check with their GP before starting to take any herbal supplements.
For example, those who are allergic to shellfish should seek out a vegetarian source of glucosamine and ensure that it doesn't interfere with commonly-prescribed medicines like warfarin.
New solutions
Because bone and joint health is such a big problem in the UK it's no surprise that the natural health industry is pulling out all the stops for new on-shelf solutions.
For instance, earlier this year Oxford-based life science company Phynova announced it had received the first ever TCM (Traditional Chinese Medicine) market approval from the MHRA for its new Joint and Muscle Relief Tablets featuring sigesbeckia.
"It's not one of the most famous or widely used herbs in traditional Chinese medicine but it's well known and we were able to trace back its use in China around 600 years," says Phynova's ceo Robert Miller.
"There's a lot of good modern research on it as well, primarily from Korea, supporting it's efficacy."
Miller says that getting MHRA approval was definitely a learning curve for the company.
"When you're the first to do something like this I think that you can expect that things are going to take longer and everyone's going to be a lot more careful in terms of getting the approvals," he says.
"But in the end we got there and we're very pleased that we did!"
Miller adds that one of the biggest challenges was finding the right evidence to back up the claims, which involved sourcing bibliographical references of sigesbeckia's efficacy over time.
"That can be a challenge, especially for traditional Chinese medicines or Ayurvedic medicines or other traditional medicines that may come from outside of Europe," he says.
"It's not just evidence that it's been in use somewhere in the EU for at least 15 years, but you have to have 30 years prior history of use in order to register it."
Miller believes that there's plenty of scope for the product's success. Not just because it could help a number of common conditions, but also since the public is ready to embrace Chinese medicine when it has approval from a trusted regulator.
"As a research company we were attracted to the practical use of TCM because so much is already known [about these approaches] – in some cases hundreds of years of use – and that means that you can know a lot about the safety of these products," he says.
"That certainly makes things interesting. And the Chinese, in my experience, tend to be very pragmatic about healthcare and they don't use things if they don't work."
Food and fitness
Away from the natural health supplement shelves, there's one other way to prevent and combat bone and joint health issues: changing people's attitudes to food and fitness.
"Diet is an important factor in joint support and aiming to keep a joint supportive diet will help keep joints strong and injury free," says Rose.
"A diet designed to support healthy joints should have moderate levels of good quality protein such as eggs, chicken, turkey, quinoa and oily fish. The oily fish, including mackerel, herring, tuna, trout and salmon, also provide omega 3 essential fatty acids. These are pre-cursors to anti-inflammatory molecules and may support the lubricating fluid found within joints."
As you'd expect, fresh fruit and vegetables (preferably organic) also help, and soups and smoothies can be a smart and simple way to get customers to five a day (and beyond).
"Sulphur is important as it strengthens the tissues that make up the joint cartilage," adds Rose.
Meanwhile, when it comes to exercise, it's best not to come over all Usain Bolt, but to take things nice and slow to start with.
"When looking to prevent joint injury it is wise to be aware of limitations – don't push the body too hard!" says Rose.
Many top athletes spend a large proportion of their training in the warm-up period. However, gentle exercise may be beneficial to support flexibility, keep weight optimal and can help to keep a healthy frame of mind. "
Need to know – common problems
Sadly, research shows that in the future the incidence of bone and joint problems will only increase, due to an aging population and the effects of spiralling obesity rates.
According to charity Arthritis Care, cases of osteoarthritis in the UK are set to double by 2030, topping 17 million.
"Common issues found around bone and joint health occur with increasing age due to wear and tear of the joints and a reduced level of new bone produced," says Benbow.
Common problems include:
Osteoarthritis. "This is a degenerative condition that affects the joints, primarily the weight-bearing ones," says Benbow.
"It involves the breakdown and gradual loss of cartilage which cushions the joints."
Rheumatoid arthritis. "This is an auto immune disease which leads to inflammation of the joints, but it's not caused by wear and tear," says Benbow.
Interestingly, research shows that smoking may trigger the condition, offering one more reason to give up.
Osteoporosis. "This is a disease which leads to bones becoming weak and fragile due to a significant loss in bone mass," says Benbow.
"A gradual loss in bone density is part of a normal aging process after 35 years of age, however, when the rate at which it is lost is faster than normal this will lead to osteoporosis."
Health File Listings
Ecomil NO SUGAR range
Organico
Tel: 01189 238767
E-mail:  [email protected]
www.organicorealfoods.com
The Ecomil NO SUGAR range should be merchandised as a SEPARATE CATEGORY in Non-Dairy  milks to add value, focus and above all differentiation from what is available in the mults – using our free NO SUGAR POS aid pack.  No sugar means no added sugar, no artificial sweeteners and no natural sugars.  Many non-dairy milks have sugar levels as high as ordinary dairy, some even as high as Coca Cola (red)!  Our Calcium Ecomil Almond drink features a higher percentage of organically grown almonds, sourced exclusively from local Spanish trees.  Our almond milk does not have rice, agave or other sweeteners.  The calcium comes from a natural seaweed source.  Nutritionists advice that calcium should be taken in it's natural food state rather than via supplementation so that it is better absorbed and better used by the body.
Patrick Holford Glucosamine Support
Natural Wellbeing Ltd
Tel: 0845 5219190
E-mail:  [email protected]
www.naturalwellbeingltd.co.uk
Glucosamine Support contains glucosamine and MSM with hops, curcumin and quercetin. Impaired immune function, inflammation and allergies may be related to the development of some bone degenerative conditions. A compromised digestive system can exacerbate these problems, therefore keeping it healthy is paramount.  Curcumin, a powerful plant nutrient found in turmeric, helps to maintain immune function, regulate inflammation and support healthy skin. Hops help to support digestion. 60 tablets  RRP £23.45.
Pukka Aloe Vera Juice 500m/ 1000ml
Pukka Herbs
Tel: 0845 3751744
E-mail:  [email protected]
www.pukkaherbs.com 
Customers tell us that this is the best tasting aloe vera juice they've tried! That's because Pukka invest in sourcing the highest quality, organic raw materials, only use the inner flesh of the aloe vera leaves and don't add any chemical preservatives to our juice.  The polysaccharide content of our unfiltered juice is so high (more than 1000mg aloeverose polysaccharides per litre) we don't need to add in extra after juicing. Aloe vera is Ayurveda's favourite carrier of nutrients to the cells, enhancing absorption of both fat-soluble and water-soluble vitamins by over 200%. A great way for clients to take supplements.
Peak Omega-3 Liquid Fish Oil
Wileys Finest UK
E-mail:  [email protected]
www.wileysfinest.co.uk
PEAK OMEGA-3 LIQUID FISH OIL (2150MG EPA+DHA PER SERVING), 25 SERVINGS £19.99 Taking Omega-3 supplements is a vital supplement for anyone to take in order to maintain normal cardiac and brain function, eye sight, blood pressure and circulation. However, people who suffer from joint pain and arthritis have a special need to consume EPA and DHA. Omega 3 strengthens the immune system and lowers joint inflammation. EPA and DHA work together to help manage joint mobility, restoring joint and tissue health whilst the EPA will help reduce inflammation. Wiley's Finest Peak EPA Liquid provides 1300mg of EPA and 850mg of DHA which are essential for helping to reduce inflammation and repairing damaged tissue.
Osteoflex® Plus
HealthAid Ltd,
Tel: 020 84263400
E-mail: [email protected]
www.HealthAid.co.uk
Keeping you Flexible – Osteoflex®Plus tablets, an optimum formulation providing a combination of Glucosamine and Chondroitin, which helps the body repair damaged cartilage and lubricate the joints. Vitamin C and Turmeric are incorporated in the formula for their powerful anti-inflammatory properties. Osteoflex® Plus has the added benefit of Hyaluronic Acid, helps to improve joint health – especially cushioning of the joints and to improve the quality of synovial fluid that acts as a lubricant, shock absorber and helps to maintain the structural and functional characteristics of the cartilage matrix. Osteoflex® Plus retails at £17.99 for 30 tablets. Contact HealthAid Ltd on 0208 426 3400 for purchase and stockist information or visit www.healthaid.co.uk
Terranova Glucosamine, Boswellia & Turmeric Complex
Kinetic Natural Products Distributor,
Tel: 08450 725825
E-mail:  [email protected]
www.kinetic4health.co.uk
TERRANOVA Glucosamine Boswellia & Turmeric Complex is a scientifically based formulation of nutrients for joint support, enhanced with highly active, whole and unadulterated superfoods and botanicals.  Key ingredients include – Boswellia Resin and Nettle Leaf, research has found that compounds in these ingredients may help maintain healthy inflammatory and circulatory responses in joint tissue; Turmeric  Leaf, with potent antioxidant properties; Ginger, to support inflammatory, pain and circulatory response; Celery Stalk & Leaf, abundant in free radical scavenging antioxidants; and Stabilised Rich Bran, which features more than 100 known antioxidants. All Terranova products are vegan and made with no fillers, binders or excipients.
Magnesium Oil Joint Spray
BetterYou™
Tel: 01226 814030
E-mail:  [email protected]
www.betteryou.com 
BetterYou™ Magnesium Oil Joint Spray is scientifically proven to improve joint flexibility and bone health and effectively relieve muscle cramping and discomfort. Enhanced with glucosamine to encourage the formation of cartilage, along with added menthol and wintergreen oils for a calming and cooling effect. Magnesium encourages the body to absorb calcium which could otherwise result in a build-up on soft tissue and muscles, causing them to harden. Transdermal delivery (through the skin) has been proven as the most effective method of supplementation outside of a hospital environment, increasing the body's magnesium levels up to five times faster than oral supplementation.  For more information visit www.betteryou.com
Nature's Answer Glucosamine Chondroitin with MSM Formula
Kinetic Natural Products Distributor,
Tel: 08450 725825
E-mail:  [email protected]
www.kinetic4health.co.uk
Clinical studies of glucosamine have demonstrated it is effective treatment for helping with symptoms linked to joint and muscle pain. Nature's Answer Glucosamine Chon-droitin with MSM formula combines Glucosamine with other substances important for the resiliency and maintenance of health cartilage, such as Chondroitin, MSM and other joint friendly nutrients. Quik-Sorb® is an exclusive blend of herbs know to enhance delivery of nutrients to the body. Glucosamine increases the formation of  lubrication materials in side the joints and slows the ac-tivity of enzymes that cause joint destruction as well as aiding joint repair. Chondroitin sulphate helps cartilage retain water.