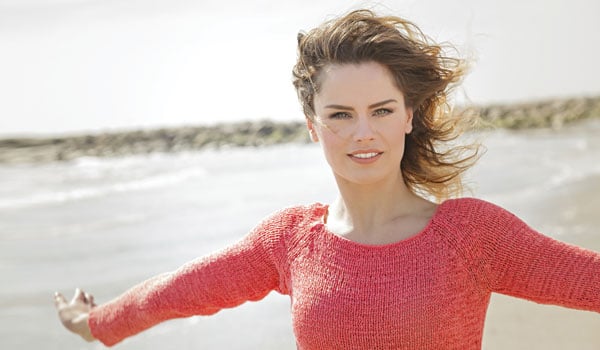 Natural products stores are well placed to offer solutions to skin, nail and hair problems, but knowledge and training are paramount as Kate Miller finds out
Do you look like you've just stepped out of the salon? Are you defying the seven signs of ageing? Surely your eyes are whiter than white? Oh, hang on that's washing isn't it? Anyway, you get the picture. Watch any ad break and you'd be forgiven for thinking that the be all and end all of our existence is to look good. And bombarded as we are with this quest for cosmetic perfection, it's easy to forget that there is more to healthy hair, skin, eyes and nails than just looks. Problems in these areas are not only cosmetic but can be indicators of anything from a simple vitamin or mineral deficiency to an intolerance or serious health problem.
"What's going on outside is often a good indication of what is happening inside," explains Melanie Ball, owner of Bare Health in Congleton. This, she says, makes spend-ing time with customers who have complaints or queries in this area essential: "It's about getting to the root of the problem and asking a lot of questions. It's a conversation. Sometimes they come in complaining of one thing and it's tied to something else completely."
Hair thinning and loss, nails and skin are particularly big areas for the shop, says Ball, with many customers either complaining about problems in these areas or wanting to look better: "People are concerned how they look and we sell a lot of the hair, skin and nail complexes." However, any hint of an underlying medical problem, or if the customer is taking conventional medicines, and they are referred back to their GP.
Mel Turkerman of Vitona, a Danish brand of beauty oil supplements launching in the UK, says that retailers need to be aware of possible underlying health conditions: "For instance, eye problems might be a sign of diabetes or could be a protein deficiency. So you have to be careful."
The move to natural
Kim Allan, director of Botanic Brands, which distributes the Living Nature natural skincare brand, says that customers are actively shying away from chemically- loaded mainstream products: "Using conventional skincare products can mean applying around 168 chemicals to the skin every day," she says, "including ingredients that are known irritants, toxins, endocrine disruptors and even potential carcinogens".
According to naturopath Marcus Webb, technical director of Hadley Wood Healthcare, as public awareness of health issues grows, health food shops are going to find themselves increasingly in demand in these areas: "I think conditions such as macular degeneration are more in the public's consciousness than ever before and that screening is picking it up sooner."
For skin reactions, he says that he has noted an increase in incidence: "Again, people are far more aware, but it's my opinion that there is a lot of weight behind the 'hygiene hypothesis' and our kids simply don't get out and about as much anymore." The result, he says, is an immature immune system that becomes over reactive and directs its attention to new foods in the diet rather than being occupied with the incidental grime of life that it evolved to deal with.
Adults are slightly different, says Webb, with stress and poor eating habits often at the heart of their problems: "The skin is a very stress-sensitive structure and those with a tendency towards eczema, for example, will always find that their skin flares when under pressure. There are a number of great anti-stress products around that offer non-addictive alternatives to regular anti-anxiety agents."
According to Webb the most common problems he sees in these areas are hair thinning and shedding and fungal nail problems that have been resistant to conventional nail therapies. But he says he is also getting increasing numbers of people enquiring about natural ways to slow macular degeneration.
He says that troublesome skin conditions are far more common, especially the rather vague 'dermatitis' that does not easily fit into the classic eczema picture. There are also plenty of chronic eczema cases looking for an alternative to regular steroid-based creams and anti-histamine medications.
"By the time a person with eczema attends my clinic they are normally very open to making significant lifestyle changes because they tend to be at their wits end with their skin!" says Webb. "In many cases the hair, eye, nail and skin problems can be quite discrete but there are cases where skin problems are closely connected to nail and hair issues. A classic example of this would be psoriasis."
The importance of diet
The first port of call for Webb is the diet of the individual: "Nutrition has a vital part to play in healing and supporting the recovery mechanisms in eye, nail and skin problems," he says. "We are seeing the data on the vital part essential fatty acids now play in eye health, and the case for using specific antioxidants such as lutein and even saffron is quite clear now in the management of degenerative eye diseases such as cataracts and, in the case of saffron, macular degeneration. While these can be obtained from the diet, a clinically significant amount is probably best achieved via a supplement."
He says that the diet link can be extended further when it comes to hair health. "Once medical causes have been ruled out, hair shedding can be arrested in many cases by redressing ferritin deficiencies," he says. "Again, diet can achieve this, but for many boosting the levels with a course of Lamberts Florisene gets there faster and when your hair is falling out, speed of the essence! In stubborn cases of hair loss a two to three-month course of Biotin is often well worth a try. Its non-toxic and well tolerated."
With nail health, says Webb, this can be easily enhanced when the nails are essentially healthy but slow- growing or soft. "I tend to suggest the supplement Pil-Food (high in millet-derived amino acids) as a general nail and hair 'tonic'. In cases of nail fungus the use of a propolis-based nail paint Propolis-N can make a real difference but it needs to be used for six to eight months."
Skin, says Webb, is a more controversial and complex area. "There are clear-cut cases of eczema where the immune aspects far outweigh the dietary, and unless this is addressed initially, diet will only have a very limited effect." In general, Webb suggests enhancing the essential fatty acids in the diet or via supplements. "Flax oil, seabuckthorn berry oil or high quality fish oils are vital ingredients to any skin programme," he says. "In a growing number of cases such as psoriasis and eczema, I question vitamin D status and either supplement and/or test the levels. Vitamin D has a critical part to play in immune regulation and there is emerging data on its importance in cases of treatment-resistant psoriasis." However he says that topical applications are very personal. "If someone has found a product that suits, I tend to leave well alone and only recommend alternative creams, following a patch test, if they are not getting adequate control." Webb recommends a manuka honey gel such as Medihoney gel by Comvita in the first instance where the skin is cracked, splitting and possibly infected.
But, if getting to the root of customer's problems is tricky, so is knowing what products to stock among so many. "I think we see so many products on the market that it can be difficult sorting out the ones which are good quality," says Kim Allan, director of Botanical Brands. "We're seeing new brands every month but so many of them are 'greenwashed'.
This greenwashing of products, she says, has led to a lot of cynicism from the general public. However, she says that being knowledgeable about the products you sell can help counteract this cynicism: "Retailers need more information and knowledge to help customers. As an industry we need to educate both the public and the retailers much more." Allan says that when pro-ducers approach her looking for distribution she spends a lot of time examining ingredients and making enquiries as to what preservatives they're using: "Just saying paraben-free isn't the whole story as there are preservatives that are more risky and cause more of a reaction."
Knowledge and training
"Health food retailers really know their stuff when it comes to vitamins and minerals and really give great customer service," says Martine Burford of Ruby Red natural botanical skincare. "But I think they are a bit shy with these kind of products, which is a shame because we see it as vitamins from the outside in; it's part of the holistic approach to looking after your body." She believes staff training is paramount: "We offer an enormous amount of staff training and run our health food accounts exactly like we would manage a beauty salon or department store account."
Allan says that this kind of approach is exactly what retailers should be looking out for as a sign of a good product: "Companies with a transparent approach, which offer a lot of information and acknowledge the need for staff training are ones to look out for".
Mel Turkerman from Bare Health agrees: "Education and training is vitally important for staff in this area if it can be arranged. It's worth it to set aside the time, off the shop floor, to really learn about the products. Any seminars going, we try and get our staff on them. It's a continuation of professional development. If you don't train them, you have out of touch staff."
She says that areas such as skincare, hair and nails, in particular, are ones where customers want guidance, and retailers who can give it to them and are knowledgeable about their products will gain loyalty and sales. "Plus it gives us the confidence to sell the products. Even customers who are knowledgeable and know what they want like advice as well," she adds. Jenny Lee, owner of Jenny Lee Beauty Salon in London, who also has a range of organic skincare, says retailers need to be looking out for products which include collagen, borage oil hyaluronic acid and vitamins A, C, D and E: "All of these ingredients are essential and help the improvement of the skin's hydration and help soften the appearance of fine lines and wrinkles."
The trouble, says Burford, is that good products often cost a premium, which can irk customers: "Unlike organic food, they don't see the same benefits of organic beauty market, but they'll pay premium for over-marketed products if they come in a lovely jar with packaging with plants on the front, despite what's in them."
She says that there also seems to be a reluctance by health food retailers to sell higher end products: "But to offer the consumer what they want you have to have a range of products for every consumer coming into your shop. Health food shops are now the mainstream and everybody is going to come in. The fact that Wholefoods and Planet Organic are doing higher end brands shows that there is an interest in products with good credentials." Allan recommends retailers look to having an offering of a good quality product at each price point and educating themselves about each of them. "This type of product isn't just an off-the-shelf pick; customers want to know about them."
When it comes to trying skincare products, customers like to feel it on their skin says Lee: "We have a wide range of testers, of all our products. People like knowing they can try products out before finding the one they think will work for them. In addition, samples are a great way of getting the products across to possible customers, as people like having free samples."
Turkerman says that she uses samples herself to try the product out before ordering and then lets customers try it out to see if it's worth putting on the shelf: "Customers are good at feedback, and their opinion is important."
However, whereas skin and nail care sales can be a matter of discussion and trial, hair problems can warrant a gentler touch from retailers: "Occasionally hair thinning and hair loss can be a sensitive subject for the customer" says Turkerman, "so it may need a bit of discretion, you just have to be a little bit aware."
She also says that another area demanding sensitivity is with customers who are having long-term treatment such as chemotherapy or radio-therapy: "The treatment can give horrible side effects such as their nails falling out or the skin being very sensitive so we can help them out there." And younger customers can also require a gentle hand; Turkerman's store recently started to stock an acne cream – Antiac which has proved very successful and has brought a younger, possibly more sensitive, customer into the shop.
When it comes to ranging, Burford recommends a specific section for beauty and, leading on from that, skincare, healthcare, etc. And make sure that the area is clearly signposted and easily navigable: "I'd suggest a core range of tried and tested products and maybe have 10% of space for the exciting new niche brands," she says. "And don't cram too many products on the shelves as it's important that these type of products have room to breathe."
Webb recommends that, if they don't already do so, retailers should think about working with experts to help better serve customers: "Working with a local naturopath or nutritionist is always a good idea. This way the retailer can pass the clinical responsibility over in more complex cases or with those who need a more in-depth diet analysis."
Turkerman suggests offering free nutritional 20-minute consultations in-store: "You'll draw people into the store and, if they're given good advice, they're more likely to come back and buy from you."
Hot Stocks
Vision on
Vision Essentials by Hadley Wood Healthcare is designed to be an all-in-one product for eye health maintenance. It comprises, vitamins A, C and B12 along with bilberry extract and lutein.
Skin heroes
Living Nature's skincare range features 'hero' ingredients such as harakeke flax gel – nature's super hydrator – totarol, a super antioxidant and antimicrobial, active manuka honey – nature's miracle skin healer – and manuka oil for protection.
Mineral magic
To restore skin health and normalise mineral levels within the body, Finder's International's range of Spa Find products uses natural Dead Sea minerals blended with de-ionised water and includes Energizing Deep Sea Nourishment, Conditioning Scalp Mud and Stabilizing Calmit Extracts.
Multi-purpose solutions
Skin, Hair & Nail Support from New Image combines essential nutrients including vitamin C, copper, gingko biloba, nettle, flaxseed, calcium, lysine, vitamin E and beta carotene to help maintain healthy skin, hair and nails. 100% Natural Australian Jojoba from The Jojoba Company tackles a variety of problem areas in one product – lips, face, hands, cuticles, body and hair. Jojoba is beneficial for a variety of conditions including dry, cracked skin, eczema, dermatitis, rosacea and stretch marks. Award-winning skincare range Hope's Relief has been developed for eczema, psoriasis, dermatitis and dry skin conditions, and is suitable for all ages. The range – which includes Intensive Dry Skin Rescue Cream, Shampoo, Conditioner and Goats Milk Soap – contains natural botanicals such as hospital grade manuka honey UMF 10+, calendula, aloe vera and liquorice root and is extremely effective for dry, itchy skin.
On the hoof
Treat worn-out feet to a relaxing massage with The Bakewell Soap Co's Foot Soother balm. This first aid balm is for dry and cracked heels and feet, and uses light oils to deliver the active ingredients of cineol and sesquiterpene, combined with peppermint oil to cool and revitalise and lavender to relax.
Health File Listings
MyChelle Retinal A Serum
Eterno Naturals,
Tel: 0808 1789671
E-mail: [email protected]
www.eternonaturals.com
New for 2014! MyChelle's Remarkable Retinal Serum contains a vitamin like no other in the market and you can only get it with MyChelle. This powerhouse form of Vitamin A (scientifically known as Retinaldehyde, but commercially called Retinal) is created through a patented 4-step process making it less irritating, more stable and 500 times more effective than its counterparts. The Remarkable Retinal Serum amplifies cell turnover and production, diminishes age spots and helps to repair sun damage, reduces fine lines by 42% and redness by 70% and refines pores and prevents breakouts…it is remarkable! – RRP £33.00. visit www.mychelleuk.com
Zen Time with Lactium
Hadley Wood Healthcare Ltd
Tel: 0208 449 1113 Fax: 0208 449 2113
E-mail: [email protected]
www.hhcproducts.co.uk
In a stressful world finding the time to relax is never easy. Zen-Time with Lactium has been formulated to help ease the effects of 21st Century living. Based in the branded ingredient Lactium (150mg per capsule) a lactose free milk protein hydrolysate, Zen-Time also delivers vitamin B6 and magnesium all of which are known to contribute to normal psychological function. Zen-Time can be safely taken during the day and/or before bed. Its 100% Vegetarian Society approved ingredients are supplied in tubs of 60 cellulose capsules with no added fillers or excipients. Feel good about yourself, enjoy life and find your Zen place with Zen-Time from Hadley Wood Healthcare.
Beyond Pure® GliSODin®
Distributed by Global By Nature
Tel: 01730 813642 Fax: 01730 815109
E-mail: [email protected]

What is SOD? – SOD (Superoxide Dismutase) is the most powerful of the physiological antioxidants known in immune system defence. Naturally found in the body, SOD decreases with age, leading to exposure of high levels of cell damage/mutation. Traditionally free radical damage and oxidative stress has been combated using a number of external antioxidant supplements such as vitamin C, selenium and beta carotene. GliSODin® is the first orally effective vegetarian form of SOD that works to correct the imbalance between antioxidants and free radicals. Each capsule has a catalytic effect that primes the body's own internal antioxidant system by promoting production of the most powerful primary antioxidants at a cellular level.
Gradual Tan Moisturiser
Green People
Tel: 01403 740350 Fax: 01403 741810
E-mail: [email protected]
www.greenpeople.co.uk
Tan while you moisturise Simple, sun-free tanning for a natural looking glow. Green People's new Gradual Tan Moisturiser is perfect for creating a beautiful light tan all year round without the need for sun exposure. This daily moisturiser delivers a gentle build-up of colour with 4-6 hours whilst nourishing and balancing the skin with prebiotics and antioxidants. Nourishing, yet non-greasy Gradual Tan Moisturiser is rich in plant actives including hydrating, soothing Aloe Vera, nourishing Omega-rich plant oils from Rosehip, Hemp and Shea butter, and plant antioxidants including Green Tea and Rosemary to give your skin the ultimate beauty boost.
Ambiance Dry Shampoo
Eterno Naturals,
Tel: 0808 1789671
E-mail: [email protected]
www.eternonaturals.com
With 25% of women now reported to be using dry hair shampoos, Ambiance are proud to present the only natural dry hair shampoo that cleans hair, conceals roots and makes hair appear fuller, all within a matter of minutes. This non-aerosol product uses no alcohol or parabens and is chemical free! Ambiance Dry Shampoo is available in 5 colours and is applied using a special applicator brush to transform hair instantly – RRP £11.99. Watch our Video and tutorial at www.ambianceuk.com
jenny lee organic beauty products
jenny Lee beauty
Tel: 07984188626
E-mail: [email protected]
www.jennyleebeautysalon.co.uk
Jenny lee is a beauty therapist with over 15 years' experience in the making of luxurious organic beauty products. Her new range will not disappoint lovers of beauty as it meets her meticulously high standards, it includes the very best in facial and body treatment. The range includes: anti-wrinkle face cream, lip balms, after dark night oil, face cleanser, face scrubs, green clay face mask and a vitamin e night eye serum. All beautifully packaged resplendent with the jenny lee logo. Free delivery on all orders over £50.
Hair-Vit
HealthAid Ltd,
Tel: 020 8426 3400 Fax: 020 8426 3434
E-mail: [email protected]
www.HealthAid.co.uk
Brilliant hair from root to tip Taking proper, daily vitamins and minerals plays a vital role in keeping hair healthy. Hair-vit® capsules are specifically formulated to provide vital nutrients that are required for healthy looking hair. It is enriched with B vitamins which work as an anti aging agent by preventing greying of hair and hair loss. Zinc has a healing effect on the scalp and rejuvenation of the hair follicles. Hydrolysed Gelatine helps to strengthen nails and hair as well as help fortify hair shaft and scalp. Amino acids is key to the completion and rejuvenation of the hair growth cycle, they help to build new cells, promotes hair growth, improves the quality and texture of the hair. Hair-Vit retails at £9.99 for 30 or £25.99 for 90 capsules. Contact HealthAid Ltd on 0208 426 3400 for purchase and stockist information or visit www.healthaid.co.uk
Hair Volume
New Nordic Ltd
Tel: 01482 300695
E-mail: [email protected]
www.newnordic.co.uk
Hair Volume is a unique hair tablet supplement. It contains Apple, which is traditionally eaten in Sweden for beautiful hair. The unique bioactive nutrient hair growth factor combination contained in each tablet nourishes and activates the life processes of hair follicle cells. The tablet works from the inside out. The tablet contains apple extract rich in procyanidin B2, a natural growth factor that appears to be able to promote the active growth phase of hair follicles. Plus biotin and zinc contribute to the maintenance of normal hair and copper contributes to normal hair pigmentation, fighting grey hairs.
Femergy™
BetterYou Ltd
Tel: 0114 220 2229 Fax: 0114 220 2230
E-mail: [email protected]
www.betteryou.uk.com
Femergy™ is a natural formulation designed to help support modern busy lifestyles. A combination of Peruvian Maca, Brazilian Ginseng and Ginkgo Biloba, Femergy™ provides energy, mental clarity and mood regulation. Femergy™ nourishes and revives a tired body by helping to increase oxygen supply to major organs, including the brain. The formulation is caffeine and sugar free with all ingredients 100% food sourced for optimal efficiency and absorption.
Syno-Vital
Modern Herbals
Tel: 01274 889047
E-mail: [email protected]
www.modernherbals.com
Hyaluronan (HA) is the principle compound for retaining water in the body. It is abundant in our connective tissue. As we age, connective tissue loses water and causes many of the signs we associate with ageing. Our levels of HA decrease dramatically after the age of 50, replacing lost HA with Syno-Vital can be of huge benefit. HA is also found in high concentrations in the eyes and synovial fluid of the joints. HA can help to slow down the effects of ageing on our skin and can also help to minimise lines and wrinkles. Syno-Vital is a convenient 5ml liquid sachet of HA to be taken daily with water.
Terranova – Beauty Complex
Kinetic Enterprises
Tel: 0845 0725 825 Fax: 0845 0725 826
E-mail: [email protected]
www.kinetic4health.co.uk
Terranova Beauty Complex is a powerfully active and intensely synergistic formulation for the health of the skin, hair and nails. Beauty Complex features enzymatically-active, fresh freeze dried botanicals such as horsetail spring shoot, stinging nettle, sea buckthorn berries, burdock and watercress as well as important skin, hair and nail nutrients including MSM, zinc, carotenoids, biotin, pantothenic acid and vitamin C. As with all Terranova products, Beauty Complex is fortified with MAGNIFOOD, a synergistic complex of whole, unadulterated botanicals and superfoods designed to enhance the product's function and activity.
Nature's Answer Platinum Liquid Hair, Skin & Nails
Kinetic Enterprises
Tel No: 0845 0725 825 Fax: 0845 0725 826
E-mail: [email protected]o.uk
www.kinetic4health.co.uk
A comprehensive nutritional formula with key vitamins, minerals, herbs and antioxidants specially selected for their nourishing and strengthening support of hair, skin and nails including Vitamin A, C and E, Biotin, Inositol, Choline Pantothenic Acid, Zinc and Selenium. The formula also features Quick-Sorb, an exclusive blend of herbs known to enhance delivery of nutrients to the body. Nature's Answer, the Liquid Professionals for over 30 years, take the highest quality ingredients, all quality assured, to create their Platinum All-Star Line-Up, a product family of liquid Vitamins, Minerals and Nutraceuticals in an easily absorbable form.