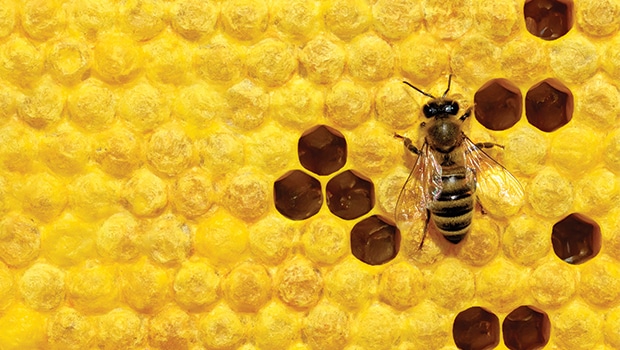 Bee products are still flying off the shelves – but, asks Matt Chittock, will the vegan revolution prove a sting in the tail?
Bee products are a health product perennial. From the Princess Di-inspired 1980s royal jelly boom to selfie queen Kourtney Kardashian's Instagram love-in with manuka, they've always had a place on health retailers' shelves.
Hanover Healthfoods in Edinburgh is no different. Director John McKee says that he offers all the main variants that shoppers make a beeline for. "The main bee products we stock are manuka honey, propolis and bee pollen – and obviously royal jelly," he says. "The brands we have are Bee Health, Just Natural for the pollen, Comvita (obviously) and Onuku."
As McKee explains, manuka honey is definitely one of the category's hero products. However, it hit a sticky patch a while back with accusations of 'fake' honey being sold as manuka without the health benefits the original New Zealand stuff is purported to have.  
"Manuka honey has still to recover from the fraud scandal of a few years ago," believes McKee. "The current prices of real UMF or MGO-certified [honey] are a decided deterrent. Some retailers are still playing fast and loose with the public by advertising weak MGO-certified manuka (which carries a confusingly big number) as a good deal, but are in fact only three or four on the UMF scale."
With the claims and counter claims flying, Holland & Barrett has been putting its marketing muscle behind education, like last summer's £1.5 million Wonder of Manuka campaign, which it told NPN was a move to boost transparency and fight against 'fake manuka'.
For independent retailers like McKee, it's up to him and his staff to educate customers on what constitutes the real deal on the shelves – and the market is evolving all the time. "It will be interesting to see how customers respond to the new Australian Manuka honey which is on the way," he says.
It's clear that bee products are health store staples that hit the sweet spot with shoppers, but there might be a sting in the tail, as the rise of veganism could take a slight buzz off sales. 
"Honey is not generally accepted as being vegan. However, whilst there has certainly been a rise in veganism, I believe that many people are flexi-vegans, meaning they dip in and out, which is no bad thing," explains nutritionist Suzie Sawyer. "They choose to eat vegan foods since they are seen as the healthier option, but don't want to necessarily be vegan all the time. I'm not sure the honey industry would have benefited from the rise in veganism since true vegans wouldn't eat it at all."
Today, more shops are seeking to rebrand as vegan and since The Vegan Society says that honey doesn't meet its definition of the diet there's a worry that stores could miss out on bee-related sales. "With the growing rise of veganism we are slowly (glacially and organically) moving out animal products from our inventory," says McKee. "We're reluctant to increase the range  of bee products, although we may switch brands occasionally." 
This means that to win over wavering customers, brands now have to prove to consumers that bees are being well treated, as well as the provenance of their products. 
Many forward-thinking producers already have sustainability in mind. For example, trained beekeeper Jamie Blair from Roots Beverage Co makes conservation a key part of his business. Meanwhile, Erin McCann, nutrition consultant for Unbeelieveable Health, says that beekeeping can actually boost conservation efforts. "Using bee products from reliable and sustainable sources encourages the growth and sustainability of the beekeeping trade," she says. "Beekeepers are crucial to ensure honeybee colonies survive and thrive. Demand for quality bee products encourages more people to keep bees, and in turn, promotes their sustainability and wellbeing."
In the wider market, brands are acting fast to come up with vegan-friendly alternative versions of their products, like innovative meat-free burgers. Would bee brands do the same?
"While we would never rule this out, Comvita's expertise is in beekeeping," confirms Comvita chief marketing officer Ben Shaw. "We take every effort to ensure our beekeepers and operators always do the right thing by our bees and keep our hives in optimal health all year round."
Supported by science
It's obviously great for retailers and brands that Ed Sheeran and The Duchess of Sussex are reportedly bee product fans. However, the category simply wouldn't be as popular without scientific back-up.
"There are more than 300 published papers in medical journals about manuka honey, 20 of which have been authored by Comvita's own research team," says Comvita chief marketing officer Ben Shaw.
"While most honeys have medicinal properties because honey creates hydrogen peroxide [an antiseptic], manuka honey also has high levels of a non-peroxide antibacterial property, which makes it very useful in treating wounds."
Plus, recent guidelines from the National Institute for Health and Care Excellence and Public Health England recommend honey as a first line of treatment for a sore throat. This has helped bolster the market for effective and convenient over-the-counter medicine-style products.
Comvita is serving this sector with Comvita Pure Manuka Honey Lozenges and its Manuka Honey Elixir range. "This is specially formulated with all-natural ingredients, including soothing manuka honey, vitamins, minerals, herbs and essential oils for immune support throughout the year," says Shaw. "Consumers are also seeking out natural oral sprays, like our Propolis Oral Spray."  
Honey Wash TM
The Great British Bee Co
E-mail:  [email protected]
www.greatbritishbeeco.com
New to Natural & Organic products Europe, 'The Great British Bee Co' are a unique, multi award winning family company on a mission to raise funding for British Bees through the design of beeswax, honey and propolis focused hand care products.
'Honey Wash' is an ultra-mild, preservative free Organic hand wash carefully formulated with raw British honey. It has developed a fast growing fan base in the UK following its shortlisting for the 'Free From Skincare Awards 2018 achievement award. Visit stand B36 to try it for yourself !
Beebetter Organic Royal Jelly
The Really Healthy Company
Tel: 0208 480 1000
E-mail: [email protected]
www.healthy.co.uk
Fresh royal jelly is nature's powerhouse of nucleic acids, enzymes, vitamins (A, B C and E), minerals (potassium, calcium, magnesium, zinc and manganese) and gelatine (a precursor of collagen, which might explain why those who take it believe it keeps them vital and youthful). 
This raw product has not been pasteurized, does not contain additives, preservatives or colourings, and only undergoes filtering to remove impurities. Also, the beehives are situated in a naturally protected environment, with a minimum radius of 3 kilometres away from any kind of contaminants, which creates a very high quality, clean, fresh and organically certified product.
Bee prepared immune formulas and Bee Energised and NEW Bee Calm & Bee rested
Unbeelievable
Tel: 02079 932471
[email protected]
www.unbeelievablehealth.com
We love bees and the wonderfully nourishing substances they produce. Aren't they just like little alchemists? Did you know propolis alone has over 2,000 studies on its use for health?  Unbeelievable Health's all-in-one targeted supplements are formulated by nutritionists and combine therapeutic amounts of high quality plant based nutrients (including propolis & bee pollen) which are unique in that they all have proven benefits, yet are not usually found in a regular diet or multivitamin, making Unbeelievable's supplements an ideal way to enhance any health regime.  Bee Prepared immune formulas are great for colds, flu, hay fever & travel & Bee Energised helps improve energy & focus, with benefits building with time- it's great for fitness and sports training, when run down, brain fogged, jet lagged, for exams & more. See our site for ingredients and more info. The products are rated 5 stars in over 90% of consumer reviews, are Vegetarian Society Approved & are 'Free From'.  COMING IN MAY/ JUNE are 2 NEW supplements- Bee calm (anxiety & stress support) & Bee rested (sleep support). Both combine an amazing array of very special plant based nutrients which are shown in studies to support these issues.  Made in The UK, 5% donated to bee causes. Available via Tree of Life, The Health Store, CLF, Wholefoods Ireland, IIH & Jumla. 'Excellent products, excellent company, owned by ethical people.' Stephen T, Daily Mail
Hope's Relief Intensive Dry Skin Rescue
Mahi Naturals Ltd
Tel: 0208 886 4001
E-mail: [email protected]om
www.hopes-relief.com 
Newborns through to adults can be prone to dry skin and eczema, so help your customers find a gentle and effective range that they can trust. Hope's Relief therapeutic skincare is a multi-award winning range with NPA+ 10 hospital grade Manuka Honey to help relieve itchy, dry. As an effective, natural alternative to cortisone and other medicated treatments, Hope's Relief is suitable for long term to soothe the itch and regenerate skin. No.1 in Australia, the growing range includes haircare and cleansers, gel and spray skin and is specially formulated for skin prone to eczema, psoriasis and dermatitis.
Antipodes Manuka Honey Skin-Brightening Eye Cream
Kinetic Natural Products Distributor
Tel: 08450 725 825
E-mail:  [email protected]
www.kinetic4health.co.uk
Manuka honey from New Zealand has world-renowned moisturising and anti-blemish prowess to help hydrate and freshen under-eye tissue. This luxury formulation introduces hydrating Persian silk flower, known for its anti-ageing properties, blended with revolutionary antioxidant Vinanza grape seed and kiwi, shown to improve cell membrane integrity by decreasing trans-epidermal water loss by 16%, improve skin elasticity by 16%, decrease skin redness by 7%, and lighten skin by 3.5%. Pure plant fragrance from honey. Certified vegetarian by the UK Vegetarian Society, a globally respected organisation for the assessment of vegetarian status. Recyclable glass bottle. 100% biodegradable cardboard from sustainable forests. 
Hilltop Honey
Hilltop Honey
Tel: 01686 689027
E-mail:  [email protected]
www.hilltop-honey.com
Hilltop Honey has a passion for delivering the most exceptional tasting honey from all corners of the world. Offering British, Speciality and Manuka varieties of honey along with a diverse range of, Soil Association certified, Organic honeys. Hilltop Honey also offers an Organic Fairtrade honey amongst their pure and natural offerings of Honey, Bee Pollen and Cut Comb. Products from their range can be supplied in 25g breakfast portions, a varying range of jars, bottles and catering tubs. Head to stand Q36 and discover for yourself, there's more to honey.
Manuka Bay Honey Co.
Healthy Food Brands
Tel: 01403 786460
E-mail:  [email protected]
www.healthyfoodbrands.co.uk
What started out as a travelling adventure in New Zealand's Manuka Bay has turned into our very own honey company.
I'm sure it's happened to you before. You're on route to your destination when you see a sign pointing to the beach. You can't follow every turn off or you'd never get where you're going, but it's a lovely warm day and sometimes its good to be impulsive.
This happened to us – we were driving between Hurunui Mouth and Gore Bay when we saw a sign pointing to Manuka Bay. It was only a few kilometres and we weren't in a hurry – and now after our first Manuka Bay visit all those years ago, our place is starting to really thrive as our 100 per cent Manuka Honey is now available in the UK. Manuka Bay itself is just so beautiful from above, the calm blue water and black sand combine to make a pretty awesome viewpoint which we think is the best in North Canterbury. We love where we work, it's just sand, sea, sky and lots of contemplation, the perfect place for our bees to flourish and make the best Mānuka, just as nature intended. All our Manuka is rated for strength using the MGO scale. With MGO being the compound that scientists concur is what gives manuka honey it's anti-microbial (bacteria killing) properties. Plus as a New Zealand owned company, you can be assured you're buying a genuine New Zealand Mānuka honey direct from the Bee keeper. Our high-quality product has come from the pollution free New Zealand environment ensuring that every jar is true to label, packed locally in New Zealand itself, and independently tested to meet the Government's MPI export Standard. All the way from our hives to your store.
Wedderspoon Squeezy KFactor 16 Manuka Honey 340g
Natural Health Ltd
Tel: 0203 475 5695
E-mail:  [email protected]
www.wedderspoon.co.uk
The number 1 selling brand of Manuka honey in the United States, Wedderspoon, has now introduced their new squeezy Monofloral KFactor 16 Manuka Honey to the UK & Europe. Offering a convenient easy-to-squeeze, non-drop bottle, your customers get the perfect serving of Manuka for their needs without the mess of a jar!  Fernmark certified as a genuine New Zealand product, this product also complies to the new Manuka5 Monofloral Manuka Honey scientific definition as determined by the New Zealand Governments Ministry of Primary Industries.  Raw, unpasteurised and Non-GMO project verified, this product is a great addition to your Manuka range!
Otosan
World Foods Brand Management Ltd
Tel: 01782 366080
E-mail:  [email protected]
www.otosan.com
The Otosan range of ear, nose and throat products embrace many of the amazing natural active properties found in hive. Combined with Manuka honey and organic herbs, Fortuss cough syrup provides a delicious way for all the family soothe any cough. Otosan's leading ear cones are the only cones to provide 3 safety devices and are infused with propolis to maintain healthy ears. The entire Otosan range are registered medical devices and have been subjected to clinical evaluation ensuring maximum efficacy and safety.
Miracle of TIANA Honey for Therapeutic Use
TIANA Fair Trade Organics Ltd
Tel: 020 8427 1695
E-mail: [email protected]
www.tiana-coconut.com
Honey is hailed as a natural, healthy product – not to be confused with sugar syrups containing no nutritional value. To reap the true health benefits, choose TIANA Pure Organic Raw Active Unpasteurised Honeys, rich in Enzymes, Polyphenols, Vitamins and Minerals. What makes TIANA honey a premium product is that it has never been heated – which contributes to its superb quality and exquisite taste. In accordance with EU directives on honey, the Food Standard Agency states that Enzyme Diastase activity is the honey quality parameter. This is used to determine if honey has been heated during processing and packing. 
If honey is heated above 38°C, then its activity considerably decreases and stops working. Maximum Enzyme Diastase as per EU Standard is 40°C. Raw Active Enzyme Rich Honey has high energy properties and contains over 120 valuable heat-sensitive bioactive nutrients which are destroyed at temperatures above 38°C. As TIANA honey is never heated it retains all of its nutritional value. TIANA Fair Trade Organics prides itself on its Certified Organic Enzyme and Polyphenol Rich Honey suitable for therapeutic use. TIANA Honeys are tested by Independent Accredited Laboratories and have Diastase Activity 10+, 18+ and 39+ to provide therapeutic use. 
Enzymes act as an aid to accelerate digestion, circulation and strengthen immune defence. Polyphenols, an antioxidant linked to reduce risk of cancer, lowers blood cholesterols and combats heart disease. Raw Active Enzyme Rich Honey provides anti-inflammatory properties, helping sooth chronic skin conditions.  For maximum benefits take 2-3 teaspoons a day.  TIANA Pure Organic super honey comes in Wild Mountain Flower 10+, Citrus 18+ and Cherry Blossom 39+ Honey varieties.  With therapeutic qualities, authenticity and exquisite taste TIANA Pure Organic Raw Active Honey is a premium product that stands out from the rest. TIANA – The Brand You Can Trust!