Jane Wolfe gets the lowdown on superfoods – already a popular shelf-filler for health stores, the category is gaining extra attention from post-pandemic consumers even though confusion around the term persists
Although the natural and organic world is familiar with the term superfood and the substances it generally encompasses, 45% of 1,500 people recently surveyed admitted that they're bewildered about what constitutes a superfood.
The research, by Papa John's, found that 66% of Brits polled have no idea that hemp seeds are considered a superfood, 18% believe bread is a superfood and 5% even include pizza in that category. But, although 16% think it's just a term for a 'trendy food', 31% are keen to include more superfoods in their diets. 
This confusion doesn't seem to be stemming expansion of the sector however (predicted by KBV to rise 6.9% CAGR in Europe during 2020-2026), which is being boosted by innovative and convenient formats and the appearance of new sub-categories – think superseeds and supergrains.
Beyond the buzz
Yet the classification of a superfood remains a matter of controversy in some circles. So, how do foods earn this health accolade? "The word 'superfood' has turned into a buzzword," says Your Super co-founder Kristel de Groot. "And, thanks to clever marketing, it's being slapped on just about anything (Butter? Really?). With all the confusion and misinformation, many people are left wondering: what are superfoods, anyway? Well, superfoods are foods that have a very high nutritional density … they provide a substantial amount of nutrients like minerals, vitamins and antioxidants. 
"The high vitamin and mineral content found in superfoods can help your body ward off diseases and keep you healthier. When incorporated into a well-balanced diet, these foods can promote heart health, weight loss, improve energy levels, and even reduce the effects of ageing. No single food can do it all — but superfoods have a lot of bang for their buck when it comes to nutrient density.
"These ingredients have been used often in Ayurvedic, Eastern medicine, in south American culture by native people for many, many years … The fact that food can be medicine, that food has an effect on your health, people get this now, and more and more people are prioritizing their health. We all live busy, more stressful lives than ever before and are looking for easy ways to feel better on a day-to-day basis; superfoods are an easy way to do this.
No single food can do it all — but superfoods have a lot of bang for their buck when it comes to nutrient density
Your Super's line of organic superfood mixes each offers its own health benefits/functions – from greens to skin to happy hormones. Each plant-based blend contains five to six naturally dried whole food ingredients that are easily added to water, lattes and smoothies. Its latest blend is Gut Restore – a daily tropical drink mix which incorporates probiotics to help boost digestion, gut health and energy. Containing mango, carrot, pineapple, fermented ginger and an advanced probiotic blend specially coated to survive the journey to the gut, the product also boasts the digestive enzyme bromelain which helps break down proteins for smoother digestion, 150 billion CFUs of bacteria per container and five billion CFUs per serving. 
Launching in the United States this month in Target stores, the online brand is also looking for retailers to partner with in the UK and will be exhibiting at Natural & Organic Products Europe (NOPEX).
Fresh approach
Officially launching at NOPEX, BE 100%'s first superfood-based products span bars, bites and jerky. Founder Monica Martini explains the thinking behind the brand is to bring a 'wholly fresh approach to healthy snacking': "Our snacks are designed to complement not just your basic micronutrients by fulfilling a significant percentage of your DRIs but also to include other vital micronutrients … such as phytochemicals and bioactive compounds that go beyond the basic needs to provide health benefits beyond their nutrient profile.
"This means our products can provide key nutrient support alongside your diet especially for those days when there simply isn't enough time to worry about making nutritionally perfect meals. It also allows you to stay on top of key nutrition on a daily basis without the need of supplementing with synthetic pills."
BE 100% products include ingredients that Martini says might not immediately spring to mind when thinking of superfoods. "These ingredients may not be recognized as the usual mentions in the superfood category, which tend to be mostly of exotic origin. What makes them super is the published and reliable research (together with anecdotal evidence through centuries) on these foods' real health-promoting qualities when eaten in small to moderate quantities."

She believes the current use of the word superfoods is limited because it's based on trends and social media favourites. "They include the usual suspects – blueberries, avocados, kale, açai, etc – mostly because of their Instagramable appeal and perhaps because they are easily available. 
"There are other not so well known foods that are used regularly as part of a standard diet in many parts of the world which go beyond the nutrient profile to actually promote health by playing a role in one or more metabolic pathways … And then there are those that are being added to the list all the time as we learn more through modern nutritional research. One example being broccoli sprouts which are 24 times more nutritious than broccoli but are not really mainstream – you can't buy broccoli sprouts at your local supermarket yet. Or kiwi fruit, which is not given the recognition it deserves. 'One kiwi a day' ought to be the new slogan, and they happen to be way cheaper than buying organic blueberries!"
most consumers do not understand that the efficacy of a superfood is also down to the amount one consumes
Some of the other super-nutritious heroes used in BE 100% snacks include yacon, barberries, walnuts, Brazil nuts, flaxseeds, chickpeas and ginger, and the brand's latest due of bars are Moringa Leaf and Broccoli Sprouts – potent Nrf2 pathway activators. "That is something truly unique in itself. Using cruciferous vegetables like Brussels sprouts and combining them with sweet flavours has been fun," Martini says.
She would like to see enough funding for clinical trials to make some of these foods official superfoods so they can 'be included in prescriptions in place of pharmacological equivalents' and laments the lack of regulation that enables some brands to market products containing ineffective amounts of superfoods but still use 'healthy halo' words. "For example, I see brands selling turmeric-based granola or mushroom- or CBD-based products and the percentage of the said super ingredient is so insignificant that it has no added benefit at all. If they were to add therapeutic amount of turmeric the product would be inedible. But most consumers do not understand that the efficacy of a superfood is also down to the amount one consumes."
Future opportunity
Lewis Black, marketing director of Naturya, believes superfoods are becoming more familiar to consumers. "More than seven in ten consumers (73%) recognize that superfoods are a convenient way to boost the nutritional value of your meals and nearly half (46%) view eating superfoods as a natural way to look after yourself and your body. Young people in particular recognize the power of superfoods when it comes to supporting their mental wellbeing; 39% of under 30s are aware that superfoods can help with their cognitive health.
"Superfoods continue to perform well in the UK with strong growth year-on-year … people are more focused on their health and wellness than ever before. In the same way that 'protein' has seen exponential growth with consumers recognizing it provides an added health benefit to many food and drink categories, 'superfoods' is on that same growth trajectory.
"Consumers are growing increasingly aware of the need to adopt healthy practices which support their health and wellbeing, but in today's fast-paced world consumers are time-poor. People are looking for convenience when it comes to choosing products that support their lifestyle, and this includes their diets."
The brand's research found that 70% of people would buy more superfoods if they were available in more convenient formats to eat throughout the day and 50% want more choice and variety. To this end and to help retailers capitalize on this demand, Naturya has created a 20-strong range of added value products which has taken the brand beyond single ingredients and into 'complete and convenient superfoods solutions' for breakfast, lunch, snacking, baking, desserts and drinks. 
research tells us that 85% of Brits are superfood consumers already, with 18% eating superfoods on a daily basis and 31% weekly
Black says the brand's latest research into consumer habits post-pandemic has highlighted the 'huge size and scale of the superfoods opportunity, which is set to explode over the next year and beyond'. "Our research tells us that 85% of Brits are superfood consumers already, with 18% eating superfoods on a daily basis and 31% weekly. That figure is expected to rise significantly as 56% of consumers say they expect to eat more superfoods this year as they place greater importance on their health and wellbeing, post-pandemic."
There is growing consumer awareness of the different types of superfoods available, according to Black, and a deeper understanding of their health benefits. "In our research, we asked people to list the benefits for eating a balanced diet filled with superfoods and the top results were stronger immunity (68%), better digestive function (64%), boosted energy (60%) and healthier cholesterol levels (48%). Over half (55%) stated that the benefit of stronger immunity would actively drive them to eat a superfood."
Come and see Your Super on Stand N86A, BE 100% on Stand W77 and Naturya on Stand N58P
The forgotten superfood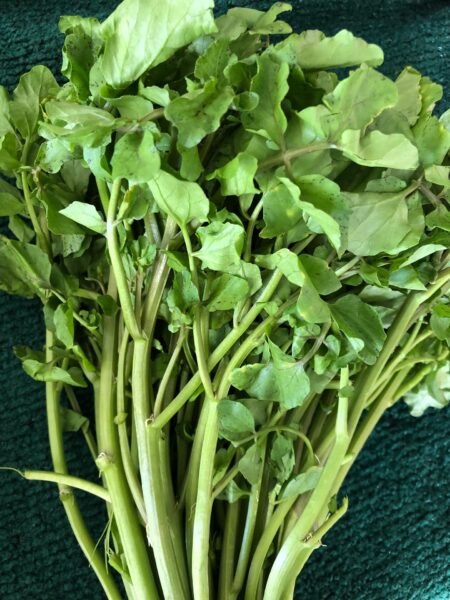 Performance nutritionist Ed Tooley works with elite athletes and teams in sports including rugby league, rugby union, boxing, athletics and taekwondo, and believes consumers are really missing a trick by not fully appreciating the health attributes of watercress.
"Watercress has been recognized for its benefits since early times," Tooley explains. "It was used by the ancient Greeks, Persians and Romans who praised its medicinal virtues and often used it as a fortifier to keep their troops healthy – so why don't we? Watercress is not only nutritious but part of the WWF Future 50 Foods which is aimed towards healthier people and a healthier planet."
Tooley hails watercress as 'the most nutrient dense of all vegetables', highlighting that it:
Ranks top of the plants on the antidepressant food scale
Contributes to normal psychological function (folate, thiamine, vitamin B6, vitamin C)
Supports the immune system (folate, vitamin A, vitamin B6 and vitamin C)
Reduces tiredness and fatigue (folate, vitamin B6 and vitamin C)
Promotes healthy hair and skin (vitamin A contributes to the maintenance of normal skin and normal vision and manganese and vitamin C protect cells from oxidative stress)
Boosts gut health (calcium contributes to the normal function of digestive enzymes)
Normalizes blood pressure and contributes to heart function (thiamine).
Raw & Activated Nutrition Bar
Be hundred Percent Limited – BE 100%
Tel: 020 8245 1810
E-mail: [email protected]
www.behundredpercent.com
This Snack Bar covers a 360° Nutritional Profile
A delicious handcrafted nutrition bar to enjoy as a snack or a treat, packed with essential micronutrients, antioxidants, vital bioactive compounds and enzymes that support a healthy brain and gut. These bars combine the three of the main brain health ingredients: activated nuts & seeds rich in ALA Omega3 (the vegan Omega3), raw dark chocolate rich in magnesium and antioxidants and berries rich in vitamin C among other nutrients.
Dillon Organic Keto Bread Original Flax
Dillon Organic
Tel: 07932 648095
E-mail: [email protected]
www.dillonorganic.co.uk
Delicious Organic, Gluten free Keto Bread made with a blend of flax, sunflower seeds, and caraway seeds for flavour. It comes as an unsliced half loaf and that gives you the freedom to choose which thickness you'd like to make your slice. Great toasted or double toasted and made into an open sandwich. Also: • High Fibre • Vegan • High Omega 3 • Diabetic friendly • Low sugar
We never use additives, thickeners or emulsifiers and stay away from added gluten and eggs. Available through Tree of Life and The Health Store.
Plant-based targeted supplements for immunity, energy, stress & sleep
Unbeelievable Health Ltd
Tel: 020 7993 2471
E-mail:  [email protected]
www.unbeelievablehealth.co.uk
Put some BUZZ in your sales! Why are they unique? Unlike many supplements which contain synthetic ingredients and often sound like another multivitamin, Unbeelievable Health's targeted all-in-one supplements have been researched and formulated by nutritionists and health experts and combine exciting plant-based nutrients with studies behind their use for specific health issues, which are not usually found in a regular diet or multivitamin such as passion flower, lemon balm, propolis, reishi, rhodiola, elderberry, bee pollen and much more.
They incorporate therapeutic amounts of highest quality ingredients and are vegetarian, free from allergens and contain no fillers or excipients. They've won 30+ industry awards, including Best High Street Brand in the coveted Beauty Shortlist 2022 Wellbeing Awards & Environmental Hero in the 2022 Your Healthy Living Awards. Consumer reviews are excellent.
Each supplement (for immunity, hay fever, energy, stress/ anxiety & sleep) contains different ingredients so they may be taken together if desired. Capsule contents may be opened into juices and food for those who don't like swallowing pills. They are made in the UK a top GMP (Good Manufacturing Practices) facility ensuring the very highest quality control.
Bee prepared immune formula (daily defence & max strength) is ideal to take daily or as needed, year-round to help reinforce natural defences. It contains ingredients with natural antibiotic, antiviral and anti-inflammatory properties. It's also helpful for hay fever as several ingredients have antihistamine properties.
Bee energised energy & focus contains ingredients shown to help fight fatigue and brain fog. Helpful for fitness training, when run down, jet lagged or after an illness
Bee calm anxiety and stress support contains ingredients to help ease tension and worry and to lift low moods.
Bee Rested sleep support helps one nod off faster and wake up less in the night, feeling refreshed the next day.
Nutiva Organic MCT Oil
Kinetic Natural Products Distributor
Tel: 08450 725 825
E-mail: [email protected]
www.kinetic4health.co.uk
Nutiva Organic MCT Oil is derived from organic coconuts and made without harsh chemical solvents, such as hexane, using a certified organic process that slowly chills the oil to separate the fats that remain solid at room temperature. With no filler oils or additives, Nutiva Organic MCT Oil is a premium source of energy-boosting MCTs, or medium-chain triglycerides, with a neutral flavour, and no harsh aftertaste. Easy to incorporate into diets, simply add to coffee, smoothies or salad dressings. The oil has a light coconut flavour. Non-GMO, BPA-free bottle, no trans-fats or cholesterol. Keto- and paleo-friendly.
Marigold Engevita Vitamin D Super B12 Nutritional Yeast Flakes
Marigold Health Foods Ltd
Tel: 020 7388 4515
E-mail:  [email protected]
www.marigoldhealthfoods.co.uk
Marigold's Engevita Vitamin D Super B12 Nutritional Yeast Flakes provide a rich source of vitamin D, B vitamins and Zinc.
A 5g serving (3 heaped teaspoons) provides • 100% of vitamin D • 216% of B12 • 124% of Zinc of your recommended daily allowance.
Our flakes are a natural food grown on fortified molasses with the addition of yeast treated with ultra-violet light to naturally increase its vitamin D content.  Gluten Free and Vegan.Delicious sprinkled on pasta, salads, soups, stews and casseroles. Enjoy. RRP £3.99
Melora Manuka Honey MGO 300 UMF 10+
Melora
E-mail:  [email protected]
www.melora.co.uk
Melora harnesses the natural power of New Zealand's native Mānuka tree to deliver the highest quality Mānuka Honey. Melora's Mānuka honey range is harvested from remote and undisturbed forests in New Zealand where the Mānuka bush is naturally grown. The products are all marked with the MGO grading, to assure us that we are getting the most authentic honey of the finest quality and independently tested to carry the exceptional UMF quality mark. The Melora Mānuka range includes both monofloral and multifloral honeys with MGO grading reaching up to 850+MGO and an exceptional range of everyday squeezy Mānuka's.
Over 100 Superfoods In Our Own Brand Range
Raw Living
Tel: 01803 658989
E-mail:  [email protected]
www.rawliving.co.uk
This year, Raw Living is celebrating 20 years in business with the launch of our new comprehensive trade catalogue detailing our own brand range of over 100 superfoods, all presented in our distinctive rainbow packaging. As well as offering all the most popular Chinese, Ayurvedic and South American herbs, we produce superfood trail mixes, chocolate bars, green powder blends, activated nuts and seeds, herbal teas, and more. Plus, we distribute leading brands including Sea Tangle Kelp Noodles and Anima Mundi Herbals. We really are your one stop shop for all your superfood needs. Call or email to receive the catalogue. 
Sun Chlorella 'A' Powder
Sun Chlorella Corporation
Tel: 020 3478 1090
E-mail:  [email protected]
www.sunchlorella.co.uk
Chlorella is green, chlorophyll-rich freshwater algae.  It naturally contains numerous vitamins, minerals and antioxidants such as beta carotene and lutein.  Another nutrient found in chlorella that is rare to plant foods is vitamin B12 which is an active and digestive form of B12.  Chlorella also contains vitamin D, iron, folic acid, fibre and essential fatty acids. The abundant of these nutrients work together to help alkalise the body, support digestion, increase energy, improve immunity and supercharging your overall wellbeing. Sun Chlorella's unique nutrient profile is why some refer to it as Nature's Superfood.  NSF certified and Informed Sport certified.