The UK's biggest celebration of all things organic is back. Hayley Coristine finds out what's happening for Organic September this year, learns how savvy retailers are using the month to segue autumn themes into their calendars, and explores how interest in organic is becoming broader than just food
It's no secret that appetite for organic food is growing: The Soil Association's (SA) Organic Market Report 2019 identified that consumers in Britain spend £45 million a week on organic food and drink, with the organization predicting the market will be worth £2.5 billion by 2020. 
A considerable proportion of that spend is likely to be driven by millennials who value convenience, provenance and, increasingly, health when it comes to their food choices. A recent survey found that a third of millennials now associate health with organic, with 30% of them going out of their way to buy organic or natural products. The younger generation is undoubtedly changing the food shopping game.
Organic and the planet
To take advantage of this engagement, the SA is stepping up the campaign this year to encourage a wider range of consumers to choose organic. Given the widespread interest in environmental issues, from ocean plastics to wildlife decline – issues which younger consumers have identified as important when it comes to making food choices – the SA is calling on organic brands, businesses, indie retailers and citizens to come together and flex their collective muscle to choose organic for the sake of the natural world. The message is simple: buying organic may be an individual choice, but when enough people choose organic it can help shape a more sustainable food and farming system – one that encourages sustainability, helps fight climate change, boosts biodiversity and is better for the environment and animals.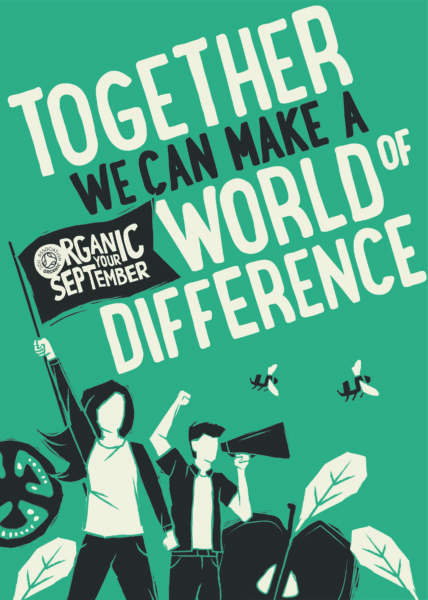 "With the climate emergency front of people's minds, this Organic September we want to get people realizing the many answers that simply buying organic can bring," says Clare McDermott, Soil Association Certification's business development director. "Organic is about making easy and sustainable changes and showing that small steps can make a big difference. Choosing organic is a simple but powerful form of direct action; an action to improve our food system. Anything we can encourage citizens to do – from visiting an independent organic retailer or buying organic milk at the local supermarket, to simply learning more about organic or visiting their local organic farm or market – helps to support the organic movement and farming that leads to more wildlife and healthier soils."
Central to this year's campaign is an online hub hosted on the SA's website, which will showcase events around the country, as well as host offers, stories, recipes, blogs and competitions. Independent retailers can also get their hands on marketing collateral – including free point of sale packs and a digital toolkit  – through the site. They can also register their events at www.soilassociation.org/indies – a fully searchable database which allows customers to find events by location or theme. As Organic September's buzz happens online and through social media, retailers can engage with the key hashtags for the campaign: #OrganicSeptember and #chooseorganic. 
Celebrating local
Wells-based wholefoods institution The Good Earth is celebrating Organic September by promoting local organic brands across the month, and the shop will have a changing focus each week, covering everything from skincare to chocolate. For store manager Sarah Cox, putting the spotlight on small brands to help customers get up close and personal with organic products is a no-brainer: "We like to support local small businesses, and customers are keen to support them as well." 
The Good Earth will also host tasting sessions throughout September, with a focus on South West-based organic companies, including peanut-free nut butter company Nutcessity, raw chocolatier As Raw As, and vegan cheese company Bath Culture House. Says Cox of the tried-and-tested tasting approach: "I think the reason that tastings work so well [with small brands] is that it's not just a product on the shelf, but people are actually trying it and becoming aware of what it is."
Meanwhile, Alan Martin, co-owner of indie health food chain Food for Thought and Oliver's Wholefood Store, is planning an 'easier than foraging' theme in his stores during the campaign to coincide with the time of year when people are out searching for mushrooms.
"We're seeing more and more companies out there, like Paleo Planet, producing ranges of medicinal mushrooms which are being distributed by some of the major wholesalers," says Martin, who reports that demand has increased for the stores' range of culinary, dried, medicinal snacking mushrooms. To inspire customers when it comes to all things fungi-related, Martin's team is putting out a special Organic September newsletter chock full of tips, ideas and recipes.
Martin also sees the foraging theme as an opportunity to prepare customers for the winter months. "By the time you get to September and early October you're beginning to get into [the theme of] immunity," Martin continues. "As we come into the autumn and winter with the cold and flu season [around the corner], the message is 'Don't wait until winter when you get a virus or a cold, build up your immunity now'."
Organic cotton picks up
Although food is the focal point of Organic September, interest in organic cotton is gathering steam. 2018 saw rising consumer and Government expectations for the fashion industry, with a survey by Fashion Revolution finding that three in five people want to know how retailers are improving their environmental and social credentials. The market is responding: the Soil Association's recent UK Organic Textile Market Report identified an increase of 22% in organic fashion sales last year.
Organic cotton has long been hailed as a more sustainable option than its conventional counterpart, creating less pollution and using less energy and a whopping 91% less water during production. Despite boasting credentials which have led to an increase in consumer interest, organic cotton sales still only make up a paltry 1% of the total cotton market. Given that a recent survey found that 85% of people say it's important for retailers to reduce their climate change impact, cotton offers fantastic potential for retailers to demonstrate their commitment to organic.
Martin has already begun to look at ways to bring organic cotton totes into his stores following consumer interest in alternatives to plastic. While the shops don't currently offer organic cotton options, Martin confirms that they are in the works and will be available in the coming months. The hardest part? Deciding what they'll look like. "We wanted to get away from just having the logo or the name of the business on the bag," he says. "There are so many tote bags out there and we wanted something a bit more substantial, that has a nice design on it." 
The stores already stock a range of organic cotton feminine hygiene products by Organyc, which are sold with the VAT paid by the retailer because Martin feels that 'as a policy, [a tampon tax] is fundamentally wrong'. "No one should have to pay a tax on a product that's essential."
Organic September is a once-a-year opportunity to get the message out about organic. This year, that message has broadened beyond the provenance, health and animal welfare benefits that lead so many people to choose organic; it is also about how choosing organic, whether on the dinner table or in the wardrobe, can be part of the wider set of choices that consumers are increasingly aware of to protect the planet.
Alara at the forefront of Organic
Alara Wholefoods Ltd.
Tel: 0207 387 9303
E-mail:  [email protected]
www.alara.co.uk
As the first ever cereal company to be certified organic back in 1988, Alara Wholefoods has persisted as an organic pioneer and visionary in the industry over the last 40 years. Not only does Alara currently boast a range of thirteen organic and delicious porridge, granola and muesli products, it is also working to soon expand its product offering, whilst being completely plastic free. Alara is the first cereals manufacturer to use 100% home compostable film, making Alara completely zero-waste. Alara inspires delicious and sustainable food.
Olivie PowerUp
Atlas Olive Oils
Tel: 07825 094716
E-mail: [email protected]
www.oliviehealth.us
Introducing Olivie PowerUp 'vegetarian caviar', part of an organic range of olive tree supplements from Moroccan desert olive trees.  These trees produce extraordinary levels of antioxidants due to the extreme growing conditions (significantly higher than Olive leaf extract, green tea, grape seed extract). Proven scientifically to produce powerful results in patients with age related illness (arthritis, diabetes, heart problems). 
1 tsp of PowerUp desert olive pearls contains the same antioxidants as 10 litres of regular extra virgin olive oil. Delicious as a dressing for meat, fish or salads.  Sustainably farmed and harvested. Launching in the UK in 2019
Biona Organic Nut Butter Range
Biona Organic
Tel: 0208 547 2775
E-mail:  [email protected]
www.biona.co.uk
Biona Organic's classic and well-loved range of nut and seed butters have been given an exciting new look! All are made using carefully selected ingredients which are freshly roasted in small batches just before milling. No emulsifiers, palm fat or sweeteners are used, so you can be sure you are getting 100% organic nuts, for a natural source of protein. Perfect enjoyed as a spread on bread, in smoothies or to add flavour in cooking, these store cupboard staples will keep the whole family happy.
Chocolate Salted Caramel Mini Pot
Booja-Booja
Tel: 01508 558888
E-mail:  [email protected]
www.boojabooja.com
Booja-Booja is celebrating Organic September by launching one of its most popular dairy free ice creams in a single-serving mini pot. From September, the much-loved Chocolate Salted Caramel Dairy Free Ice Cream will be available in a 110ml 'impulse buy' size. Made with only 5 organic ingredients, and containing no refined sugar, additives or preservatives, this irresistible chocolate caramel ice cream is shwoozled with salted caramel chocolate sauce and won Gold in the 'Puddings and Desserts' category at the 2018 Free From Food Awards. All six award-winning Booja-Booja dairy free ice creams are now available in 110ml Mini Pots.
Vendôme Mademoiselle Organic Alcohol-Free Wines
Brand Organic
E-mail:  [email protected]
www.brandorganic.co.uk
Vendôme Mademoiselle are a range of naturally vegan, alcohol-free organic wines from Belgium. Available in both still and sparkling varieties including Merlot, Chardonnay, Sparkling White and Sparkling Rosé, the original flavour of the wine is preserved thanks to a custom de-alcoholisation process, unique to the producer. Consumers can enjoy these award-winning zero alcohol wines without moderation, following growing trends of alcohol-free adult drinks and organic wines. The full range is now available to order from CLF Distribution. 
Clearspring Organic Tunisian Extra Virgin Olive Oil
Clearspring
Tel: 0208 749 1781
E-mail:  [email protected]
www.clearspring.co.uk
Back by popular demand, Clearspring has relaunched its Organic Tunisian Extra Virgin Olive Oil in 500ml and 1l bottles. The Organic olives are grown and hand-picked using traditional methods in the mountainous Zaghouan region of Tunisia. The superior quality mild and fruity olives are left to grow larger than average before harvesting, making the oil versatile and suitable for everyday use, whilst more affordable than other European olive oils.  It's high in antioxidants, rich in omega 6 and 9, with a fatty acid profile which makes this Extra Virgin Olive Oil ideal for cooking at high temperatures as well as drizzling over your favourite dishes.  RRP £5.79 500ml and £9.89 1 litre. 
Doves Farm Organic Ancient Grain Flour Range
Doves Farm
Tel: 01488 684880
E-mail:  [email protected]
www.dovesfarm.co.uk
Discover the award-winning ancient grain flour range from the UK's no.1 organic flour brand*, Doves Farm. Expertly milled from organic ancient grains including Rye, Spelt, KAMUT® Khorasan, Buckwheat, Emmer and Einkorn, each flour is packed with unique, naturally delicious flavours that add variety to breads, biscuits, cakes, pastry, pancakes and much more. Perfect for the health conscious or adventurous home baker, ensure you stock up in time for Organic September!  *Kantar Worldpanel, 52 w/e 21 April 2019
Essential Organic Sweetcorn
Essential Trading Cooperative
Tel:   0117 943 0800
E-mail:  [email protected]
www. essential-trading.coop
Sweet and juicy, Essential's organic sweetcorn is perfect for summer salads and risottos.  Cream of the crop, the corn is canned fresh from the kernel without any heat treatment – preserving its rich nutrient content and golden colour.  Sweet corn is also a great source of fibre and vitamins B & C. No matter the weather, Essential's organic sweetcorn is bound to add a little sunshine to your plate! 
Flaya Organic Vegan PerfumesFlaya GB
Tel: 07544 363345
E-mail:
[email protected]
www.flaya.co.uk
Do you care about what you put on your skin as much as the food you eat? Do you know what's in your perfume? Choosing a certified perfume gives consumers confidence that their perfume has been produced to rigorous organic standards. Flaya perfumes are certified by the Non-Food Certification Company, a division of the Organic Food Federation (one of the oldest established organic certification bodies in the UK). Our perfumes contain 80-92% certified organic ingredients and are handmade in rural Scotland. Available directly from Flaya or via our distributor Pravera Ltd.
Choose Flaya for a fragrance you can trust.
Just Wholefoods Vegan & Organic Vegebears and Frooty Fruits
Just Wholefoods
Tel: 01285 651910
E-mail:  [email protected]
www.justwholefoods.co.uk
Just Wholefoods know that it can be hard to find delicious vegan treats without any nasties, which is why they make their own in the heart of the Cotswolds. All their products are made without artificial colours, flavours or sweeteners, and their organic fruit jellies are no exception.  Award-winning Vegebears Slightly Sour! are bursting with fruity flavour and a sourness that tingles your taste buds. All Just Wholefoods sweets are made with the best organic ingredients, never with palm oil, and are always gluten free. A real treat for big kids of all ages.
Antipodes Grace Gentle Cleanser
Kinetic Natural Products Distributor
Tel: 08450 725 825
E-mail:  [email protected]
www.kinetic4health.co.uk
In independent laboratory studies, Antipodes Grace Gentle Cleanser has been dermatologically approved for sensitive skin. A holistically soothing formulation featuring Vinanza Oxifend, to reduce redness and calm inflammation. Nutrient-rich avocado oil and marigold bloom gently yet effectively cleanse, freshen and soften the skin. Suitable for removing makeup. Fragrance free. Certified organic by BioGro, 100% of the ingredients are from natural origin and 79.5% of ingredients are from organic cultivation. Certified vegetarian by the UK Vegetarian Society. 
Avalon Organics Apple Cider Vinegar Shampoo
Kinetic Natural Products Distributor
Tel: 08450 725 825
E-mail: [email protected]
www.kinetic4health.co.uk
Avalon Organics Apple Cider Vinegar hair care features a medley of raw apple cider vinegar, nettle extract, and argan and babassu oils to clarify and restore hair to its natural pH balance, and condition hair and seal the hair cuticle, locking in shine and reducing fly-aways. The conditioner is clinically tested: 91% of users reported easy to detangle hair after use and reported hair looked smooth and free of flyaways. NSF/ANSI 305 certified organic, EWG verified, which means the products meet strict criteria for ingredients, transparency, and health, sulphate-free, GMO-free, paraben-free, no synthetic fragrances or colours, cruelty-free, vegan and biodegradable.
Garden of Life mykind Organics Vegan D3 Organic Spray
Kinetic Natural Products Distributor
Tel: 08450 725 825
E-mail:  [email protected]
www.kinetic4health.co.uk
A whole food vitamin D3 spray formula that's certified USDA Organic, Vegan, Gluten Free and Non-GMO Project Verified. Mykind Organics Vegan D3 offers a potent and active form of vitamin D (cholecalciferol) for the body—because that is what the body naturally produces after sun exposure. This vitamin D supplement is great for everyone, but was designed with vegans and vegetarians in mind as most sources of vitamin D—other than sunlight—come from animal products. Since Vitamin D3 is a fat-soluble vitamin, Vegan D3 also contains organic plant omegas—from organic pumpkin seed oil and organic cranberry seed oil.
OM Organic Mushroom Nutrition Lion's Mane Powder
Kinetic Natural Products Distributor
Tel: 08450 725 825
E-mail: [email protected]
www.kinetic4health.co.uk
OM Lion's Mane for memory, focus & nerve health to inspire clarity, creativity & mood. Many studies
report that Lion's Mane stimulates the synthesis of Nerve Growth Factor (NGF), a protein that promotes the growth and normal function of nerve cells. Adds focus and spark for brilliant cognitive function. Grown in California, Om is a leading producer of pure, fresh, certified 100% organic mushroom powders that may support optimal health. OM combine the perfect balance of ancient wisdom with modern methodology togrow these miraculous mushrooms in their state-of-the-art clean room facility.
Nutiva Coconut Manna Squeezable
Kinetic Natural Products Distributor
Tel: 08450 725 825
E-mail: [email protected]
www.kinetic4health.co.uk
All the goodness of Nutiva Organic Coconut Manna now available in a squeezable pouch. No need to refrigerate, easy to dispense and mess-free, add this coconut butter in an instant to smoothies, sauces and soups, or add to water to make coconut milk, use for baking or as a spread, or add to oatmeal. Available in three delicious flavours – Coconut (original), Almond and Chocolate. Vegan, keto- and paleo- friendly, cold-pressed, unrefined, non-hydrogenated, trans fat free, Non-GMO Project Verified, certified organic. 
Organic Food Bar Active Greens Chocolate Covered +Protein
Kinetic Natural Products Distributor
Tel: 08450 725 825
E-mail: [email protected]
www.kinetic4health.co.uk
Organic Food Bar Active Greens contains 11g of raw organic protein, including 4000mg of an
exclusive green superfood blend with spirulina, wheat and barley grass and blueberry and raspberry. There's also 7g of fibre per bar, which is 28% of the recommended daily intake for adults. The Active Greens Chocolate Covered +Protein; has a whopping 15g of protein per bar. The planet's best green superfoods elevated to gourmet dessert standards. Perfected for your discerning palate. Certified organic, 90% raw, vegan and gluten free, alkaline forming, no GMO's, trans fats, preservatives or additives .
Every home deserves a green clean!
KINN Living
Tel: 01883 626 628
E-mail:  [email protected]
www.kinn-living.com 
At KINN we believe in the power of plants, and we believe that they can change the world! Our environment both privately and in the wider World need to be cared for, and we think the best way to do this is to cut the harsh chemicals. Our natural cleaning and laundry formulas are just as effective as traditional cleaners but without the petrochemicals, phosphates, enzymes, synthetic fragrance and animal by-products. We don't see much point in using dye and we don't test on animals. 
Organic Traditions Maca X6 Powder
Kinetic Natural Products Distributor
Tel: 08450 725 825
E-mail: [email protected]
www.kinetic4health.co.uk
Organic Traditions Black & Red-Purple Maca X-6 is a 6:1 raw' cold gelatinized concentration of 80% black' 15% red-purple and 5% yellow Maca. Six pounds of these three fresh maca root varieties are condensed into one pound of powder. Unlike other dried high heat gelatinized Maca powders' Maca X-6 is obtained through a process of "cold gelatinization"' which removes the starch from the root leaving a more concentrated powder that is not only easier to absorb and digest' but that offers a greater concentration of powerful phytonutrients. Organic Traditions is committed to the highest quality organic certified superfoods from around the world. 
Tree of Life Organic
Tree of Life
Tel: 01782 567100
E-mail:  [email protected]
www.treeoflife.co.uk
The Tree of Life brand has been going from strength to strength this year and now offers over 150 certified organic products. 
Delivering on its goal to make health easy for shoppers and retailers alike, the brand offers a wide range of healthy, organic products for all meal occasions including Store-Cupboard Essentials, Gluten Free Pastas and Sauces, Coconut Oil, Syrups, Snacks, Superfoods and Apple Cider Vinegar with the mother. 
Recent launches Superfood & Protein Pasta and Raw Chocolate build on the range of organic, clean-label products and provide healthier alternatives meeting the needs of today's increasingly health-focused shoppers.
Urtekram
Healthy Food Brands
Tel: 01403 786460
E-mail:  [email protected]
www.healthyfoodbrands.co.uk
Since the 1970's, Urtekram has manufactured pure and natural body and hair care products certified organic with the COSMOS ORGANIC certification. All products are vegan, made with vegetable ingredients, contain no endocrine disrupting parabens or synthetic preservatives, are made without petrochemical ingredients and not tested on animals. This year, Urtekram have chosen to act responsibly and take care of the environment, by the end of 2019 more than 85% of body and hair care products will be made from sustainable plant-based packaging made from sugar cane.
Golden Greens Organic
World Foods Brand Management Ltd
Tel: 01782 366080
E-mail:  [email protected]
www.wfbm.co.uk
The Independent Health stores leading range of Organic nutritional powders will be heavily promoted during Organic September through The Health store, Tree of life and Modern Herbals.
Best sellers include the Organic Prebiotic inulin and Collagen complex, but with over 50 Organic products to choose from you can offer your customers the most comprehensive range of Organic powders which are especially for Independents.