A traditional full English may not be the first thing that springs to mind when contemplating a nutritious cooked breakfast, but Jane Wolfe highlights the innovations enabling health-conscious consumers to create custom-fit versions
Everyone's idea of a perfect cooked breakfast differs. Should baked beans make an appearance? Tinned tomatoes or fresh? What about black pudding? Hash browns? And how do you like your eggs: poached, scrambled or hen-free? Then there are dietary considerations: vegetarian, vegan or carnivore? Luckily, whatever your customers' preferences, all angles are covered by health food stores for them to cook up a perfect morning plateful.
Alisdair Corbett, owner and MD of vegan store Easter Greens in Edinburgh, says customers come into his store looking for 'that cooked breakfast combo', especially at weekends. So, let's start with plant-based choices. 
"Cooked breakfast is one of my favourite meals and when I decided to go vegan, one of the things I really struggled with was finding the ingredients to make a proper breakfast, especially the egg component," says Corbett. However, innovations and a bit of culinary trickery have laid this problem to rest. "We've got two different brands of tofu-based scramble – one by Bonsan and one by Clearspot – but a lot of people just use a firm tofu. They mash it up and cook it with turmeric and kala namack (black salt) – that's where you get the egginess from when you're doing a vegan-style scrambled egg. There's also dried, powdered egg replacements; we've got one from Orgran for making scrambled eggs, omelettes, frittatas and quiches. You just add water and cook it in a pan – that works quite well, and you can keep it in the cupboard."
Instead of trying to recreate the egg experience, Matt Philpot, Better Food marketing manager, takes a different tack. "Often in a lot of vegan breakfasts I've had you switch out, and rather than trying to replace the egg you make it exciting on its own, so having local, organic spinach that's wilted or crushed avocado as a bit of a feature alongside the usual mushrooms and roast tomatoes. Personally, if I choose to have a vegan breakfast, I prefer to make it feel different, really show off the veggies and make it a bit special rather than replace what's missing."
When I decided to go vegan, one of the things I really struggled with was finding the ingredients to make a proper breakfast
One of the swap-outs Philpot mentions is avocado, which Corbett also agrees is a popular component of a vegan breakfast for his customers. "Avocados are one of the biggest sellers in our fruit and veg section, says Philpot. "I imagine some of that is going on toast and you can have it mashed or sliced, it's a good alternative in terms of getting some healthy oils and lots of vitamins." He stresses that the retailer is very conscious about sourcing avocados, and they're never air freighted.
For non-vegans, new-to-market Carbon Neutral Eggs from Respectful provide a more sustainable egg option. Respectful's free-range farms use renewable energy and the white hens that are reared and raised there are fed on GM-free crops and have an inherently low carbon footprint, as they are more productive, live 40% longer and consume less feed than standard brown hens.
Non-meat matters
The first thing many potential converts cite as the biggest hurdle preventing them from becoming vegetarian is the thought of giving up bacon, but this dilemma has been solved in recent years with a rash(er) of plant-based alternatives available to suit all tastes. From Verdino Green's smoked streaky pea protein Plant-Based Bacon and VBites soya protein All Day Bcn Rashers, to Love Seitan Facon Bacon (try saying that before your morning coffee) and Seamore Organic Seaweed Bacon – 100% organic seaweed that 'turns into (green) bacon when fried'.
"Bacon is really popular," says Corbett. "We've got THIS Isn't Bacon Rashers, made from soya and pea protein, and another popular replacement for bacon in breakfast are tempeh rashers, again they're soya-based. We also have all different types and flavours of sausages. In Scotland we have what's called a lorne or square sausage – the ones we have from Sgaia are wheat-based, so the wheat gluten gives them a meaty texture, and they also do nice smoky rashers. There are a couple of vegan black puddings we do too, from The Real Lancashire Pudding Company and The Bury Black Pudding Company."
Known for its nitrate-free Naked Bacon, one vegan option that's hit the High Street is from Finnebrogue Artisan which teamed up with Costa Coffee for its Vegan Bac'n Bap – the first plant-based bacon breakfast bap to be sold at the chain – made using the brand's Naked without the Oink bacon-style rashers. 
For meat-eaters, local and organic options are the way to go. Better Food has worked with a local farm called Adeys Farm for over 20 years. "They're all organic and use heritage breeds," explains Philpot. "They do sausages to our own recipe and deliver a couple of days a week to each of our shops. By being organic and very local, if you do choose to eat meat in your breakfast we feel these are about as good as you can get in terms of quality and impact. As well as the other practices they follow on the farm, the abattoir is very local to them, which is quite unusual in terms of meat production, I believe, so it means the best in terms of the welfare of the animals that then go into the sausages. They do our bacon and the black pudding we sell as well." 
Swerving the stove
Customers who don't want to recreate a full English, can choose from a plethora of other health store breakfast goodies, from yoghurts, nut butters, chocolate spreads, honey and bread, to smoothie ingredients, pastries, cereals and the alt-milks to splash on them. Not to mention gallons of teas and coffees. 
"You could do vegan smoked salmon, bagel, cream cheese," says Corbett. "We've got different coconut-based and oat-based cream cheeses. We stock about 50-60 cheeses in the fridge, with a couple of local artisan brands, including Earthy Cheese. In terms of the big brands, there's Violife, which does a good cream cheese and Sheese which has a few, including a Plain and Garlic & Herb.
Oat milk seems to have just taken over. When you go out for a coffee it seems to be oat milk now where it used to be soya or almond milk
"We've got all sorts of peanut butters, jams and breads. We have a local bakery that delivers not just bread but pastries as well, so vegan croissants, apple and cherry Danishes, pain au chocolat, and these are popular."
Better Food buys its bread locally too, from a couple of core suppliers. "We use Hobbs House Bakery and The Bristol Loaf, who do our organic sourdoughs – that's the bread we use in the cafés for toast or breakfast options," Philpot says, adding that the stores aren't back to offering a full hot breakfast menu in their cafés at the moment. "It's still a limited range in terms of the previous proposition where we were doing quite a wide brunch menu. We're more limited to porridge and muesli, and we do quite a lot of locally based pastries – we use The Forest Bakery for our vegan pastries."
And for toast toppings: "We sell a lot of classic peanut butters, but also do a range of butters by Nutcessity, based in Bristol, which has an interesting organic collection – like Gingerbread Almond, Date & Walnut, Caromel Cashew – which is hugely popular with our customers. Where there's something a bit different our customers like it, so we also produce our own marmalade from organic oranges each year from an old Better Food recipe, and that sells out."
Oats so popular
Corbett says their mueslis and granolas remain good sellers, both off-the-shelf packs and refills, with plain porridge oats still popular but more people also trying pinhead porridge or ground oatmeal for a more textured porridge.
This is echoed by Philpot: "Different organic mueslis are still really popular. Because we do refills, we find some of our customers put together their own mixes with dried fruit, nuts and seeds, working to their own very specific recipes. Certainly in the cafés, bircher mueslis and colder options work well. We're also doing various hot porridges, so in the new Gloucester Road store we've got a self-service porridge counter with a couple of different flavours which people can eat in the café or take home or to the office. I don't think porridge has slowed down at all."
Latest launches in the organic cereal sector include FREEE's two new high-fibre gluten-free breakfast cereals, both of which offer a source of fibre. Containing crunchy toasted breakfast flakes mixed with coconut, banana, sultanas and apple, Fruit & Fibre is made without nuts or any other of the top 14 allergens. Nut- and soya-free Supergrain Hoops are made with buckwheat, oat, teff and quinoa, lightly coated in organic syrup and toasted. 
For alt-milk accompaniments, oat is the on-trend ingredient. "The two big brands we sell are Oatly and Minor Figures," says Corbett. "We still sell quite a lot of almond and soya milk, there's a brand called Sproud who does a pea milk, then we've got various others, tiger nut, cashew and hazelnut, but they aren't so popular. Oat milk seems to have just taken over. When you go out for a coffee it seems to be oat milk now where it used to be soya or almond milk."
If your customers are looking for something else to use their oat milk for, Easter Green stocks a wide range of teas as well as ground coffee and coffee beans, and Corbett has also been talking to a local company about getting coffee beans for refill.  
"We use Wogan Coffee who are based in Bristol," says Philpot. "They do an organic blend for us, and we use this in our cafés. Teas are massively popular – we've got a really large range relative to our coffee – we have four times the space devoted to teas in each store and quite a bit of that range is in the cafés. From smaller, fairly small-scale suppliers like Organic Herb Trading company, which we have as leaf tea refills, to Pukka which is still popular due to the Bristol connection."
Alara Cereals
Alara Wholefoods Ltd
Tel: 020 7387 9303
E-mail: [email protected]
www.alara.co.uk
Alex Smith, who created Alara back in 1975, was also the person who came up with the first muesli recipe with no added sugar. Manufacturing healthy cereal breakfast has always been his main priority and the reason none of Alara's cereals contain this ingredient which is causing so much harm to the health – all products are naturally sweetened with fruits. They do not include either any additives or preservatives to make sure the body receives the nutrients it needs from 100% natural ingredients. Organic Alara, delicious, nutritious and sustainable, the perfect choice for a healthy breakfast bowl.
Naturli' Organic Vegan Spreadable 450g
Naturli Foods A/S
www.naturli-foods.com
A slice of bread just isn't the same without the taste of butter, so we have produced an alternative for everyone who eats plant-based food. 100% plant-based Naturli' Organic Spreadable, which tastes the way it should. Enjoy a warm slice of toast with spreadable melting in your mouth and into your heart. Feel the power of the plants and give your tastebuds a delicious journey as you use the spreadable on scone, over warm sweetcorn, or in a sandwich. We believe you won't need any other spreadable again. RRP: £3.75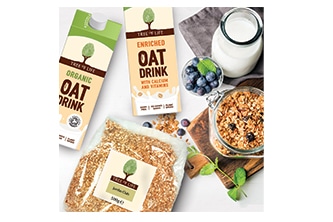 A Better Breakfast!
Tree of Life UK Ltd
Tel: 01782 567100
E-mail:  [email protected]
www.treeoflife.co.uk
Tree of Life offers a wholesome range of organic and natural breakfast cereals for a healthy start to the day. From a warming and sustaining bowl of Organic Porridge Oats to fibre-packed Organic Bran Flakes, or combine our oats, coconut oil and choice of dried fruits, nibs and seeds for a healthy and tasty homemade granola. Tree of Life's deliciously dairy-free Oat Drinks are the ideal pairing splashed onto cereal or stirred into porridge, whilst the Barista Oat Drink is the perfect partner to foam, froth, and steam into coffee creations, it's also great in tea with no separation.
Biona Organic Rye Bread
Biona
Tel: 020 8547 2775
E-mail:  [email protected]
www.biona.co.uk
Elevate your vegan breakfast offering with the best-selling and Great Taste Award winning Biona Organic Rye Bread, lovingly baked using traditional artisanal skills at a family-owned Bakery in Muensterland, Germany.
Made from freshly ground grains for maximum freshness, Biona Organic Rye Bread has a satisfying, nutty texture and is packed full of wholegrain goodness, essential for a healthy and fibre-rich diet. This simple breakfast product that is part of the extensive Biona Rye Bread range addresses convenience, flavour and health.
Naturli Organic Vegan Block
Naturli Foods A/S
www.naturli-foods.com
Some food simply isn't the same without butter. We all know the slightly sinful taste of butter slowly melting on top of warm potatoes. That's why we produced an alternative for everyone who eats plant-based food: 100% plant-based Naturli' Organic Vegan Block, which tastes delightful. Naturli' Vegan Block can be used for baking, in your creamy pasta dishes, to fry your mushrooms with, to your sauces and to wok vegetables, you name it. Cooking plant-based will never be the same again. RRP: £1.95
Bio&Me Original Gut-Loving Prebiotic Yoghurt
Bio&Me
www.bioandme.co.uk
Bio&Me is created by Dr Megan Rossi BSc PhD RD – The Gut Health Doctor, Registered Dietitian and Nutritionist. Her vision is for Bio&Me to become a multi-category brand that brings clarity to the world of gut health and seeks to make looking after your gut easier and more enjoyable. The new prebiotic yoghurt range is packed full of live and active cultures – a massive 700 billion of them! – more than any other yoghurt brand in the UK and each pot contains 18 different cultures.  The benefits don't stop there. The yoghurts are all made with West Country milk and contain no added sugar, artificial sweeteners, thickeners or emulsifiers. They are lower in lactose, high in protein and a source of Calcium, B12, B2 and Phosphorous. In fact, we're proud to say that it's the only brand that carries the prestigious EFSA-approved 'Good for your Gut' health claim. Available in three delicious flavours: creamy Original; indulgent Madagascan Vanilla and tasty Alphonso Mango. RRP: £1.80. Available from Sainsbury's and Ocado