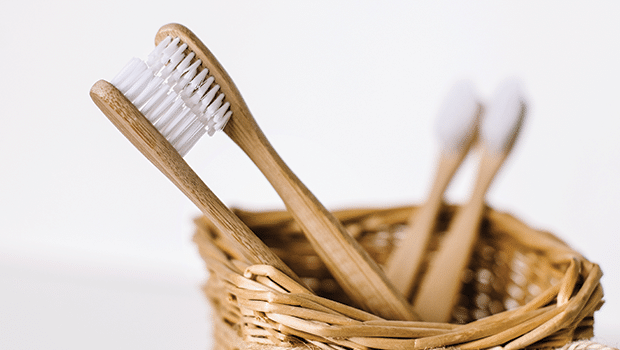 The UK has a problem, and it's not just the occasional toothache. Rosie Greenaway books an appointment with the dental care industry to find out what attempts are being made to take the plastic out of periodontology 
When you go for the dreaded check-up, your dentist typically scores your teeth using a periodontal index which assesses the severity of any decay or disease which may be present. But the UK has a much bigger problem than gingivitis alone, and it begins with the letter 'p'. 
The Blue Planet Effect – or The Attenborough Effect, as it's also affectionately known – is wide-reaching, and it doesn't stop at plastic bags and cotton buds. Many dental professionals recommend routinely changing your toothbrush every three months to maintain optimal performance and avoid the build-up of nasty bacteria – but this is advice which has significantly contributed to the oral care market's bad reputation among zero waste advocates. Figures vary between sources, but around the world it is estimated that approximately 3.5 billion plastic toothbrushes end up in landfill each year. As a result, they have become a target for the anti-single-use community.  
Head to head
For some time now, biodegradable handles have been marketed as a guilt-assuaging alternative, but there remains some debate in the dental sector over their superiority when compared to the performance of a conventional electric toothbrush, and many dentists continue to urge their patients to stay loyal to their buzzing brushes. However, now, in what is believed to be a first in dental innovation, the oral care market is taking a big leap forward on its sustainability journey with the launch of a recyclable electric head which is hitting the shelves of Holland & Barrett. 
Despairing at scenes of plastic pollution around the world, Mohsin, founder of LiveCoco – an electric toothbrush user himself – set about finding a solution to the waste generated by these devices. "It was very important to me to make sure the whole thing is recyclable. First I looked at compostable solutions … but it just wasn't possible. We spent a load of money testing different materials; none of them worked, they just broke." 
Eventually settling on a body made from polyoxymethylene (POM), a thermoplastic which can be melted down and reprocessed without significant degradation, and bristles made from recyclable nylon and activated charcoal, Mohsin says he worked closely with the manufacturer 'to get the formula right'. 
Oral-B-compatible, the recyclable heads simply click onto the electric base, and away you go. It's an innovation which could appeal to the masses, but what about the lazy consumer, I hear you ask? Won't they simply throw them into household waste as a result of the UK's over-complicated and highly limited domestic recycling system? 
Livvy Drake, sustainability and behaviour change consultant at Sustainable Sidekicks, says first and foremost it's the producers who must take responsibility for the products they're putting on the market. "If there isn't a clear waste stream for them, they [should] take them back." 
Send 'em packing
LiveCoco's returns scheme is a work in progress, but it does get around the issue of how to recycle a mixed-material product. Customers are invited to return their used heads so the brand can separate and fully process each component using a private scheme similar to TerraCycle. "There's an address on the back of the box and on the website – people just send it back and we get it recycled." At present, postage costs are passed on to the customer, but following feedback Mohsin is 'looking at other ways' of working.
Drake, curious about the subsequent phase of the product's life, questions what those heads become next: "Are they turning them back into toothbrushes? Or are they being downgraded into watering cans?". Mohsin confirms that for the time being they are reincarnated as household items such as watering cans and garden furniture, which, as Drake points out, is downgrading something to reach its end of life.
While LiveCoco's efforts are a welcome development, Drake warns designers of eco-friendlier oral care products to avoid 'riding a wave of environmental concern'. Unless the producer is considering the issue of end of life, 'they're not being any more responsible than anybody else', she explains. Drake challenges brands to go one step further by making it possible to retain and sterilize the long stem and simply remove the very top part of the head containing the bristles, thus reducing material waste further. "This is the way things have to go and this is the real future," she insists.  
Mohsin admits there's a long way to go, but believes if everyone 'does a little bit' then progress can be made. "It's not the best solution, but it's better than what's out there," he says, adding that eventually the brand hopes to close the loop by only using recycled materials in production. "This requires big changes at the factory in terms of the manufacturing. It will take some time to get there. We are also hoping that a compostable material will be developed that is strong enough so that we don't need to use plastic at all – this is the dream!
We are waiting for technology to catch-up with our needs."
Bamboozled?
So how about bamboo options? Granted, the raw material is biodegradable – even home-compostable – earning them plenty of press and celebrity attention. But, says Drake, there's no getting around the bristles, which are nonetheless made from nylon and can easily come loose and slip down the drain. "This is my issue with bamboo toothbrushes: they're veering on the side of greenwashing for me. 
"What do you do with a bamboo toothbrush that's nylon and wood? What's the waste stream for it? You couldn't put it in the compost bin because it's got plastic in. You've got mixed materials basically – it's confusing. You could put it into landfill [but] wood is a natural material so that's going to create methane when it breaks down. You can burn it, but then you're burning plastic, so actually you need to saw off the head."
Noel Abdayem, founder of The Humble Co, does in fact recommend that his customers 'drag out the bristles or break the head of the brush' before either composting its ergonomic handle or burying it 'down low in nature'. Although it's tricky to measure the exact success of this, Abdayem believes the rates of uptake are 'pretty high' since 'the Humble consumer is very conscious'. 
As for the great debate between electric and manual, Abdayem points out that according to the American Dental Association, both types are equally as effective at removing oral plaque. In his experience, the dental sector is seeing a noticeable shift towards environmentally friendly products, partly due to patient power. "We can see this by the growing number of requests we get from dental practices. There is definitely a lot more that can be done as there is still a great amount of single-use plastics used within the dental sector. Patients have a lot of power to influence dentists … to look into alternatives." 
That being the case, we can surely expect to see more bamboo brushes lining the shelves of dentists' waiting rooms, as patients and professionals alike are swayed away from tradition. But the rising demand for this flourishing plant could be causing its own issues, according to Drake. "With all these things being made out of bamboo, where are all these bamboo forests appearing from? What's being deforested to make way for bamboo?" she asks. Rather than this 'push towards bamboo' in retaliation to plastic, Drake believes we should be instead relying on 'recycled materials and using contents which already exist in the world'. 
"The thing about bamboo is it's fast-growing, so as a wood it's quite a good one. As soon as you start turning it into clothing, that's not so great – but that's another dilemma!"
Hot stocks
Bright white
Lavera's new Whitening Toothpaste uses a natural and organic formula to protect against cavities, tartar and gum problems, accompanied by the new Green Strong and White Complex which helps strengthen teeth. Lavera's entire dental range has been reformulated to become vegan, and is now housed in more eco-friendly packaging. 
Sustainable smiles
The brand founders' search for sustainable, effective dental care led Ben & Anna to develop its own line using sea buckthorn, chamomile,
activated charcoal, cinnamon and calcium for durable teeth and healthy gums. The range is avail-able in Black, Sensitive
and White Toothpastes to gently clean and whiten teeth, as well as Cinnamon and Black Toothpowders. The natural products are free of phthalates, parabens, microplastics, SLS and formaldehydes.
Quick and fresh 
A natural, waterless, practical alternative to conventional mouthwash, Mouthwash Powder from Qikfresh is an on-the-go solution to maintaining fresh breath. Each individual sachet  contains 100% vegan and cruelty-free ingredients, with no preservatives. Qikfresh Mouthwash Powder is certified by COSMOS Natural.
Gummy goodness
Moistening for gums, the Periobrite Cinnamint Toothpaste from Nature's Answer is dentist-formulated to naturally brighten teeth. It is fortified with CoQ10 and folic acid while being free from alcohol, fluoride, artificial sweeteners and preservatives. Because it is created using a cold extraction process, the brand says that the herbal benefits of the raw ingredients are captured and preserved.
Urtekram Bio 9 Mouthwash and Toothpaste
Healthy Food Brands
Tel: 01403 786460
E-mail:  [email protected]
www.healthyfoodbrands.com
Launching this September, URTEKRAM's new range of Bio9 dental care products. Each contain willow-bark extract that actively helps to clean your teeth. This extract prevents sensitive gums and teeth, as well as combating gum inflammation. The ingredients used are carefully chosen. The organic willow-bark in the formula is from a special red willow, growing in the North of Jutland. 
The range consists of 3 products, a strong mint sensitive toothpaste developed to balance the natural defence of the mouth and relieve sensitive teeth. A fresh mint whitening toothpaste with apatite developed to strengthen the enamel on the teeth and a strong mint sensitive mouthwash 
All 3 products have 9 great benefits including; preventing progression of sensitive teeth & gums, help to fight dental caries, plaque and gingivitis, give long lasting fresh breath, support the oral microbiome fighting unwanted bacteria, they are gentle, without fluoride, without alcohol, and without SLS & SLES, they contain no preservatives,  are 100% natural, vegan and cruelty free, and Certified Cosmos Organic by EcoCert Greenlife
This year, Urtekram have chosen to act responsibly and take care of the environment, by the end of 2019 more than 85% of body and hair care products will be made from sustainable plant-based packaging made from sugar cane. The advantage of using sugar cane is that it is a renewable resource, which absorbs CO2 from the air. Every ton of sugar cane absorbs two tons of CO2 from the environment.
Berry Healthy, Oral Health
Wholesale Health Ltd
Tel: 01606 889905
E-mail:  [email protected]
www.wholesalehealthltd.co.uk
Coral Toothpaste have added an exciting new Nano Silver Bubble Berry Toothpaste flavour to their world first re-mineralising toothpaste range.
Provides complete oral care protection and a refreshing mouth clean thanks to Coral Calcium from sea coral and Xylitol, 11ppm SilverSol, and therapeutic grade peppermint oil.
Formulated with ECOSAFE Coral Calcium from above sea coral, Coral Nano Silver toothpaste is scientifically proven to kill over 650 pathogens and is clinically proven to kill 99.99% of bacteria causing bad breath, plaque and gum disease. Coral Calcium may also help remineralise tooth enamel.
Combined with therapeutic grade peppermint oil, Coral Nano Silver toothpaste provides a powerful, eco-friendly and non-toxic way to brush your teeth. As it's fluoride-free, it provides an all-natural solution for a clean feeling mouth. It is also exceptionally powerful at fighting oral pathogens, killing any bacteria that can otherwise lead to cavities and gum disease.
Xylitol is a natural sweetener that's added to the Coral Nano Silver toothpaste because of its ability to starve plaque-producing bacteria in the mouth. Xylitol is also an excellent addition to the toothpaste, as it is kind on those who have sensitive teeth. 
We also supply a range of products to help provide complete support for best dental and oral health including:
Coral Nano Silver Mint Mouthwash – scientifically proven to kill 99.99% of the bacteria that cause bad breath, plaque and gum disease, leaving your mouth feeling…well… exhilarated! Now available in 3.4oz & 12oz bottles.
Xylitol Chewing Gum – a natural alternative to sugar-laden chewing gum prevents tooth decay and contains less than 2 calories per piece. Xylitol Chewing Gum comes in a variety of flavours including Cinnamon, Cranberry, Fresh Fruits, Green Tea, Peppermint and Spearmint. Suitable for Diabetics.
For more information, please visit www.WholesaleHealthLtd.co.uk or call us on 01606 889905.
Activated Charcoal Toothpaste
Fuss Free Naturals
Tel: +61 8 9240 2088
E-mail:  [email protected]
www.essenzzahealth.com
Fuss Free Naturals activated charcoal toothpaste is the fuss free way to achieve the natural teeth whitening benefits of charcoal. With the added cleaning power of diatomaceous earth, our fluoride and sulphate free formula will leave your teeth sparkling clean. Using organic coconut and Tea Tree oils this toothpaste is pleasant in taste and it's smooth texture won't leave you needing to spring clean the bathroom every day like other charcoal powder products. Working alongside a normal routine of dental care this toothpaste is triclosan free, using no GMO or foaming agents and is vegan friendly. 
Nature's Answer PerioBrite® Natural Brightening Toothpaste
Kinetic Natural Products Distributor
Tel: 08450 725 825
E-mail:  [email protected]
www.kinetic4health.co.uk
Dentist-formulated PerioBrite® Natural Brightening Toothpaste contains Pytoplenolin®, a patented herbal extract that has been shown in independent laboratory studies to promote cell vitality. With a unique combination of soothing organic wildcrafted herbs, well-known for their cleansing action, together with Co-Q10, folic acid, oregano, cinnamon and clove to promote tissue and gum wellness. PerioBrite® naturally brightens teeth, energising your mouth with a cool, sparkling cinnaminty-fresh feeling. No sodium lauryl sulphate, artificial sweeteners or preservatives, fluoride-free, soy-free, and suitable for vegetarians. 
JASON Sea Fresh® Strengthening Toothpaste
Kinetic Natural Products Distributor
Tel: 08450 725 825
E-mail:  [email protected]
www.kinetic4health.co.uk
JASON Sea Fresh® Strengthening Toothpaste features blue green algae (aphanizomenon flos-aquae), rich in calcium, proteins and antioxidants, to naturally strengthen your teeth and gums, and potent spearmint and parsley extracts to keep your breath fresh and clean. An exclusive blend of natural polishers and stain-fighting botanicals includes bamboo powder, calcium carbonate and silica to help prevent tartar build-up. No sodium lauryl/laureth sulfates, preservatives, artificial colours, artificial sweeteners, saccharin, propylene glycol, or gluten. Cruelty-free, vegetarian and vegan friendly.
My Oradent Toothpowder
My Oradent Toothpowder Ltd
E-mail:  [email protected]
www.myoradent.co.uk
My Oradent tooth powder is neither a drug nor a medicine. Suitable for all consumers and for vegans and vegetarians as well. 
Why in powder form? Studies have shown that tooth powder can be more effective at removing plaque than toothpaste. Plus, My Oradent does not contain fluoride, is non-toxic and is also safe for children. Tooth powder stays in contact with the gums for a longer time; absorbs through it and strengthens the fibres which anchor the teeth. Plus, the neutralization effect makes the oral bacteria impotent, and subsequently, they either lose their activity or are unable to produce the destructive enzymes. On the other hand, the combination of essential oils which are very beneficial for gums lose its efficacy while in paste form.
Benefits of My Oradent  – My Oradent acts fast and gives you sustainable result – within 4-6 weeks – for your healthy gums and teeth. It works against the following;
– Swollen gums   – Gingivitis   – Tender gums  – Bad breath   – Receding gums
– Bleeding gums   – Yellow teeth   – Loose teeth  – Periodontitis   – Plaques   – Nicotine, coffee and alcohol stains
Nature's Answer PerioBrite® Natural Mouthwash – Cinnamint Flavour
Kinetic Natural Products Distributor
Tel: 08450 725 825
E-mail:  [email protected]
www.kinetic4health.co.uk
Formulated by a Dentist, PerioBrite® Natural Mouthwash contains a unique combination of soothing organic wildcrafted herbs, well-known for their cleansing action, together with Co-Q10, folic acid, oregano, cinnamon and clove to support tissue and gum health. It naturally moistens gum tissue for long-lasting results when used as part of an oral health program. And since PerioBrite® Natural Mouthwash is all natural and alcohol-free it fights bad breath and relieves dry mouth naturally, energising your mouth with a cool, sparkling cinnaminty-fresh feeling. No sodium lauryl sulphate, artificial sweeteners or preservatives, fluoride-free, soy-free, and suitable for vegetarians. 
Woobamboo eco-awesome oral care for the whole family
Mahi Naturals Ltd
Tel: 020 8886 4001
E-mail:  [email protected]
www.woobamboo.co.uk
Woobamboo exists to provide an eco-friendly alternative to the billions of landfill clogging oral care products purchased every year. The multi-award winning range currently includes bamboo toothbrushes for children, adults and pets plus biodegradable floss. The bamboo used in the toothbrushes is sustainable, biodegradable, organic and not the type eaten by panda's! All packaging is made from recycled and recyclable materials.   Big changes happen if we all make small steps, and these products serve as an inspirational reminder that a small step has been made towards a cleaner planet!
Bella Brighton Teeth whitening Powder 
World Foods Brand Management Ltd
Tel: 01782 366080
E-mail:  [email protected]
www.wfbm.co.uk
The phenomenal interest in activated charcoal has created a new category in dental hygiene over the past year. Charcoal has remarkable stain and detoxifying properties but that's only part of the story. Bella Brighton is the first toothpowder to incorporate meaningful quantities of the key nutrients, Hyaluronic acid, MSM and Co Q 10 which have been used in cosmetic dentistry to benefit oral health. Consumer leaflets and an attractive counter unit are available by calling 01782 366080. Bella Brighton will be featuring across social media this summer so be prepared for the demand!