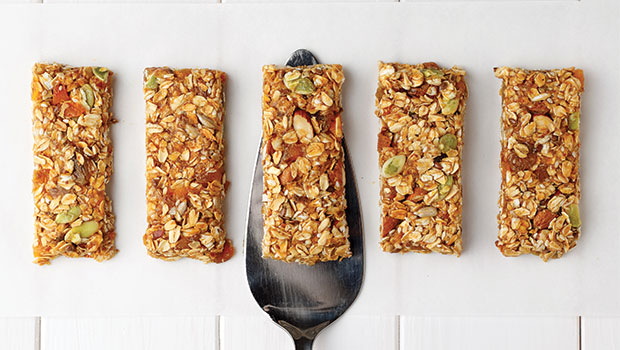 Jane Wolfe discovers that consumers are shunning traditional meal times and seeking out tasty but guilt-free, convenient snacks that nutritionally enhance their diet
Snacking is a well-rooted habit for us Brits: a whopping 96% of people in the UK admit to eating snacks, with 69% of these consuming them daily, according to Mintel. And with our increasingly hectic lives, the appetite for grab-and-go foods shows no sign of waning.
In an indication of just how ingrained this habit is, when Public Health England rolled out its 'One You' campaign in March, centring on the 400-600-600 calorie rule for adult meals, it left room specifically for snacks. In fact, 'snackification' – the replacement of the traditional three squares a day with intermittent snacking – is a growing trend and is leading to people demanding healthy and functional options offering added incentives such as high protein, weight-loss benefits, energy-boosting and mood-enhancing properties. 
"People are busy, so grazing enables them to keep fuelled throughout the day, whereas with a big meal you have to stop, firstly to eat it, but also to digest," says Kate Magic, creative director of Raw Living EU. "We have such  fast-paced lifestyles now that snacking is a way to keep your energy up all day. Our whole attitude to health has shifted so dramatically in the last few years and has become infused into everything we do, why would people want to have a healthy lunch and not a healthy snack alternative?"
Great expectations
In its report, The Power of Snacking, Nielsen identifies seven snacking profiles: impulsive, planned, meal replacement, healthy, investigator, promo and indulgent, all of which can overlap. 'Meal replacement snackers' are the most functional type, says Nielsen: "These are snackers who have missed a core meal and want something to refuel and keep them going; 75% of shoppers identify with this state … For some shoppers, meal replacement snacks have become an important part of their daily meal plan."
"The time-poor are looking for ways of consuming the maximum amount of nutrients in a minimal amount of time, seeking out jam-packed functional snacks combining all the best micro trends in one go," explains Ashley Pollock, senior innovation consultant at consultancy firm Ayming. 
"Collectively, we enjoy fewer sit-down meals and therefore on-the-go or pre-prepared food has risen significantly. We are also starting to expect more from our food; a lunchtime sandwich is now declared as boring, and instead a quinoa and kale pot is much more appealing."
'Healthy snackers' are seeking organic, low-sugar and low-salt snacks based on fruit and veg, says Nielsen. "It's still a functional mission, with 67% of shoppers actively looking for healthy snacking products, and a third willing to pay a premium for products that boast health claims … To meet the needs of this shopper, brands need to make bold, clear claims about health, organic and sustainability directly on pack."
Pollock believes consumers desire cleaner labels and less complicated ingredient lists, agreeing that on-pack health claims are paramount. "For example, the terms 'protein', 'wholegrain' and 'natural' draw consumers into a product. We have seen a trend toward 'protein-me-crazy' consumers who are looking for whey, plant proteins, and even insects. If a snack doesn't shout 'I'm loaded with protein', consumers will often overlook it. 
"Similarly, 'functional-me-crazy' consumers are looking for ingredients such as collagen, CBD, nuts, seeds and fancy oils. Layered into these are also obvious trends towards the 'better for you', natural and plant-based options."
What's occurring?
With consumers wanting products to fit multiple snacking occasions, health food stores need to ensure they are providing enough variety to take advantage of this new way of eating – which shouldn't pose a problem, given the amount of inspiring launches in this area. 
Trends in healthy snacking include innovative flavours formulated using emerging ingredients such as CBD, adaptogens, medicinal mushrooms, insect protein and nootropics, as well as alternative production methods, such as popped and baked, rather than fried.
"67% of shoppers [are] actively looking for healthy snacking products, and a third [are] willing to pay a premium for products that boast health claims"
One rising star, according to Magic, is activated nuts and seeds. "You can go into Wholefoods or Planet Organic and they have rows and rows in all different flavours. Until recently the only brand around was Raw Ecstasy, but I've noticed a lot of new ones emerging over the past year – this is the same thing that happened with sauerkraut and kombucha." As well as selling Raw Ecstasy's range, Raw Living offers its own-brand Activated Sunseeds snack, with added Shiitake or Spirulina.
Yasmin Musewell, in-house nutritionist for Boundless, which produces a four-strong line of Activated Nuts and Seeds, explains the benefits of activation: "Consuming activated nuts and seeds may enhance the availability and digestibility of nutrients to the body. The soaking activates the enzymes and reduces the amount of phytic acid the nuts and seeds contain. The phytic acid can bind to other minerals such as iron and could reduce the rate of absorption. The process also eases the digestion process for people with sensitive digestive systems. Baking some nuts may also increase their nutritional value, such as cashews, where this increases their absorbency and antioxidant capacities."
Sticking to the digestive theme, Purpose Foods recently launched a range of cold-pressed vegan protein bars designed specifically to boost gut health. Its pea protein-based Purpose Bars contain chicory root, which has a positive effect on gut flora, balancing fibre, healthy fats, easily digestible proteins, vitamins and minerals.  
The real thing
The popularity of medicinal mushrooms has bloomed in recent years, so it's no surprise that brands are starting to 'snackify' these nutritional marvels, one example being Other Foods, which has created a line of natural Crunchy Mushroom snacks in Shiitake, Oyster and Trumpet. 
"Many snacks are processed with vegetable powder so you lose most of the nutrients and fibre," says co-founder Fan Yang. "It's like having an encounter with the ghost of a vegetable! We created Other Foods to offer something different."
The snacks are cooked using a low temperature vacuum chamber to preserve nutrients and create an 'irresistible mushroom taste'. Coming in at under 100 calories per portion, they offer all the nutritional benefits of mushrooms in snack form, and count as one of your 5 A Day.
"Savoury snacks are widely viewed as the emerging convenience food category, and according to research, consumers are increasingly looking for a combination of healthy and indulgence when it comes to savoury snacking," Yang adds. "Consumers want real natural snacks again – snacks that look like their natural state, not overly processed. Significant trends in savoury snacking are leaning towards uniqueness and consumers' desire to try something different yet tasty."
Magic agrees that savoury snacks are a growing category in the UK. "I think the idea of savoury snacks as opposed to sugary snacks like chocolate is quite a new thing to the British culture. In Asian cultures people are much more likely to eat snacks like edamame and wasabi peas. You never used to see crispy seaweed crackers here, but now they're everywhere. Another great snack is sauerkraut – it's energizing and refreshing, and obviously really easy on the digestion."
"I'd like to see more low-glycaemic snacks, especially for kids," adds Magic. "A lot of sweet snacks use dates, and there is a growing awareness that even natural fruit sugars are high glycaemic. In our Magic Mix we use yacon root which is very low on the glycaemic scale. This is a new ingredient that until recently was a novel food. It hasn't quite taken off yet, but it will because it's so good. When dry, the sugars in it are not digestible in the body, so although it tastes sweet it doesn't spike the blood sugar."
The snacking sector is set for a healthy future as consumers' desire for tasty bites offering a nutritional boost in a handy format is unlikely to fade any time soon. So what does Pollock see happening in the future? "Growth in the market will continue for the foreseeable future. It is expected to grow annually by 2.1% until 2023. It is likely that we will see growth in snacks for the ageing population. For example, more calorie-dense options for less frequent eaters. This will also include meal replacements such as Huel.
"The ongoing debate on plastic use in the food industry will undoubtedly affect snacks – a market known for its resealable pouches and flexible wrapping. It will be interesting to see how companies adopt more sustainable practices for their packaging. And, with an increased focus on overall sustainability of food products, plant-based will soar, and a traffic light system to represent the carbon footprint per calorie on the front of pack isn't far off."
Hot stocks
Brain food
Neuro-nutrition snack brand Nooro has added two new variations to its CBD Snack Bar range: Banana + Cinnamon and Cacao + Coconut. The vegan bars blend 25mg of CBD, derived from organically grown hemp, with nootropic ingredients such as theanine and tyrosine to support cognitive function and mind performance.
Snacks MadeGood
Canadian snack brand MadeGood has introduced a three-strong line of organic, allergen-friendly Granola Bars that claim to be the first 'safe for schools' bar launched in the UK. Free from most common allergens, the all-natural bars are a rich source of vitamins, minerals and fibre, and come in Chocolate Chip, Chocolate Banana and Mixed Berry. 
Pure ecstasy
To create its Activated Organic Raw Chocolate Almonds, Raw Ecstasy soaks organic almonds to start germination then slowly dries them at a low temperature to maintain their raw state. The activated almonds are then coated in raw chocolate with organic coconut palm to 'balance the
full bodied cacao with a delicate sweetness'.
In the rough
Fledgling brand Satisfied Snacks says that it has taken 'the healthy ingredients of a salad' and created a light and crispy savoury wafer without the need for added sugars or carbohydrate fillers. Roughs are produced using 100% natural ingredients. Variants include: Beetroot & Goat's Cheese, Tomato & Feta, Red Pepper & Walnut and Carrot & Kimchi.
A sweeter side
Pep & Lekker has launched its first sweet varieties of Seed Snacks: Cacao & Coconut and Apple &
Cinnamon. Cacao & Coconut is a high-fibre baked rolled snack made with rice flour, buckwheat flakes, rice protein and seeds bound together with apple purée and chicory root fibre to support good gut health.
AQUA Carpatica Kids Natural Still Mineral Water & AQUA Carpatica Natural Still Mineral Water 500 ml
AQUA Carpatica
Tel: 01895 549 041
E-mail:  [email protected]
www.aquacarpatica.co.uk
Did you know that 6.6 million (75%) UK schoolchildren tuck into a packed lunch and 76% of British people buy lunch for an everyday occasion?  Lunch takes centre-stage at all ages so we decided to offer big and small meals a healthy drink solution. Naturally pure with virtually no nitrates, very low in sodium and mineral content, AQUA Carpatica is the ideal natural mineral water for children and adults. Drawn from two pristine and pure aquifers, nestled deep in the heart of the untouched Carpathian Mountains, AQUA Carpatica is simply as natural mineral water should be: pure. #ItsWaterLove
Biona Organic Rye Bread Range
Biona Organic
Tel: 0208 547 2775
E-mail:  [email protected]
www.biona.co.uk
Biona Organic's range of rye breads are made in a traditional bakery in Germany, where they have been practicing their artisan skills since 1927. The whole range is wheat free and made with no added yeast as they prefer to use a natural sourdough starter that is kinder on the digestive system. From the bestselling Pumpkin Seed rye bread, to the Cranberry and Coconut variety, there's a rye bread for everyone in the range. Whether you top it with smashed avocado or spread it with nut butter, they make the perfect healthy lunch or snack.
Biotiful Kefir and Kefir Quark
Biotiful Dairy
Tel: 0203 761 9765
E-mail:  i[email protected]
www.biotifuldairy.com
Upgrading Dairy since 2012. Biotiful Dairy produce cultured dairy drinks and snacks using the ancient method of fermentation. Their drinks and snacks are naturally full of gut-friendly cultures, lower in sugar and high in protein, vitamins and minerals. With their delicious range, Biotiful Dairy is on its way to becoming a household staple, selling over 17 bottles every minute. And, importantly, improving the way dairy is made and enjoyed.
Free From Fellows Midget Gems
Bravura Foods
Tel: 0203 086 8676
E-mail:  [email protected]
www.bravurafoods.com 
Free From FellowsTM Midget Gems are one of the six strong range that make up this fabulous range of sweets. These tasty vegan Midget Gems are made a delicious twist – they are all made without sugar, gluten, gelatine and dairy! These fabulous products are suitable for everyone, including vegans and vegetarians. Extensive testing with sweetie fans ensured the right variants, flavours, tastes and textures were selected. The products are also egg free, soy free, GMO free, nut free and are free from artificial flavours and colours. 
Panda Liquorice New Raspberry Four Bar Pack
Bravura Foods
Tel: 0203 086 8676
E-mail:  [email protected]
www.bravurafoods.com 
The famous Panda Liquorice presents the delicious raspberry taste sensation, now in a four bar multipack! Panda Raspberry liquorice is also available in a 200g bag and a 32g bar variant. Raspberry Panda liquorice is free from artificial flavours, colourings and preservatives, making this liquorice suitable for kids and adults alike! Raspberry Panda Liquorice is made with real raspberry puree providing a natural punch of fruity flavour.
Vegan Bakery
Bravura Foods
Tel: 0203 086 8676
E-mail:  [email protected]
www.bravurafoods.com 
Vegan Bakery is a range of delicious dairy free biscuits suitable for both vegans and vegetarians. These treats are manufactured by the prestigious Coppenrath bakery, a German bakery with over 200 years of baking experience, they are also certified by the Vegan society. Bravura foods offer three varieties from the range: Cookies 'n Cream, Coconut clouds and chocolate cookies; All of these options are available in 200g cartons. Once your try these biscuits they are sure to become a firm family favourite!  
Orgran Sugar Free Cacao Cookies
Healthy Food Brands
Tel: 01403 786460
E-mail:  [email protected]
www.healthyfoodbrands.co.uk 
Orgran launches the World's First 'Free From' and Sugar Free range! We call them delicious oven-baked bundles of sugar free joy! These cookies, made with the celebrated superfood Buckwheat, and the much-loved ancient grain Chia are sure to make your mouth water. Add into the mix a generous serving of cacao nibs and you've got one crowd pleaser! You can also rest assured that all ORGRAN products come with the guarantee of being gluten free, wheat free, dairy free, egg free, yeast free, GMO free, nut free and vegan.
It's Alive! – Smoked Sriratcha
Eaten Alive Ltd
Tel: 07976 926 184
E-mail:  [email protected]
www.eatenalive.co.uk
This totally raw and 100% natural Sriratcha is made by smoking the fresh vegetables before fermenting and finally blending with raw, live cider vinegar, so it retains a bio-live aspect whilst most importantly tasting out of this world! Don't belive us, it just won three stars at the Great Taste Awards and is available nationwide from September. RRP £3.99 for 150ml.
Essential Organic Soups: New Label & New Recipe
Essential Trading Cooperative
Tel: 0117 943 0800
E-mail:  [email protected]
www.essential-trading.coop
A light lunch during the summer months or a cozy dinner with the autumn settling in, Essential's range of Organic Soups have your bases covered. With a bold and recognisable new label, these soups in recyclable and re-useable glass jars are a stand out, healthy convenience product.  All five of Essential's soups are now vegan and sugar-free. They are quite the quintet! Made up of refreshing pea soup, warming lentil, spicy lentil & pumpkin, classic tomato and hearty tomato & vegetable. Easy to store and quick to heat, so there's no excuse not to enjoy a good healthy lunch!
Clearspring Organic Italian Fruit Purées
Clearspring
Tel: 020 8749 1781
E-mail:  [email protected]
www.clearspring.co.uk
Clearspring Organic Fruit Purées are made in Italy using carefully selected local Italian organic fruit. Nothing but fruit!  There are 11 different fruit pot varieties and 3 three refreshing on-the-go pouches to discover. The fruit pots come in conveniently portioned 2x100g formats and the pouches in hand sized 120g squeezy packs. Enjoy them as they are or add them to smoothies, porridge or anything needing a burst of fruity flavour. They are a quick and convenient way to help customers achieve their 5-a-day. Clearspring Organic Fruit Purées are made without concentrates, sweeteners, preservatives, artificial colourings or flavourings; just pure fruit!
Vegan & Organic Vegebears, Vegebears Slightly Sour! and Frooty Fruits
Just Wholefoods
Tel: 01285 651910
E-mail:  [email protected]
www.justwholefoods.co.uk
Just Wholefoods know that it can be hard to find delicious vegan treats without any nasties, which is why they make their own in the heart of the Cotswolds. All their products are made without artificial colours, flavours or sweeteners, and their organic fruit jellies are no exception. Full of fruity flavour and with a great texture, it's no surprise these fruit jellies have bagged four awards this year alone, including a Great Taste award each. All three sweets are made with the best organic ingredients, never with palm oil, and are always gluten free. A real treat for big kids of all ages.
Natural Traditions Roasted Baru Seeds
Kinetic Natural Products Distributor
Tel: 08450 725 825
E-mail:  [email protected]
www.kinetic4health.co.uk
Introducing baru seeds, a nutrient-dense legume indigenously grown in the Cerrado, the tropical Savanna of Brazil. Wild-crafted and hand-picked, these seeds have more digestible protein compared to almonds and walnuts and are a source of fibre, iron and vitamin E. Natural Traditions Baru Seeds are gently roasted to improve digestibility and offer the same nutty satisfaction as peanuts. Baru seeds, despite being called baru nuts or baru almonds are actually seeds originating from a primitive legume and are completely unrelated to almonds or tree nuts. These seeds are 100% peanut free and yet taste just like peanuts!
Nakd Fruit & Nut Bars
Natural Balance Foods
Tel: 0345 8625340
E-mail:  [email protected]
www.eatnakd.com 
Nakd's delightful range of fruit and nut bars are the perfect snack to offer your customers looking for tasty healthy, treats. Free from artificial sugars, syrups and additives, Nakd is the UK's No. 1 Healthy Snacking Brand, not to mention the fact that all our bars are gluten free, vegan and contain 100% natural ingredients. What's not to love? Available in 16 varieties, Nakd's delicious NEW Banoffee Pie, Strawberry Sundae and Coffee & Walnut flavours offer you the opportunity to delight your shoppers whilst also delivering gobsmacking sales.
Perkier Prebiotic Bars
Perkier Foods
Tel: 07834 267571
E-mail:  [email protected]
www.perkier.co.uk
PERK!ER PREBIOTIC bars for Good Gut Health! Available in 2 delicious flavours, 'Cacao & Salted Caramel' and 'Cacao & Orange', each Perkier bar has 5g of prebiotics from chicory fibre scientifically proven to nourish Bifidobacteria. A healthy gut is critically important, boosting energy levels, nutrient absorption and improving recovery from sport as well as reducing the risk of heart disease and Parkinson's disease. It is also linked to mental health as 90% of our serotonin, the happy hormone, is generated here. Perkier bars are also high fibre, 6g protein, under 150 cals. Free-from gluten, wheat and dairy; 🌱100% vegan and NO PALM OIL
RXBAR protein bars
RXBAR
Tel: 020 3786 8611
E-mail: [email protected]
www.rxbar.co.uk
RXBAR is the fastest growing bar brand in the US and has recently launched in the UK with the top 4 selling protein bar flavours; Coconut Chocolate, Chocolate Sea Salt, Blueberry and Peanut Butter. Each bar is made with a few simple ingredients; 12g of egg white protein, nuts and dates. They contain no gluten, no added sugar, no artificial flavours and no fillers. They're perfect for breakfast on the go, pre/post-workout or just as a healthy snack! Order your box on www.rxbar.co.uk. 
Tree of Life Organic Snacks
Tree of Life
Tel: 01782 567100
E-mail:  [email protected]
www.treeoflife.co.uk
Supercharge snack-time with these seriously delicious healthy snacks, perfect as a tasty treat on the go. The range of 6 organic snacks combine wholesome nuts, tempting dried fruits and crunchy seeds in a one-shot pack. Great for lunchboxes, handbags, desks, or anywhere else you might feel peckish and want a healthy snack to boost your energy. Supplied in shelf-ready trays they're ideal for till points and impulse locations in store. Tree of Life makes healthy snacking easy.
Organic Food Bar Active Greens Chocolate Covered
Kinetic Natural Products Distributor
Tel: 08450 725 825
E-mail:  [email protected]
www.kinetic4health.co.uk
The world's best-selling organic Active Greens bar, covered in a thick coating of organic non-dairy Belgium chocolate. Includes: 4000mg of an exclusive green superfood alkaline-forming blend with spirulina, wheat and barley grass, and blueberry and raspberry; 10g of fibre per bar, which is 33% of the recommended daily intake for adults; and 16g of organic protein from pea and pumpkin. 80% raw, and always made with no GMOs, trans fats, preservatives or additives. Vegan and gluten free.