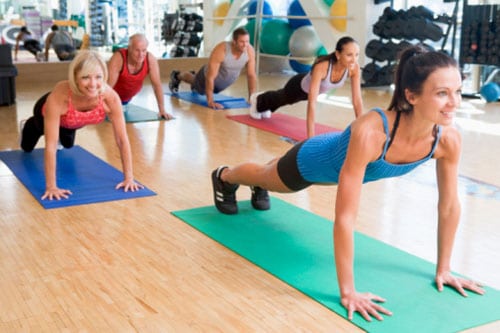 Sports nutrition NPD is at an all time high as brands respond to emerging active lifestyle trends, writes Jim Manson
Last month, researchers working for Macmillan Cancer Support reported that a brisk walk of just one mile a day could help cancer patients slash their risk from dying of the disease. "Physical activity is a wonder drug and healthcare professionals must prescribe it," Macmillan's chief executive Ciarán Devane was prompted to declare.
The health case for promoting exercise and fitness is virtually unarguable, such is the weight of evidence linking physically active lifestyles with better health and life expectancy. Some natural health brands are already actively encouraging consumers to amplify the health benefits of making good nutrition choices and taking part in regular, structured exercise. And, of course, many health food retailers work closely with local sports clubs, schools and gyms to help spread the message.
Offering a good range of sports nutrition products is another way of reaching out to the growing ranks of people leading more physically active lives. But if your idea of sports nutrition starts and finishes with giant tubs of whey protein, it may be time to for a rethink.
Sports nutrition has undergone a 'normalization' process in recent years as brands have twigged that the biggest potential lies with the more mainstream fitness crowd – the joggers and spinners, the shapers and toners; rather than hardcore gym guerillas. In response, the products have changed, along with formats and packaging. Pouches and sachets are in, as are softer colour schemes that sit better on health store shelves. Meanwhile, the muscle-gain and strength focused brands have acquired a more 'sciencey' look. And there are more products specifically targeted at women.
Ultimately, however, your sports nutrition offer should reflect your store and your customer demographic. For retailer Revital – with 15 stores around the country – that offer varies consuderably. Comments Rahil Vora: "For our Hounslow store, sports nutrition makes up half the store. For the King's Road store it's one shelf at the back of the shop."
For Mark Hamilton – owner of 100% health in Paignton – a guiding rule with sports nutrition is to "treat it like any other category that you, as a health store retailer, would sell". He adds: "That would generally mean high quality, specialist products, and that's the best approach to take with sports nutrition. You don't normally sell cheap and cheerful, so why do it with sports products? It's about playing to your strengths."
"Treat sports nutrition like any other category that you, as a health store retailer, would sell. That would generally mean high quality, specialist products, and that's the best approach to take with sports nutrition. You don't normally sell cheap and cheerful, so why do it with sports products? Play to your strengths."
Hamilton says he has dramatically reduced the number of sports nutrition brands he lists, stripping out those "that are everywhere, or that don't give good support to independents". From 30-40 brands, 100% Health now focuses on just four main brands – FSC, Dorian Yates, Sci-MX and Reflex – along with its own Bodial Nutrition brand.
"Sports nutrition was literally half the business at one point. The addition of VAT hit sales overnight. But the bigger problem is the lack of policing of the internet by some brands. You can find yourself being undercut by the brands themselves. So we're working with those that actively police the internet – FSC does a great job – and who support independents, Sci-MX are quite phenomenal here".
Having an own-label range also strengthens 100% Health's hand. "We went out and found a high quality manufacturer and cut out the middle man. It means we can do a high quality whey protein product that would normally retail at £70 for £39. As you'd expect, a few people hate us for doing it! Originally, launching our own range was a move to keep the shop alive but it gives us a great margin and we order a palette a week now."
100% Health's slimmed down sports nutrition offer is serving the overall business well – still accounting for 30-35% of sales. "People have reacted well to having a more tightly edited selection. We sell sports nutrition in exactly the same way we sell other categories – on quality and good advice. People need good advice and they don't get that on the internet, and our loyal sports product customers have been fantastic."
As well as direct sales, says Hamilton, offering a range of sports nutrition products creates an opportunity for cross-selling. "I'd say 80% of people walk out with a good quality multi, or amino acids. I sell a lot of Viridian multis and sports oil, for instance, and cod liver oil from Natures Plus – not to mention amazing quantities of peanut butter! Sports nutrition products also win you new customers. The sports and fitness crowd often have high disposable incomes and so they can be important to the whole business."
The Revital chain has also been reviewing and re-editing its sports nutrition range. Rahil Vora again: "The biggest issue is the heavy discounting that goes on this category. We price-match ourselves online and we do well, but even then you can't compete with someone who's selling from a garage."
Revital has slimmed down, rather than delisted, the omnipresent brands. Hanging on to a single product or so enables the retailer to keep its options open and order in special requests on a next-day delivery basis. That said, brands like Maximuscle and USN have to a large extent been replaced, says Vora. Such well-known brands are not easy to replace but sales of brands like Sci-MX are "getting there", he says.
Vora says that it is the "more unisex brands that are doing best for us – the brands that are not pitched at sports or bodybuilding". Veggie protein products – pea and brown rice especially – sell well, and Vora gives a special mention to Pulsin'. Active Woman, from Bio Synergy, is another strong seller, and indicative of the growing importance of the female customer for sports brands.
"the more unisex brands that are doing best for us – the brands that are not pitched at sports or bodybuilding"
Vora says product formats and packaging are changing too. "Tubs have fallen out of fashion, as bags and pouches have become more popular. We keep the full range online but often only carry one bag of each line in sore – it frees up space."
Sports nutrition is a major category for Holland & Barrett, which saw a 4.4% year on year growth of sports nutrition sales in the first six months of 2014, following a period of flat sales following the introduction of VAT on protein powders. The retailer says growth is coming from grab and go products like protein bars and ready to drink shakes.
In store, Holland & Barrett is set to launch revamped merchandising units for sports nutrition. This will see it move away from traditional brand blocking to "positioning products by customer needs, including energy, muscle building and definition".
USN is back in H&B stores, following an absence of year and will be joined by Kinetica and PWR. New ranges of bars from Optimum Nutrition and PHD – both high performers across the chain – will also be listed in selected stores.
Sporty top five
These are the top selling sport nutrition product types at 100% Health
Whey protein
Creatine
Mass builders
Pre-trainers
Natural testosterone
HOT STOCKS
Action packed
Acti-Snack is a new range of mixed fruit, nut and seed healthy snacking products aimed at the "busy, active consumer" and formulated to meet emerging lifestyle trends. Smart pack designs highlight key product attributes both visually – using cut aways to reveal the ingredients – and through messaging. The range comes in Impulse Packs (40g), Multi-Packs and larger (250g) Power Packs.
Keeping it clean
Innovative wholefood nutrition brand Purition offers a five-product-strong line-up of pouch packed products aimed at the fitness and diet crowd. Each product is formulated to help people meet a particular goal – whether that's 'gym and cardio', 'diet and lean definition' or 'energy, healthy diet, 5:2'. Mixing up seeds, nuts, cacao, flax, fruit and whey protein the range promises a "short and clean and all natural" ingredients list.
Dai hard
Welsh organic dairy brand Trioni has taken a sporty twist with the launch of Daionic Pro Shake. The new sports drink comes in Chocolate and Stawberry 330ml bottles and claims to offer a "unique post-exercise body booster". Encouraging recovery and supporting lean muscle growth, the drinks also maintain full organic credentials, making them a natural fit for health food stores.
Rip it up
New from Sci-MX, Amino Intra Rippedcore is a pro-anabolic workout complex for optimal lean growth, muscle maintenance and ripped physique development. A precise matrix of GF amino acids and protein supports lean muscle growth, while protein building amino acids act as precursors for muscle protein construction. Boosted with vitamin B6 and B12, Amino Intra will also help reduce post workout fatigue.
Girl power
Packed with premium protein, Active Woman Activate from Bio Synergy is a pre-workout shake formulated to deliver long-lasting nutrition and "supercharge" energy levels. With the added benefit of green tea to boost metabolism and a complete vitamin complex to ensure sculpted muscle development, Activate is described as "the perfect pre-workout drink for girls on the go".